Posted by AllieB on March 23, 2011
Emoticons: Friend or Foe?
BBT says…FRIEND! I'm a convert. Well, within reason. For instance, used sparingly in emails amongst friends, emoticons can be the perfect touch of irony or sincere emotion. I will say, I think it's best not to cross the gender barrier with smiley faces, at least not until you've established specific boundaries pertaining to their use. Personally, I like the occasional :) or :( but, and I think this goes without saying, my most favorite and oft used is The Flat Face :| There are few such evocative combinations of punctuation marks.
Chris Brown: Friend or Foe?
FOE! He was very scary on Good Morning America yesterday (which I did not see until this AM when the Today show aired the clip – Betsy, Pal, and anyone else who watches GMA: you are dumb.). Get it together dude, people were just starting to forget what you did to Rihanna's face. I definitely like Yeah 3X, but this Dennis Rodman alter-ego has gosta go.
William & Kate Lifetime Movie: Friend or Foe?
Duh. [countdown date=2011/4/18-21:00:00] [timer] until the Premiere!!! [/countdown]
So, I still want to do another survey, but I need your help. I'm even sharing a real email address (alliebaxter@gmail.com) to which you can send your thoughts. I'm dead serious: help a lady out.
In the meantime, I will be working on my own, much more interesting version of March Madness (credit: Kacy Lerkhof). I am much better equipped to predict the outcome of Pimento Cheese v Country Ham Biscuit (obviously the former – by an embarrassing margin) than that of two, in my mind, random basketball teams.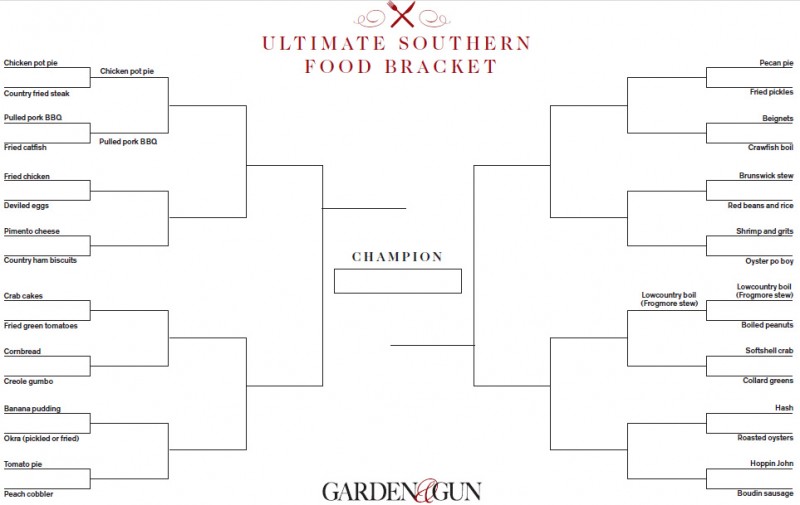 From: Garden&Gun; click here for your own bracket. BOLO for the Ultimate Southern Food Champion…
7 Responses to "Friend or Foe?"