Fashion Week is kind of not my scene. I like to read about it and see pictures in magazines while ensconced in the comfort of my couch; I can do without the overheated, overcrowded tents…in fact I have something of  phobia when it comes to enclosed tents – they catch on fire really easily and then people start panicking and stampeding – it's a recipe for disaster.
However, given an opportunity to attend during the work day for free is a no-brainer. I went this morning with co-workers to the BCBG Spring 2014 show at Lincoln Center. What's so overwhelming is the whole blogger (psssh – freakin bloggers) craze and the street style photographers. It's a whole business now, and I feel like anyone in an open-toed bootie, sporting some sort of domepiece accessory, or carrying a kitschy clutch can be stalked for their picture. Eyepatches, also, will get you some airtime. Oddly, Â no one seemed interested in capturing my street style of J.Crew Minnie's and tank.
Here's my takeaway: if you are at all hungover under the weather and have even the slightest ambivalence towards crowds, zero personal space, excessive perfume, jarring noises and flashing lights, Fashion Week is not for you. I'd rather go to IKEA in that state than Fashion Week, which, I think, says all you need to know.
One obvious bonus: the celeb spotting.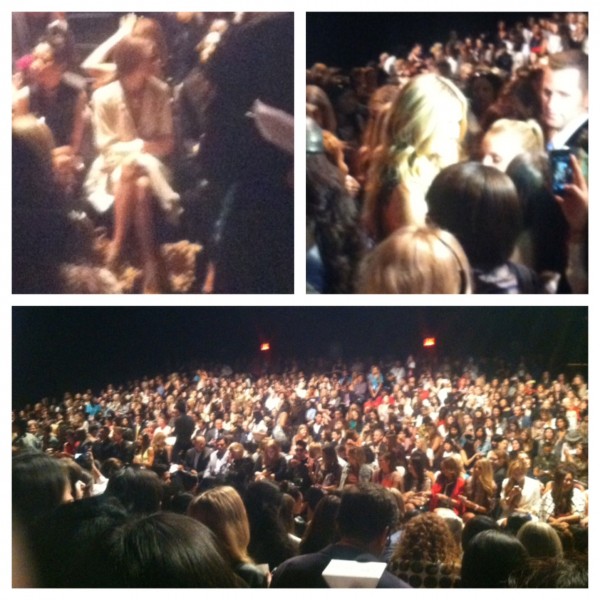 The ULTIMATE sighting: Olivia Palermo (never said I had good seats), Heidi Klum (yes that's her), the crowd awaits
I realize you might not believe that's Olivia and Heidi, so here is my proof. Giuliana Rancic and Selita Ebanks (??) and Estelle and Jesse Metcalfe were also there. They were much more clear in person…iPhone's do not zoom well. Olivia is everything I hoped she would be – almost too pretty to look at with a very definite "I am so SO much better than all of you" attitude. And she kept her sunglasses on the whole time. Of course she did. Heidi, quite literally, glows.
The celeb spotting has actually been kind of ridiculous lately: I saw Dustin Hoffman at Whole Foods on Saturday. He and his wife were doing regular old grocery shopping. He was trailing behind her, pulling the buggy, while she asked him questions over her shoulder. He must have responded negatively because she whipped around and goes, "well did you at LEAST get the PARSLEY!?" He didn't answer but turned and headed off towards the greens. I saw them again when they got in line behind me – I don't think Dustin recognized me because I was wearing a hat – but I nevertheless felt embarrassed about my items: Newman's Lemonade (1 gal), mac n cheese, chicken wings (5, sweet chili from the hot bar). Allie…no.
Then, the next day, as I explored my new 'hood, I walked by Jennifer Connelly and her whole fam. She is stunning. I really like her – she might be in my top 5. You know how I feel about Blood Diamond…and who could forget Career Opportunities?!
Speaking of my new 'hood….I LOVE it. My quality of life has soared to heights heretofore unseen. Who needs the charm of an old brownstone walk-up when you can live in a high rise with a doorman?? I'm not sure I'll ever be able to live without a doorman again…unless, maybe, I own the whole building. I can't stop taking pictures. Do you wanna see some?? Ok. No filters – seriously.
I won't bore you with stories about my move, but you better believe it did not go off without a hitch/multiple hitches.
Praying for a Bulldog W…have a great weekend!