Valentine's Day is Saturday, so I guess I'll go ahead and talk about it.
One of my strengths, I've always thought, is how rational I am – I'm being serious. I think it stems from my Middle Child Syndrome and need to maintain the peace, which evolved into my genuine desire to know and understand both sides of a story. Yet, in spite of this high level of enlightenment and willingness to take on opposing perspectives for the sake of journalism and assessing all the various P.o.V's, I have a very hard time finding anything positive about this media-driven, basic betch of a "holiday."
Let's discuss what sux about the 14th of Feb:
~ gifts. You just wrapped up (!) the Holiday season and what's this – you have to buy another gift?? If you're smart you combine Saints Valentine & Nick and call it a day. But always always always no matter what get a card. You are a jerk if you don't get your person a card on Valentine's Day.

~ prix fixe. Maybe you're a pretty chill couple and you're like, "hey, let's just do a little card swap and go out to eat somewhere, but nothing fancy, just like that XYZ place with the awesome burger." You call up XYZ and – too bad! They're doing a prix fixe menu on Valentine's Day with 12 courses and wine pairings and amuse bouches and there will be a 4-string quartet playing uncomfortably close to your table and that'll be $400pp please. Or, even worse, you aren't in a couple and you and some buddies just want to go to XYZ and enjoy the GD burger – not today you're not!

~Â pressure. I don't know much about this, but it seems like Valentine's Day could be a real land mine re relationship status and future. I envision a girl anticipating an engagement ring and instead receiving drugstore chocolates and an Amex gift card. Ka-POW.
And now the good stuff insofar as there is any:
~Â candy. Valentine's Day candy is pretty good. It has nothing on Easter, but it'll tide me over til April

~ my mom's Sirloin Steak with Peppercorn Sauce followed by Molten Chocolate Lava Cake. A lot happened in 2012: I went to 100 weddings and moved to NYC, but I will never forget VDAY2k12.

~Â flowers. Flowers are always nice to have around.
What we can glean from this breakdown is that, above all, Valentine's Day is an equal opportunity offender and it doesn't much care about your relationship status; Valentine's Day is the holiday terrorist.
Here's what I think: while the fundamental meaning of ValDizz is nice, everything else it entails is not and it's silly to play into the hoopla generated almost single-handedly by CVS and Kay Jewelers, and what really bothers me is that the third season of House of Cards doesn't come out until Feb 27th, not this weekend as I'd originally thought. I'm pretty sure I'd say all this even if I were coupled. Whatevs, why don't y'all come to my place on Saturday and I'll cook that crack-laced steak my mom makes and we can play Cards Against Humanity?? Game night!
I leave you with a poem I wrote all by myself, straight from the heart:
Roses are red

Violets are blue

Valentine's Day.

Ew.
…well, we all have our strengths. It's a good thing I'm so rational. Cheers!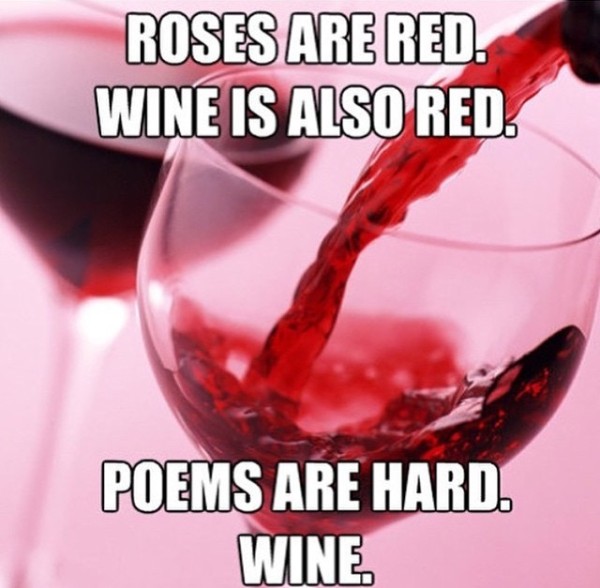 (Source)