True story: if I cancel plans or say I can't do something because I'm "too busy", I am lying. The real reason is some combination of the following: I am lazy; whatever activity you suggested sounds dumb; the weather sucks – really any other excuse you can think of, so long as it has nothing to do with being too busy. That is until life started to get in the way – the last several weeks have been filled with actual adult obligations, and if I flaked out on plans there is a 70% chance it was legit, which is a huge jump the usual 3-6%.
I guess saying all that makes this a weird time to be writing one of my increasingly rare posts… so rare one might call me elusive?? Just once I want to be described as mysterious: I imagine someone wondering, "Has anyone seen or heard from Allie lately? Who knows what she's up to – probably something random yet not sketchy and also awesome…Allie, she's so mysterious." No? That's fine, I will continue to dream my dreams. Honestly, BBT is an outlet, both creative and intellectual, and this week's post is a selfish attempt to keep my levels at least somewhat level. It's good to keep your levels level, btw.
Amid all of the busyness – there are 24 hours in a day! – I was able to take a minute and fill out a Fall Bucket List. I didn't even know I was supposed to have an FBL til I stumbled upon the below via liketoknow.it; I was so inspired by her lofty goals I eschewed all other tasks and immediately put pen to paper to document my own.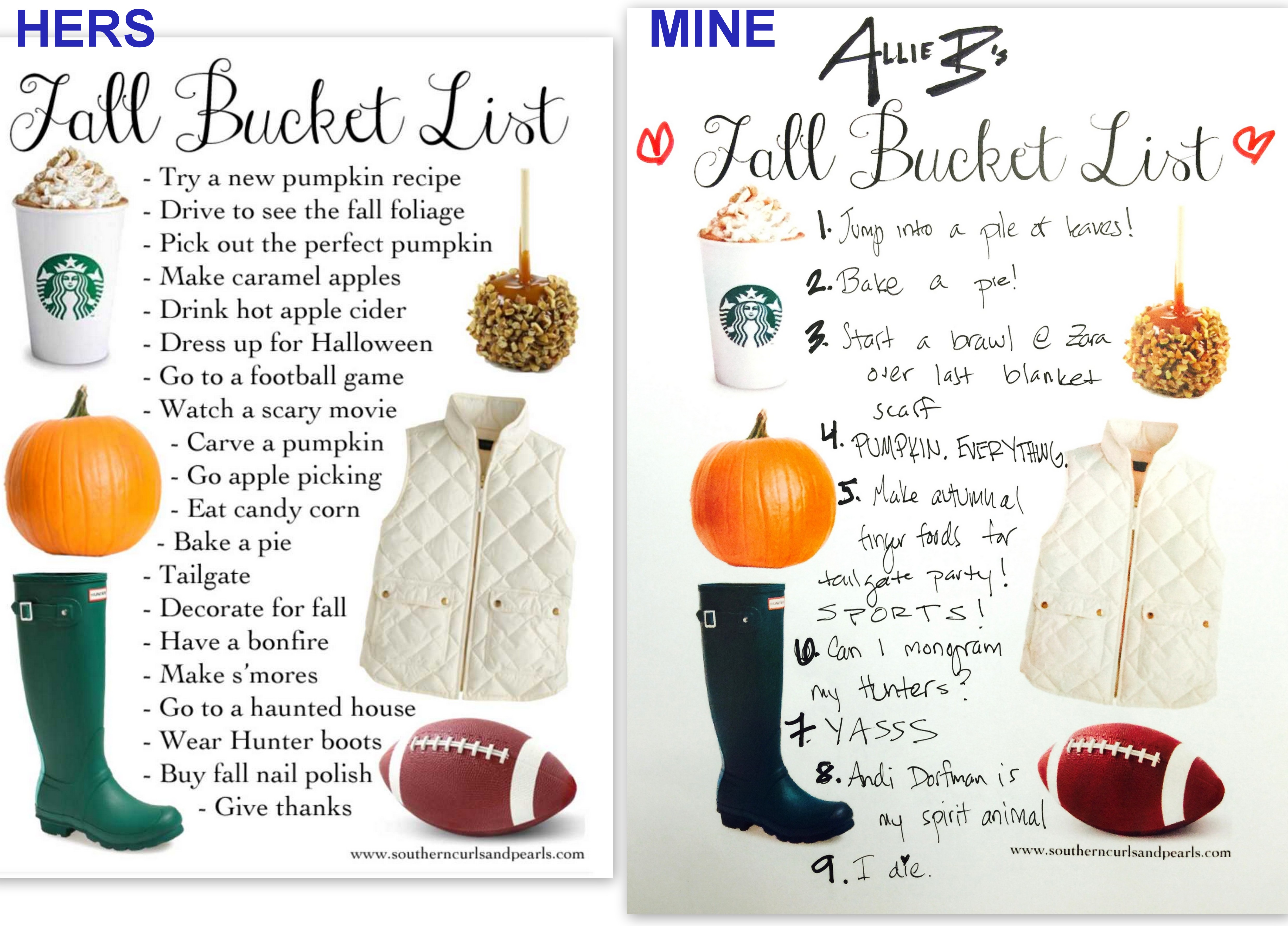 I can't believe we BOTH have "bake a pie" on our FBLs – what are the chances?! Great minds for sure think alike
I just realized I am inadvertently plowing through her fall bucket list: wore my Hunters last week, I'm wearing this nail polish right now, and I gave thanks literally two days ago so done, done, and DONE
Please sense the tone. Also, does anyone know where can I sign up for Penmanship 101?
Another reason I'm back on the BBT bandwagon is that I have essays to write for school applications, and the words – they are not flowing. While the essays are more about how and why I am a strong leader and less on FBLs, I'm hoping that writing down the latter will free up space in the ole temple topper to focus on the former.
I am, however, open to other ideas.
Sunrise over Central Park this AM. Photo cred G Force Baxter – she came in town for a night to enjoy Italian food and an evening out at a jazz club with my aunt. I joined them for the food… #apartmentgoals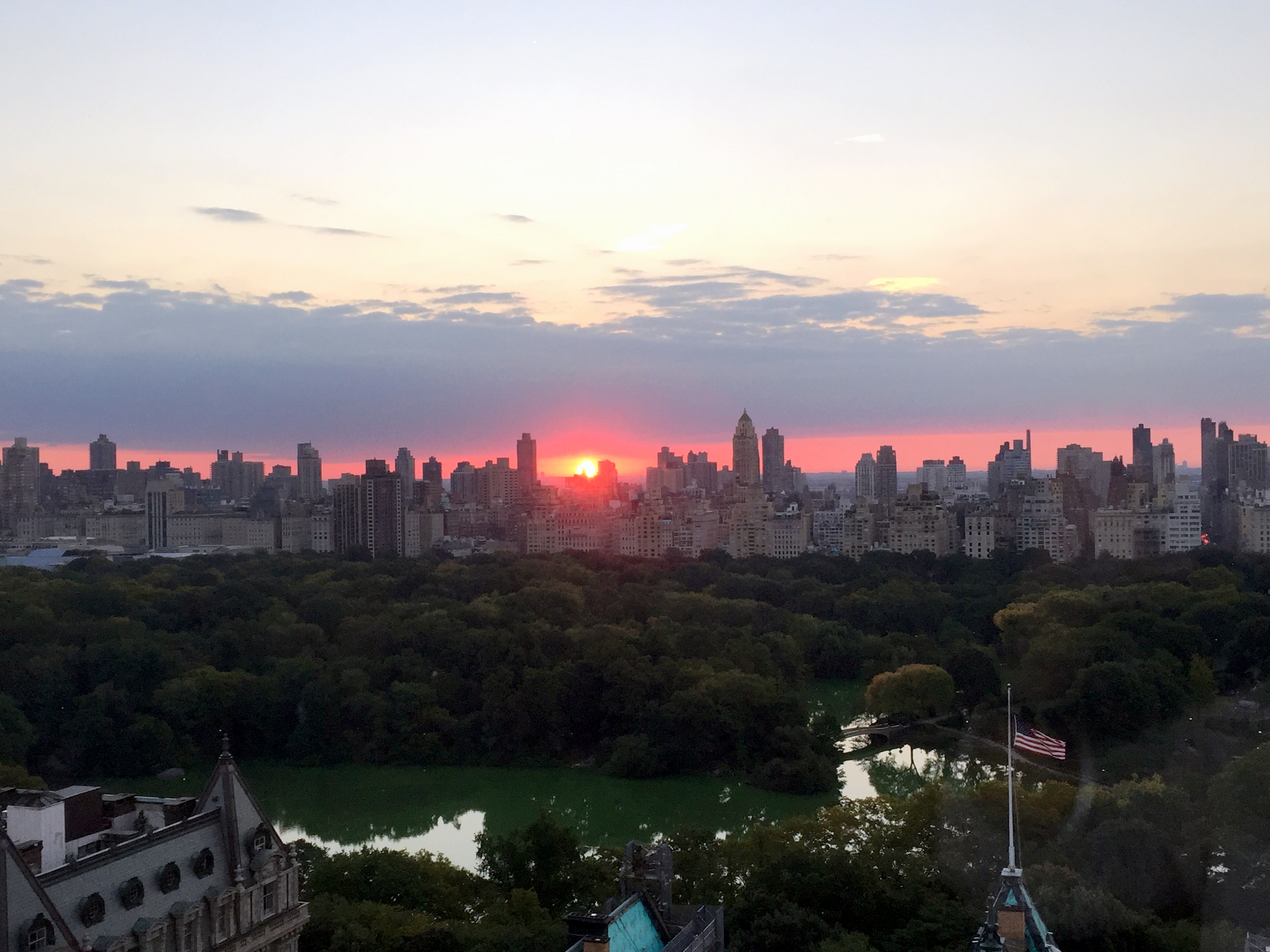 RISE UP! Renderings of the new Falcons stadium continue to impress – especially with this large, snaky, awesome bridge. Another thing that's cool is how the Atlanta Falcons stadium is located in the city of Atlanta. Bad move, Bravos – bad move. (Source)

Lastly, and I wish I didn't even have to say it, but some of you need to think long and hard about what you did: 20 Annoying Facebook Status Updates.
10. The "I Post Everything From My Own Website on My Facebook Page"
Wait, I do do that. Hello, Pot, this is Kettle calling! Whatever, I post like once a month it clearly doesn't apply to me
"Too busy" are ya?
TGIT! Caramel apples for everybody!