I guess I'm due for a follow-up post about my TV debut. Saturday went…okay. I don't know if I'm cut out for showbiz, there's a lot of waiting around and patience is not a virtue I really possess. The good news is: I wasn't a total spaz. The slightly less good news: the dish I was assigned to talk about was this new one called Texicana Fries. It's the amazing chili lime fries piled high with carne asada, guac, and cheese – it was delicious. However, I had to take a bite of this tower of delight on camera and of course wound up with like half the serving in my mouth. It took me over a minute to chew it all. I am confident this will not make the final cut, but it might show up on the Bloopers – wonderful. I have no idea when this will air, and once I find out I will pass it on to you. IRREGARDLESS, it was an awesome opportunity for Tex's, which is really what matters most. (And here's their schedule for the week.)
Communist Russia is coming to Atlanta! Just kidding, an ice bar called CZAR is opening up in Buckhead – from the looks of it, it's going to be part of the E. Andrews bloc that is taking over that entire building…hmm, maybe I'm onto something…anyway, if you're in need of some after-hour employment, this might be just the opportunity for you! Per the Craigslist posting:
Looking for attractive and in shape staff. Ability to speak Polish, Russian, Czech, Ukranian, German, Austrian, Croation, etc. and/or have the accent is a huge plus.

Bar will be made entirely of ice/glassware made of ice/featuring 175 vodkas and sushi bar.

Please send resume and 2 photos if interested.

Expecting this to become instant hot new venue.
They're being super flexible: you don't have to speak the language, you just need to have ze accent (and a hot bod). I've never found these places very appealing – you have to put on these big, unflattering parkas and then everyone ends up looking the same…this could turn tricky after a cocktail or two. Â But if the ice bar is open all year round, I will absoLUTELY hit CZAR up come July – this could actually be exactly what Hotlanta needs.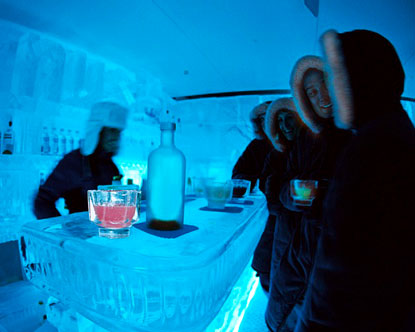 Ice Bar in Mandalay Bay, Las Vegas. Do you see what I mean?! There's no way to tell who's who…
Congratulations to my bestie JTOMM!!! So happy for you and Alex. SOCKS.