This is the one where I couldn't think of my own material so I copied something I've seen on another site…
Today's post is borrowed from The New Potato and follows the list of questions they give to the actors/designers/foodies featured on their blog. Have they featured me? They have not. But now I will be prepared if/WHEN such an event occurs. I didn't like some of their questions, so I made up a few of my own. I call this "Interview of the Week" – my first ever! – and my first guest is me because who else.
From start to finish, what would be your ideal food day?
Breaky:Â 2 cups of earl grey tea and a cranberry scone from the bakery dude who comes to the Tribeca Farmer's Market every Saturday…I'd probably also toss in pancakes from Bubby's and brown sugar-glazed bacon.
For lunch: Shake Shack – Shack Burger & cheese fries.
Dinner: pizza, pasta, steak…pizza from Keste* or Spunto; pasta from Bianca or Max; steak by moi – a ribeye or similar coated in salt n pepper cooked in my cast iron skillet with sauteed spinach and the pepper jack mac n cheese from Whole Foods on the side.
Snacks: cheese dip from Jalisco, burrata from John Dory Oyster Bar, choc chip cookie from Levain; veggie slice from Fellini's with Italian dressing for dipping…
I'm hungry.
*ATLiens: Don Antonio by Sarita is a Neopolitan pizza place on W Paces Ferry in Buckhead where STG Trattoria used to be – it is operated by the same owners who run Don Antonio in New York, who also own Keste. In other words: GO TO HERE. Go now and get the Burrata Roberto pizza.
How do you always start your day on a good note?
I've started making smoothies every morning and they are GOOD, like, get-me-out-of-bed-on-cold-and-rainy-mornings good. Also, sometimes I wake up and lie in my bed for a little while, looking at the river and just contemplating life/my outfit for the day, and I'll see a big cruise ship go by – I have two thoughts: 1. How cool that I can see this from my bed and 2. SUCKAS
What's your drink?
Actually, I was at The Standard East Village a couple weekends ago and my eye automatically went to the spicy marg – I saw 'tequila' and 'jalapeno' and ordered it w/o further thought, then K pointed out it was also "topped with red wine." What. These are not two drinks I would normally think to have together – in succession, sure, but not simultaneously – and turns out it is delicious.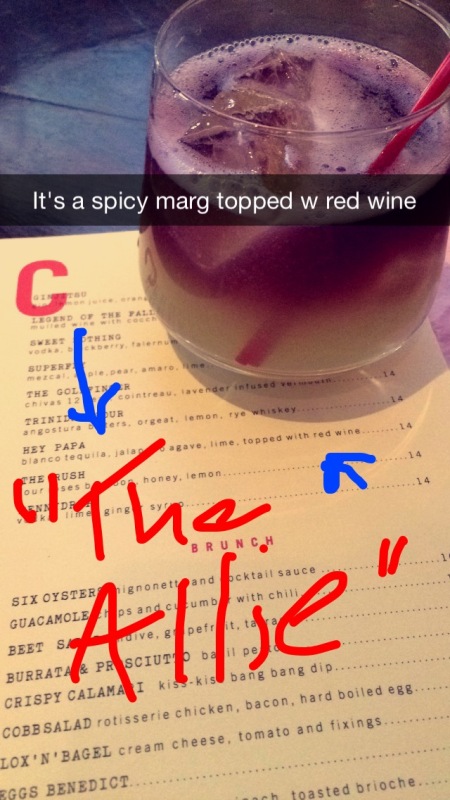 It's now called "The Allie" they just have to reprint the  menus

What are your vices?
I eat too much kale.
What's always in your bag?
Vaseline and Rohto drops.
Words to act by…
I'll defer to Pinterest on this one
Three words to describe social media…
I love/hate/love social media.
Do you Tweet?
Yes, I am on Twitter, but I only use it to share a new link to BBT (as many as one person has clicked thru – I have a massive and devoted following), and to retweet stuff I like. I have not had an original tweet since October 9, 2012, and I think we can all agree I really went out with a bang:

wow is right.
If you're a Twitter-er you should follow Samir from Buzzfeed – he will make you laugh.
Million Dollar Idea? 
So, we all use Snapchat, right? I want Snapchat to have a function where it links to your Spotify and shows the name of whatever song you're listening to onto the snap. I need it to access what's going on INSIDE my phone instead of only picking up ambient noise. Por ejemplo: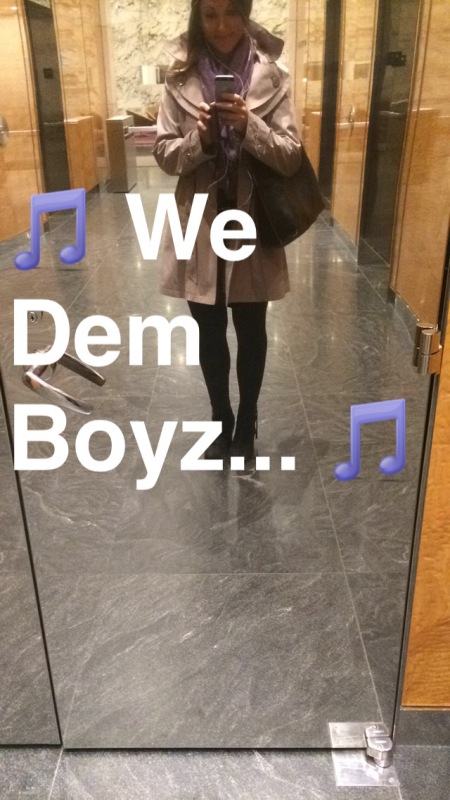 See? Not just a selfie in the elevator bank (embarrassing), it's like, "hey guys I'm here and I'm listening to Wiz Khalifa what are y'all listening to?" For the record, this went to only like 5 ppl in my Snap contacts…well, and now the millions of BBT readers. Either way, I am not trying to steal Snapchat or copy it, I just want to build on top of its gazillion dollar platform, is all. Everybody wins!
Mr. Snap: have your people call my people.
Favorite kind of workout?
The kind of workout I hate least is Flywheel. I did a new class on Tuesday: SLT (Strengthen-Lengthen-Tone). I've never been so sore: I'm walking like Frankenstein and every time I stand or sit or cough I cry a little. It's like Pilates Reformer, I think – I've never done Pilates – but there's a cardio aspect, as well. I don't know, if you're really interested read about it here. Bottom line: it was HARD.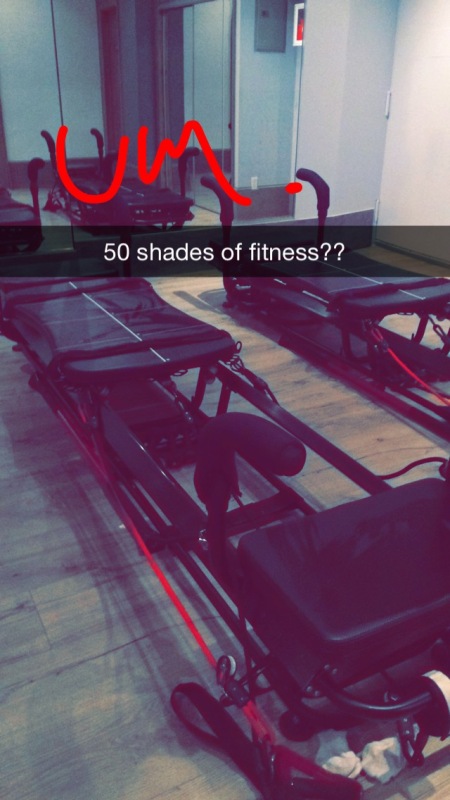 "50 shades of fitness" LOL but 4 real those contraptions look like gurneys. Each class costs a month's rent so not sure how often I'll go, but it's nice to pretend.
How have you contributed to the Greater Good this week? (BBT is not a place for political discussion, so voting does not count.)
I just made a donation to Atlanta Lab Rescue. And, unless you're Mother Teresa, I'm guessing your karmic balance could use some padding, so please go to the Atlanta Lab Rescue site and donate $5 – literally, $5. You can all afford $5. It links right up with your Paypal so you don't even have to register, and you can help save this dog's life. (I can't read the story again or I'll lose it, but he needs your help!)
ALR is a 501c3 nonprofit and 100% of all donations are used for the rescue and care of these dogs. 
*PS none of you are Mother Teresa so let's get going on the link clicking.
—
Ok. The End. Happy Thursday and hellooooooo to the Weekend. Goodbye, however, to Fall. It was nice while it lasted :(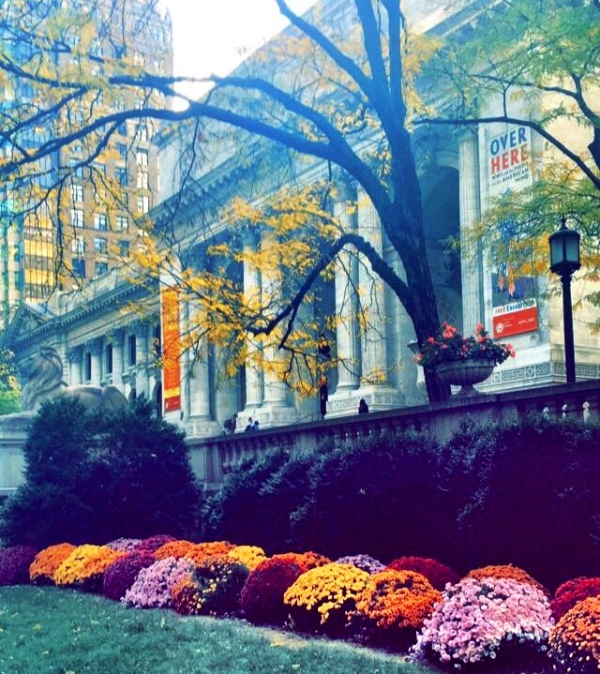 Fall foliage at my favorite library in the best city
Oh yeah – TGIT!