Posted by AllieB on April 27, 2011
Meet Barmy. Barmy has a teeth tat of Prince William and Kate Middleton.
British plumber Barmy Baz Franks, 29, got a dentist to use ultra-fine brushes and stencils to paint images of the smiling royals.
Barmy, this is not the best example of you making good life-choices, particularly since it cost $1,650 of YOUR OWN MONEY. These drawings are called "gnasher tats" and they'll last for three months. That's two months, 30 days, and 23 hours too long.
Speaking of jacked-up grilles, I share with you today's word of the day:
Wonky: askew or messed up
She's got that wonky tooth that needs some dental attention – it might be rotting.

Yeah, I saw him last night – he had to leave early, his eyes went wonky before 10.
I just like saying it, plus – and you know how I feel about alliterations – I can say it with Wednesday. Like 'Wacky' except for Wonky: it's Wonky Wednesday.
My parents made me do my very own Easter egg hunt on Sunday, thereby acquainting me with a whole new level of self-mortification. I guess there were perks: I found $20 (FACE, Jordan), and I was thrilled to get the silk scarf I picked out in Pakistan and the beautimous earrings they brought me from Paris…but, still. Anyway, back to wonky: it pains me to say this because she is the most best dog in the whole world, but Missy Baxter just does not photograph well.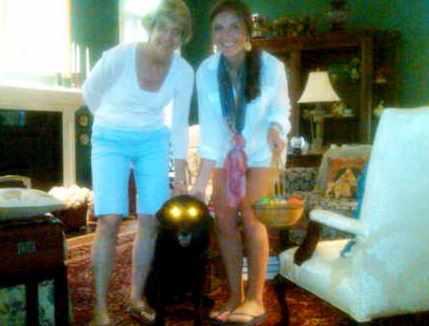 My EYES…!!! MY EYES!!!
(photo by Mr. Baxter – in his defense, I think Missy's peepers skewed the light for the whole shot)
Based on other people I've talked to, I'm all alone with this, but you should probably pay attention anyway because I tend to be on the cutting edge of most things. Happy Endings, the new show that comes on at 10 on Wednesdays on ABC, is hilarious. Watch it, record it, whatever – give it a chance. Is it the next Friends? No. (Friends is irreplaceable.) Did I laugh out loud when I watched it, both after wine and again a few days later without wine? Yes, I did.
Joey: All right! Westminster Abbey! Hands down, best Abbey I've ever seen.What do you think of the Abbey, Chandler?

Chandler: I think it's great. It's great. Y'know, they're thinking of changing the name of this place.

Joey: Really? To what?

Chandler: To Put the Camera Away!!!

Joey: Man, you are Westminster Crabby.

-The One with Ross's Wedding
4 Responses to "Raising the Bar"
April 27, 2011 at 2:28 pm

i LOVE happy endings — the tv show

April 27, 2011 at 3:55 pm

Missy B phone home

April 27, 2011 at 8:18 pm

happy endings is one of my new favs…jane is great!