Posted by AllieB on October 9, 2014
It's fall, y'all! Fall, according to the Goog, is the most popular of all the seasons, so here are 10 things about fall and other stuff, then I added two more items at the end so I guess 12 things total. I try to mix it up; BBT is NOT some basic fall-loving betch who only talks about new sweaters and pumpkin spice lattes.
1. This is me not talking about pumpkin spice lattes – never had one; I don't care; you do you but maybe consider the sugar content
2. TV is not only back, but there are a lot of new shows to check out: How to Get Away with Murder premiered two weeks ago, and, besides its annoying name (HTGAWM henceforth), BBT highly recommends. Marry Me has such potential (Penny from Happy Endings! Ron from Party Down!) and, I'm embarrassed to say this, Selfie might not suck… Homeland wrapped up some very tired story lines (smell ya later Brody) and the season premiere shows much promise for good TV – just so long as Carrie never touches her child, or anyone else's, ever again. Lastly, I watched the first episode of The Affair last night – I am IN. It caught my eye earlier this year when I heard about the cast (Pacey Witter! Maura Tierney! Jimmy McNulty from the Wire!) and, based on the first epi, it is everything I hoped it would be.
3. I got stung – stung bad – by a bee in Idaho last weekend. I hope it died.
4. 31 Dog Reactions for Everyday Situations – this is perfect, please click thru (#'s 1, 2, 9, 12, 14, 16 – 25, 31)
5. I'm not implying that all kids raised in NYC are brats, but I have observed a heightened level of the ridiculous when it comes to parenting up here. Case in point: I was recently at my local Whole Foods doing my daily shopping of only things I needed right that moment (nothing if not practical!), and I noticed a father and his two children, a boy and a girl both under age of 4, in the midst of truly epic meltdown. The girl, the younger of the two, had collapsed on the ground and was crying that especially aggressive silent cry where her mouth was open and her body was heaving but no sound was coming out. Not to be overlooked, the boy had wrapped himself around his father's leg while he cried a more subdued whimper but with double the snot and tears. Dad, to his credit, wasn't freaking out but I think this is likely because he'd checked out entirely to his mental happy place. "Woof" I thought, as I skirted by them to get in line, "I wonder how much longer he's going to let this go on.." I also may have thought things like, "get your sh*t together little girl" and "can someone please wipe this kid's nose"
Finally, something yanked Dad back to reality – maybe it was that his daughter hadn't taken a proper breath in like a minute – and suddenly he was totally, 100% over it. His eyes darkened as he inhaled deeply…."PENELOPE! ALVIN! THAT. IS. IT! When we get home….NO soy dream for you."
Aaaaand you lost me. Hey, buddy, FYI: the moment you named your kids Pompous and Arrogant you gave them license to behave like jerks. I want to give him the benefit of the doubt that one or both had some sort of dairy allergy, explaining why soy dream was the most glorious treat in which they're allowed to indulge thus the absolute worst thing he could take away…but with names like that, it's hard. My advice? Sign the girl up for soccer, the boy up for football, and cancel all lessons involving wind and string instruments. There's still hope.
*Note: when I have kids one day and name them Philomena and Astrid and they go mental at the grocery store you can remind me of this post.
**Y'all know I'd never name my kids that.
***Confession: I played the Alto Sax in third grade. It was a risky move but I pulled it off. Penelope – not so much.
****I don't know anyone named Penelope or Alvin, do I?
6. Jimmy Fallon + EW! = watch this.
7. My Father, The Hero (?)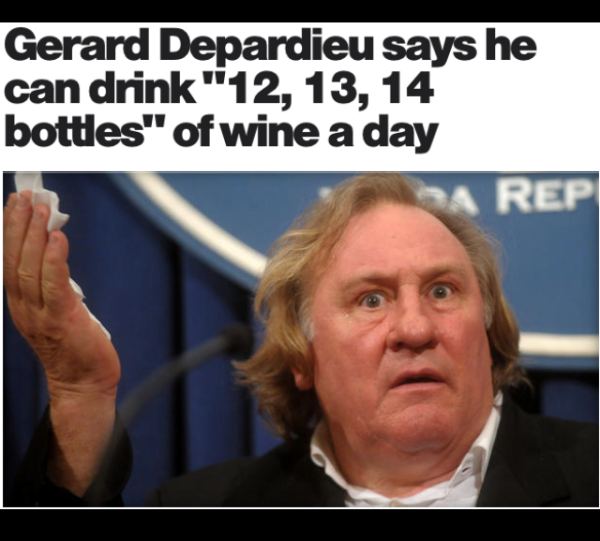 Dude, that's too much…and when this pot calls you black, you better recognize
8. All the hilar Insta accounts you need to follow, give or take a couple – there's really something for everyone. You should check out that blog regardless, @AshHess is doing good stuff over there. Thank you, Witty & Pretty!
9. Brush up on history with a healthy side of scandal and intrigue with After Camelot, a sweeping biography of the whole Kennedy family – there are lot of them, so it's long, but you can breeze right through it.
10. This week in That Is Brand New Information: Todd Gurley is a Badass
I could watch these all day.
***UPDATE 10/10: I posted this yesterday before the TRAGIC news that TGII had been suspended. Why God. Why. I am 100% #teamtodd and still think he's one of the good ones – he'll get thru this and go on to have an amazing career and keep a clean record all the while, of that I am sure, and in the meantime us Georgia fans will have to hunker down and deal with the hard knocks that we should by now be used to/expect. TEAM TODD!!!
Bonus #11: I needed a crisp white button down to go with my outfit yesterday, but I couldn't find the iron because we don't own one, so I used my straightener instead – it totally worked! A tip from me to you: best to remove the shirt then iron as opposed to keeping on shirt whilst wielding a piping hot wand of heat near your skin.
Super Bonus #12: I think we already knew as much, but I asked Siri the other night who's the fairest of them all, and…well: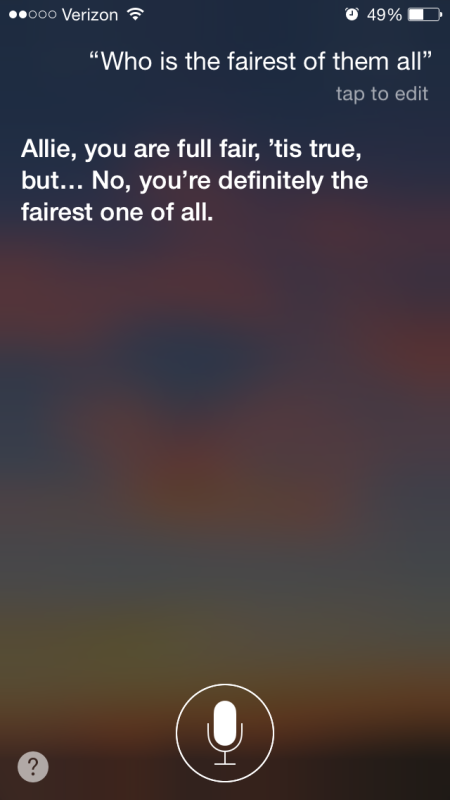 And there you are – a BBT for your Thursday. Boom.
5 Responses to "10 Things About Fall & Other Stuff"