Posted by AllieB on April 30, 2015
April just flew by, amiright? May is here, and with May comes flowers and, this weekend, sports. I like sports, and there was a time when I would've asked you to call me Alex because soccer, kickball, and Adidas were the only things I cared about. Even though I've since grown up to be Allie, the epitome of femininity and grace, I still have a vested interest in the athletics which is why today I will discuss my NFL draft picks, Derby projection, and Floyd Mayweather's $25K mouthguard.
Yeah yeah, read it anyway.
NFL:
1. Tampa Bay – Jameis Winston
This is pretty much a done deal. We haven't heard the last of Jameis Winston's legal troubles, on that I'd bet my lunch money. I like to think that people can change, but history has a real funny way of repeating itself. And he's not a victim of uncontrollable circumstance like some NFL players, he's just an idiot who's never been held accountable for his actions and is also possibly a sociopath. But there's no denying his skillz, so if he can get and keep his act together he could be everything he says can be.
2. Tennessee* – Marcus Mariota
*We might see some Draft Day-esque maneuvers here, and the rumor mill has Philadelphia's Chip Kelly, the former Oregon coach who oversaw Mariota's recruitment, orchestrating some convoluted, multi-team trade to get his former player. Talk about "going rogue" – Coach Kelly been pulling all kinds of stunts this offseason. Draft Day is an excellent film, btw.
(you can goog #'s 3-7)
8. Atlanta – the Falcons need to build their defense like now, Todd, and some people have them trading up with Jacksonville and picking Dante Fowler at #3 - but they could still grab Vic Beasley or Bud Dupree if they stay where they are. Shane Ray will likely be available, and, in spite of his recent arrest for possession of marijuana, Coach Quinn says he's "absolutely" still on the board. I respect that. Ray did something really stupid, no question, but I'm not sure I can penalize him for an isolated, nonviolent misdemeanor that's (basically) legal in 27 states/DC when you've got Jaboo Winston and all of his oversize baggage going at #1. Just sayin'
(ESPN > BBT)
14. Miami – Todd Gurley
TGIII is the talk of the town right now after that video of him dominating the treadmill went viral this past weekend, proving he's made great strides (!) in recovering from his torn ACL, and he's now a first-round lock. I mean, he could even go in the Top 10. Who's to say! I'm just so excited to see Todd Gurley play football again – he deserves nothing but the greatest success and I truly hope things work out for him.
A little treat for the ladies (stay with me!) #tbt #Tristan #yas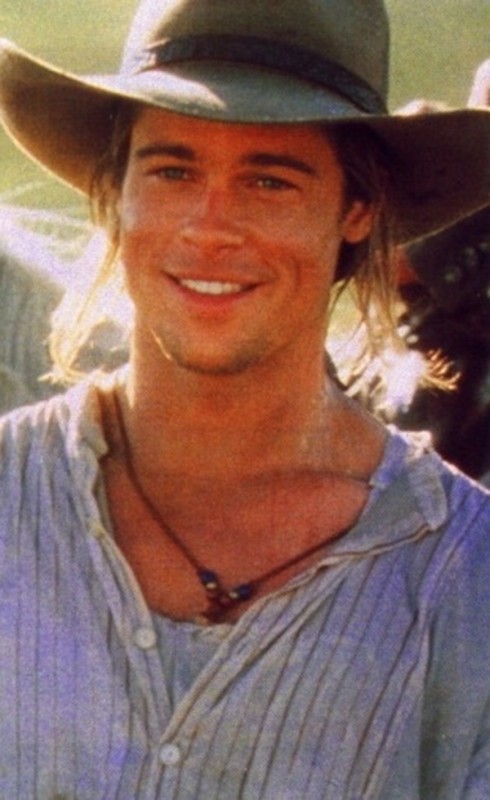 Kentucky Derby:
I'm taking Dortmund (ranked #2) for the Derby bc think of the ridicule on the playground growing up, plus he drew the #8 gate slot and that is some prime real estate. The #1 seed, American Pharoah, is all the way outside in gate, like, 49.
If I were going rogue and choosing horses as I do my wine – based on name – I'd go with Bolo. These names are crazy. Has there ever been a horse named "Going Rogue"? That's totes what I'm going to call my next horse.
That fight or whatever:
It would be impossible for me to care less about this, but going with Mayweather because that's what the internet said. Read here about his $25K mouth guards. He's a piece of work, and not in a good way.
So, there you go. SPORTS.
Some wise guy added my name to a distribution list from "A Most Curious Wedding Fair" that took place at the Truman Brewery in London last month, and now I get 5 emails/day from wedding-related vendors in the UK. At first I was like, that's strange and I unsubscribed and marked them as spam, but they kept coming…well, yesterday I sort of lost it and poor Andi Freeman of Andi Freeman Cakes bore the brunt of my agitation: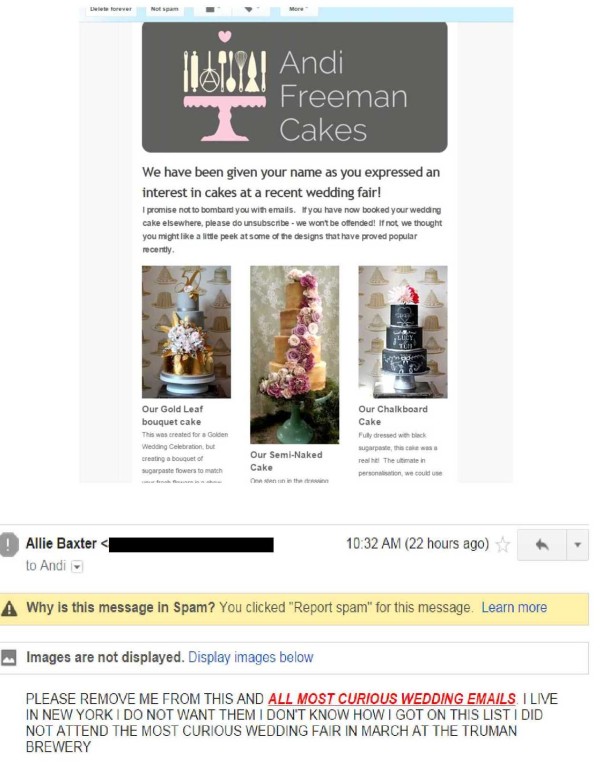 A most curious pain in my a$$, is what this is.
Random acts of randomness observed this week:
~ overheard at Whole Foods on Monday: a very adorable definitely bratty 3 year oldish girl sat in the shopping cart, swinging her legs and singing some silly song. Her father, an older gentleman who I'd guess was an artist of some sort – you know the kind – looked at her for a few moments, then said, "You know, Abigail, if you were a radio I'd change the station." BURN
~ I watched a man complete 3/4 of the New York Times crossword puzzle in just under 5 minutes in pen on the subway this morning. I timed it. I think there's a chance he was just writing letters at random because this was some crazy sh*t.
~ update your Instagram so you can get three new filters and hyperlink your hashtagged emojis. Kewl!
~ WHERE is this Royal Babe?! I'm staying on top of it here. Pleasepleasepleasepleasepleaseplease let it be a girl.
The End. I'm not wearing tights today and feel over-exposed. TGIT!
One Response to "Going Rogue"
May 1, 2015 at 12:04 am

TJGIII!!!! :)