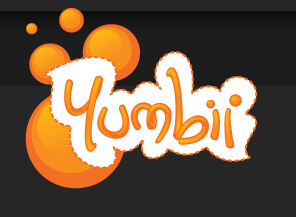 Yumbii Far Out Food, parked today at the Prominence Office Building in Buckhead, served up two of the best, most fresh and flavorful tacos I have ever had. The food truck features Asian-Mexican fare, and, while I knew it was going to be good, I didn't know it'd be that good.
There was no line, and the service was very friendly and fast. I went with pork (per Danielle's suggestion) and the chicken. Two made a more than adequate lunch – they definitely load on the meat, but because there's just a sesame salad as topping and no cheese (which even I didn't miss), it's not like overwhelming. The chicken, I think, was my favorite of the two, with an Asian flavor akin to kabobs (I love kabobs). The tacos are $2/each – a veritable steal.
I realize how effusive my praise sounds, but I get really excited about tasty food. The website and Twitter page provide frequent updates about location and even line length. For now, their weekly lunch locations are: Buckhead Tuesday and Friday, Atlantic Station on Wednesday; Midtown Mile at Woodruff Arts Plaza (there's a whole food truck bonanza there on Thursdays).
Yumbii is owned and run by Atlanta native Carson Young, who teamed up with Hankook Taqueria over on Collier Road to bring these delectable lunchtime treats to the streets. The Atlanta Street Food Coalition is working to make permits more readily available to vendors across the city, and I wholeheartedly support their mission.
Friday: it's a date. I must acquaint myself with other menu items. I can't wait for Tex's Tacos to open – the cheese fries, in particular, caught my eye…food trucks are my new favorite thing.
I am reminded of Led Zep's classic hit, Ramble On….
Disclaimer: I hope I got my facts right – I sometimes unintentionally take liberties on BBT, so please point out any erroneous details.