Posted by AllieB on September 21, 2010
I was reading archived articles in the Atlanta Business Chronicle online recently, and I stumbled upon a brief write-up about an event that took place in April: The Allie Awards. My interest was immediately piqued – I was already thrilled to see my name on an award that warranted mention in the ABC, but then it got even better: the award was for Best Buffet.
The Allie Awards honor the best catering companies in Atlanta, as well as other aspects of event planning – venue, tents, etc. What a perfect match for me, AllieB, line-leader at the buffet and lover of all things wrapped in bacon.
I wonder if they are looking for a spokesperson? A face of The Allies, if you will…I would be happy to attend various events in the name of research.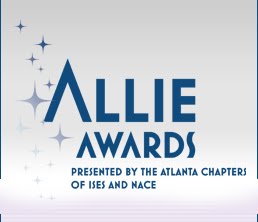 Or perhaps I'll just come up with my own, more relevant categories and have The AllieB Awards. Let's see…
Best Hot Sandwich: Publix's Philly Cheesesteak
Best Quesadilla: Paul's on the Patio (you'd be surprised)
Best Stuffed Pasta (on a budget): Trader Joe's Portobello Mushroom Ravioli
Best Stuffed Pasta (not so much on a budget): Sotto Sotto's Ravioli Nudi
Best Nachos: Tavern 99
4 Responses to "The Allie Awards"