Posted by AllieB on May 12, 2011
The first ever Atlanta Food & Wine Festival is next weekend, May 19 – 22, and I really want to go. I mean, who wouldn't want to go: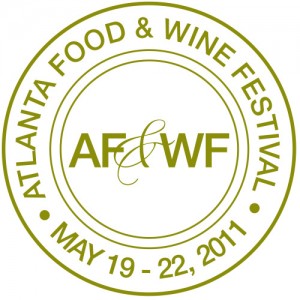 …An experience like no other that will unite leaders of their craft – barbecue pit masters, award-winning chefs and mixologists, Master Sommeliers, fry cooks and local growers – in the spirit of celebrating the deep food and beverage traditions of the South. Festival guests will have the unique opportunity to sip, savor and learn through a series of carefully-designed seminars, demonstrations and tasting experiences representing the best from Texas to D.C. and the states in between.
I can practically taste the pasture-raised pork and chive dumplings and seared rare Niman Ranch flat iron steak. Note: check out Lantern, the restaurant in Chapel Hill with Chef Andrea Reusing, who was just named the Best Chef in the Southeast by the James Beard Foundation – it looks ah-MAHZING (that's how Penny says "amazing"). I'd really like to get the $500 3-day pass that would grant me attendance to 10 seminars, enjoy 4 tasting sessions, and I'd get a festival swag bag.
I thought about it, and, given that I'm basically a member of the media minus only the necessary credentials, it would be better if I had more of an insider's perspective on the whole deal. Ergo, I go as a volunteer! I contacted the appropriate person, and they are in need of  "Pourers." I do not know where or what I will be pouring, but I'm in. Plus, I'm pretty stealth when it comes to manuevering my way into places in which I am technically not allowed – I can totally envision myself in the Connoisseur Lounge, rubbing elbows with Michelle Bernstein…either way, I'm excited to be involved at all, and I hope that maybe there is an extra swag bag lying around.
In the same vein of places I want to go and things to attend: I must remind you all that tonight there is a little soiree at Scout for the Home. You can have wine whilst shopping whilst mingling. Join us, won't you?
Gratuitous puppy pic: Scout & me
5 Responses to "I want to go; I will attend"