Sister told me on Monday that she went to WrestleMania when it came to the Dome earlier this spring. First: typical, and second: she didn't have to tell me, she was sporting a rad t-shirt that said plenty. I have to say, it sounded pretty awesome. I know that when I went to the Monster Truck Rally a few years back I had some of the most fun I've ever had, and I feel like the two events are not dissimilar. I wanted to post a pic of the shirt, but the only picture I found of it online almost gave me a virus, and if I posted the pic I have of her in it…..bye bye, BBT.
If I were to host a SmackDown/WrestleMania type thing (are they the same? I don't know – as I've said before, I'm not real concerned about actual "facts"), I would invite the  following people to participate:
Boobs Legsly. I don't know WHO you think you are, but Leo is way too good for someone of your weird-talking, plastic-surgeried ilk. He dated Bar Rafaeli for 5 years – I'm pretty sure he can tell the difference…
Verne Troyner.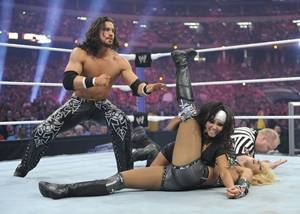 I would officiate, and I would be blatantly biased against Boobs and give Verne an unfair advantage. That way he would win, she would lose, and the lesser of the evils would prevail. I don't much care for Verne, but he's scrappy and probably has a pretty big chip on his shoulder – a winning combo for a smackdown victory. Case in point: Snooki. She totally dominated that tall blonde biatch back in April – heck, forget Verne Troyner, I'll just invite Snooki to come and TCOB.
I'm totally breezy, today, by the way, in spite of the minor rage issues that may or may not have been insinuated by the previous paragraphs. It's the first of the month…! The reason this is at all noteworthy is that your monthly horoscope is up on Elle and you should probably see what's in store for you. If you're a Gemini, like I am, you're in luck – we're in for a month of awesomeness.
Sidebar: I was curious about what might come up when I goog'ed "Bar vs. Blake" and this is a pretty good pictorial…here's the link. Nothing is above PG-13, but some of them, I think we can all agree, might air on the side of unnecessary.
Winner: Bar.
Sign of the Apocalypse: I woke up 4:30 to go a spinning class this morning.