Posted by AllieB on July 14, 2011
How to be cool and tough: written by some d-nozzle frat guy and shared with you here, on BBT.
One hopes this is a big joke and that this person is just making fun of himself…but it's a little too long and involved – if it's just some frat dog making fun I'm pretty sure his ADHD would've kicked in around #4, "The Cool and Tough Automobile," and he'd of thrown in the towel. He tries to play it off at the end, but by then it's too late – I'm pretty positive this person is 100% GEN-U-INE serious. I can't even decide which parts to share – the whole thing makes me wish I was illiterate.
Ya know what, actually, he's absolutely right. This last paragraph is totally legit and he makes many valid points. I wonder if I can track this stud down? He sounds dreamy.
It is important to note here that not everyone is cut out to be cool and tough. Although, many of these skills can be learned, truly being cool and tough requires a certain degree of natural talent that not everyone is born with. One of the best ways to become cool and tough is to hone your skills by surrounding yourself with other cool and tough people. Be these people. It is certainly neither cool nor tough to be an individual. Constantly strive for the same level of mediocrity of all those around you. However, it is important to remember that though these people may also be cool and tough, they will never be as cool and tough as you are. Some of the people in your fraternity may be cool and tough, but many of them aren't. So don't hang out with them. It is also important to remember that being cool does not necessarily make one tough, nor does being tough automatically make one cool. You should strive to find the proper balance between the two and become simply known as a Cool and Tough person.
I just died a little. Here's the whole article – I think you've been fairly warned. (Credit: Leila. You would.)
On a very different note, I would like to give a little shout-out to the Atlanta Police Department. Yesterday I got gas, and when I went to put back on the gas cap I found that it was no longer there. Confused, I got down and started looking under my car, etc., as I knew it had been there minutes prior. However, as I was at the most MANIC PLACE ON THE PLANET, the QT on Sidney Marcus, my non-gas getting activity began to incur cars honking and just general unrest. Stupidly, I was like, oh well, and got in my car and drove away. As I pulled out, I goog'ed "is it safe to drive without a gas cap," and was a half-mile up the road, reading about how I was about to spontaneously combust, when I saw the blue lights. For the record: cops terrify me. Even if I've been doing nothing wrong (and in this case I have a brake light out and probably have like unpaid  tickets and bench warrants), I hate those blue lights…anyway, they pulled up next to me, rolled down their window, held up my gas cap and were like, "Did you seriously look on the ground for five seconds, give up, and drive away." I replied, shakily and red-faced, that I had. The two guys shook their heads in unison, rolled their eyes, and handed over the cap. Thanks for caring, APD. The end.
TINA!!! I will see you tonight and hopefully also see many of these faces. Your face – it's as though it's made of clay.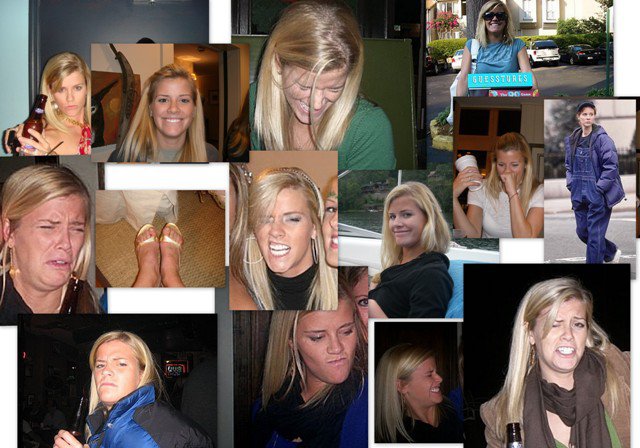 3 Responses to "How to be cool and tough"
July 14, 2011 at 10:09 am

Looks like the APD were being cool and tough with you!

July 14, 2011 at 12:20 pm

This is great. But of course not surprising. I mean, if I had a nickel for every positive, helpful interaction I've had with an officer of the law….

July 14, 2011 at 2:39 pm

Texting while driving.

Dunce!