Posted by AllieB on July 13, 2011
It's a scorcher out there today…I walked to Starbucks earlier to get a green tea lemonade, and in the 2.5 minutes I was outside managed to elevate my hair emergency to Code Red – glorious this is not.
I seriously am going to make one of these at around 3 o'clock today – thanks, Martha!: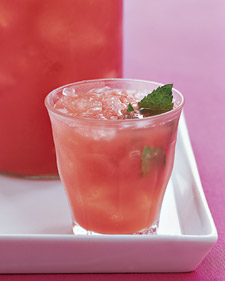 Ingredients
8 cups chopped seedless watermelon (about 6 pounds)
1/2 cup freshly squeezed lime juice (about 4 limes)
2 tablespoons sugar, plus 2 tablespoons more, if needed
1/2 cup vodka, (optional)
Mint leaves
Directions
Working in batches, puree in blender watermelon with lime juice and sugar until smooth. Add more sugar, if needed.
Transfer puree to a pitcher; add vodka, if desired. Cover; chill until ready to serve.
Stir; pour into tumblers, over ice. Garnish with mint.
I found these on an interweb site called, "Why Teachers Drink." BBT says: fair enough.

I think I sat next to the guy on the left my freshman year in Ecology 101. Or I probably would have, had I ever gone to class.  BOOM!!! To the person on the right – touché. And to the rocket scientist in the middle: fail.
Confession: I just had to goog "Ecology" because I didn't know of what it was the study. You'll all be pleased to know that I earned an A. GO DAWGS!
*It would have been more accurate to say "Free Willy'S" but then it wouldn't be a double entendre with a reference towards the classic film and a lame 7th grade joke. Today is Willy's Mexicana Grill 16th birthday. If you feel like putting in some effort, you can visit one of five locations at the appointed times, shake Willy's hand and thusly earn yourself a free burrito.
11 AM at Roswell Road – Buckhead
12 NOON at Perimeter
1PM at Kennesaw
I guess I kind of dropped the ball on the lunch times – you can still do dinner!
6PM at W. Paces Ferry
7PM at Howell Mill
Sweet. I probably won't do it, but I thought I'd put it out there.So, I messed with some internal aspects of BBT, and it's temporarily not showing up on Google. Lo siento. I think I fixed it…hopefully.
One Response to "Free Willy*"
July 13, 2011 at 2:38 pm

Watermelon cocktail?? WANT.