Posted by AllieB on November 2, 2011
Prep your palettes, people, because this is gonna be a good one.
Last night, thanks to the charm and taste for truffles of Wonder Woman and Dani, I enjoyed one of the best meals of food I've ever had. Mirko is an Italian food chain that recently opened up in North Buckhead where Ribs, Etc used to be. I was a waitress at Ribs back in the day, btw, and was eager to check out the place that had taken over their landmark A-frame building.
Anyway, long story short, Sarah and Dani had been there a few times when Mirko, the owner and founder, took a liking to them. Sarah asked him, why is there nothing made with truffles on  your menu? Fair question – it's an Italian restaurant, at least "truffle oil" should make an appearance, it seems. Mirko said, "Truffles! You want truffles! I make a delicious meal for you and your friends with all the truffles you want!" They held him to his promise, and, when I caught wind of the situation, immediately offered to attend. So, last night at 9:30, six girls and myself dined at the whim of Mirko.
To begin with: bread that, in the words of Laureo (who shall  henceforth be known as Lasso, you are welcome), "hugs your mouth," wine, and an antipasti plate with two cheeses, two meats, artichokes, and olives. Delicious. I guess we didn't get a picture of that.
Next: risotto with portabello mushrooms. Holy creamy goodness it was amazing. Then Mirko came around and shaved liberal amounts of truffles on top. I was trying to conserve stomach space and not eat the whole plate, but it was impossible because it was perfect.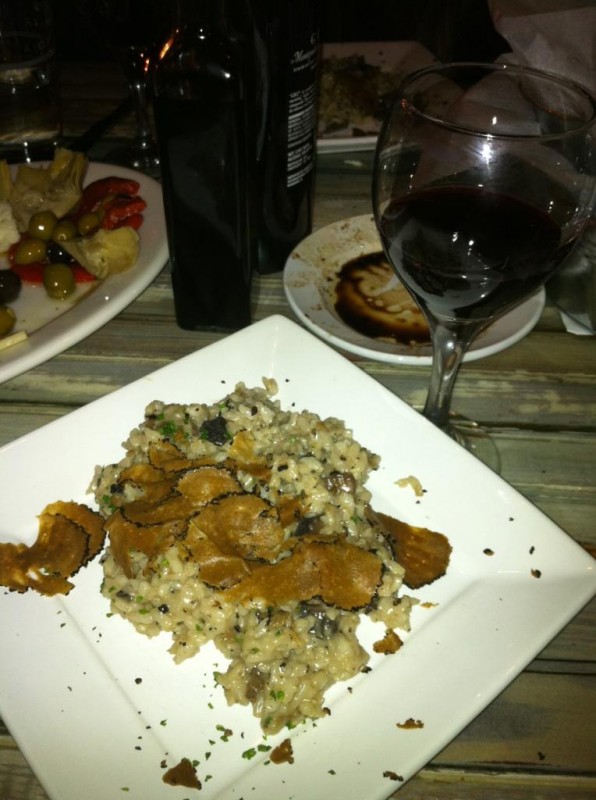 Those big brown things are the truffles. Probably about $25 worth on that one plate.
He let us linger over that for awhile, then brought out the pasta: a cavatelli in cream sauce, and, again, lots of truffle shavings. When he served this, I asked him, "so what kind of noodle is this?" He looked at me like the lame, ignorant American I sounded like and responded, complete with vibrant Italian gesticulations, "IT IS NOT A NOODLE IT IS PASTA!" My b. Anyway, despite the thick cut of pasta and ostensibly heavy cream sauce, it wasn't too rich at all. I could eat a bowl of this every day and be a happy girl. A fat girl with hardened arteries, but happy nevertheless.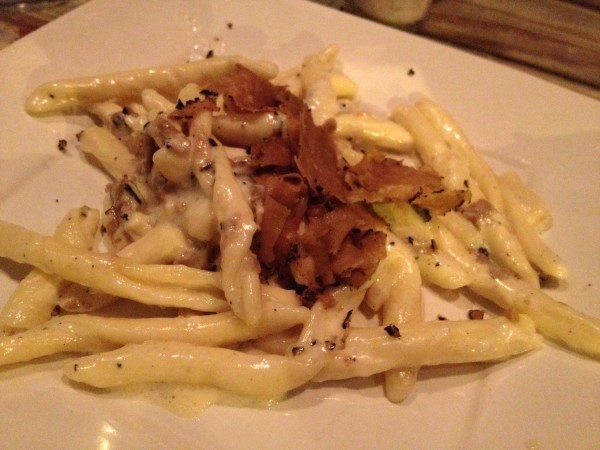 At this point, my high-waisted jeans were starting to get a little distressed. Mirko could tell we needed a break, so he brought a new kind of wine (having consumed several bottles among us of some tasty Italian varietal) that he even decanted – oo la la. It was a 2003 Brunello di Montalcino, which, so far as I can tell, retails in stores for about $75, and probably twice that in restaurants. I think this goes without saying, but it was something of an improvement over my usual Trader Joe's.
At this point Mirko and his friend, a young man who owns a dental practice in Roswell, had sat down with us. The Italians – they are very charming, no?
Next came the lamb. Regrettably, due to the carb fest I'd indulged in prior to this course, I was hardly able to eat a bite, but I could tell it was delish. There was a bed of quinoa with a potato cake made with peppers and onions then a lamb chop heavily seasoned in spices. The picture I have does not do it justice, so just use your imagination.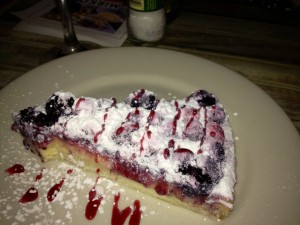 Last but most certainly not least: dessert. Dessert was a mixed berry tart served at a delightfully chilled temperature. Is this because it was frozen right before he served it? Mayhaps, but it was almost soothing after the hot, heavy previous courses. YUM.
Three hours after sitting down, the meal came to a close. I slept better last night than I have in ages: red wine + bread + pasta works better than any other sleep aid I've ever tried.
I should mention that not a single thing he served us, from start to finish, is on the menu at Mirko. So…if you go there, you will not be able to enjoy these delectable things. HOWEVER, it is still worth it. The prices are crazy reasonable – you can create your own pasta dish from 15 different kinds of pasta and 12 different sauces for under $11, and the fish and chicken entrees top out at $13. I've heard the Granny Apple and Sausage Ravioli is not to be missed. Oh, and their Italian house wine (always decent) is $20/liter. This place is kind of a no-brainer. What I can attest to is how perfectly everything was cooked and presented. Plus, he did a wonder on the gnarly interior that was once a rib joint.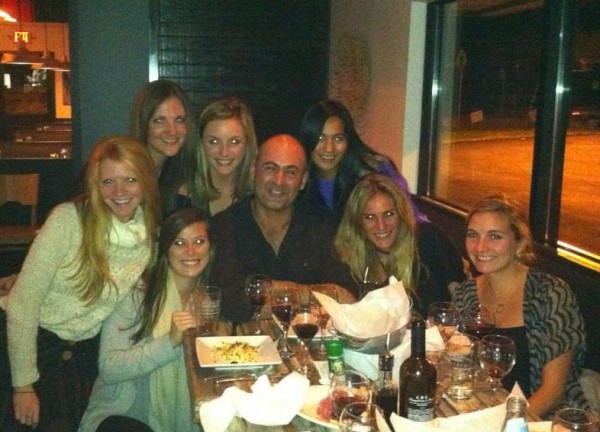 Us + Mirko
So that happened. Should any other local restauranteurs be interested in making a delicious meal for me, I can promise you an all-star write-up like this one.
Top Chef: Texas starts tonight!!! I love Top Chef. Recent seasons have been decidedly lackluster, but I've got high hopes for this one.
7 Responses to "It's not a noodle, it is PASTA"