Posted by AllieB on May 8, 2012
HELLO!! Let's jump right in.
Although posing for wedding pics can be a real pain, the end result is always fun to browse – the actual event was months ago and things have started to get blurry, then all of a sudden you have 1,772 pictures to relive the entire day…for better or for worse. What this most recent set of images from the Baxter-Maines nuptials has learned me is that I ought to avoid the camera unless I am intentionally posing. Now, I'm not totally vain and I realize that these weddings photos aren't about me, and it doesn't really matter what I look like – it's not my day – but it's become too glaring of an issue to ignore. Plus, this blog is about what I want it to be about, and today is about me teaching you what not to do when taking pictures:
1. Show any sort of raw emotion.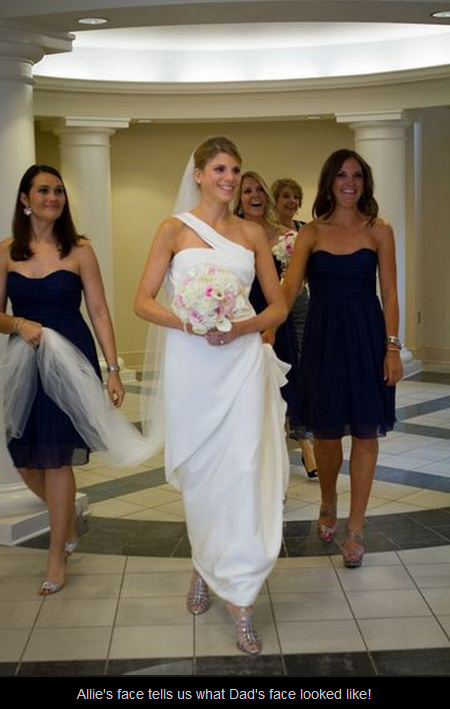 Char seeing my dad for the first time. Seriously, BBT, get it together. Lucy looks on serenely; I could very possibly be on the verge of collapse.
2. Do the running man on the dancefloor: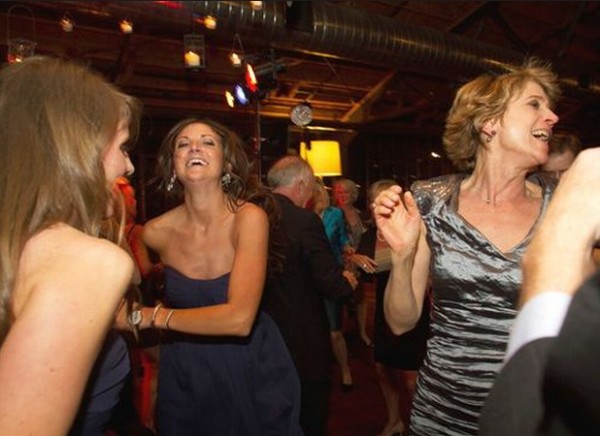 Mom looks cute and breezy. I look like a hoss.
3. Sport any kind of hair-do that showcases abnormally large ears (I GREW INTO THEM) or bedeck oneself in a drab, ill-fitting, button-down mock turtlenecks. WTF is that.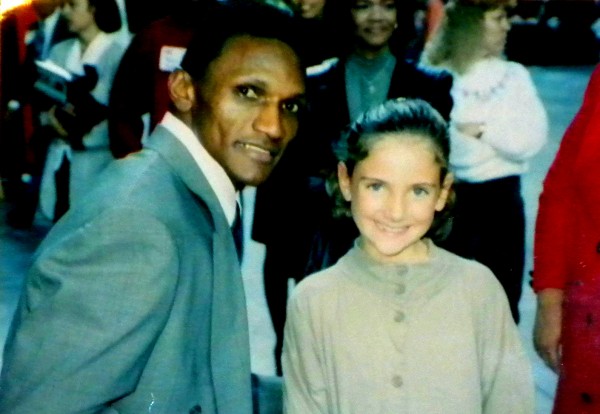 Allie & Otis Nixon, 1993..? I think it was '93. It was post-over the wall catch, pre-departure from the Braves. Whatevs – we were instant kindreds.
But, seriously – don't do the running man on the dance floor, and keep the singing along to a minimum. I decided to leave out the pics of my Steven Tyler impression – it was simply too cruel to share…for the sake of both my peepers and yours. Note to Char/Mom: be kind when assembling the wedding album.
I think I want to start writing freelance..like for local publications. Specifically: restaurant reviews. Specifically: restaurant reviews where the publisher foots the bill and I am treated like Julia Roberts in My Best Friends Wedding. Should someone have an in on that, holla. And I'm kidding about the diva part, as the photos above so clearly demonstrate: BBT is no diva.
4 Responses to "Taking one for the team"
May 8, 2012 at 3:32 pm

The wedding photos are great! I learned the same thing – candid shots are not good for me. Think mouth wide open, nostrils flaring, hands in some large gesture, etc. Not a great look for me.

Keep us posted on new job prospects!

May 8, 2012 at 4:04 pm

I am not entirely surprised by this, Tina…we all know about the very famous Face That Is Made of Clay…

It is one of my favorite things :)

May 8, 2012 at 4:26 pm

It's a grinning flat face. Tough to pull off but you make it work….!!!!!

Also, I want to be your George when you become the Jules of the Atl restaurant scene.

May 11, 2012 at 2:33 am

Wish we had the same good advice. Good times aren't always pretty!