Posted by AllieB on May 22, 2012
Summer has arrived. Not the wet, hot blanket heat that we can look forward to in a month or so, but the totally insane, violent storms that come in out of nowhere, like the one last night. I was cruising down Peachtree, noticing how weird it was that it was raining in the Northbound lanes but not the Southbound ones (hmm strange), when all of a sudden I was blindsided by walnut-sized hail. What the hail!?* Anyway, I'm just glad Whole Foods has that underground parking option, and I never thought I'd say anything positive about a parking deck.
I've been getting around recently: here, read about one of Atlanta's newest restaurants, Campagnolo in Midtown.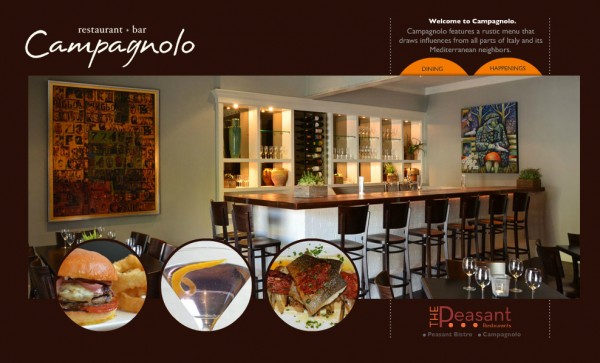 Located at the corner of 10th and Piedmont, Campagnolo is a festive hub of a restaurant with a chill yet "we're new and hip" vibe. It's longer than it is wide, but the patio and main dining area are pleasantly spacious and open. I felt a bit claustie as I made my way back to the bathroom, but that could also have something to do with the wall-to-wall humans packed in for a birthday party. In the grand tradition of myself, I arrived 30 minutes late and missed the apps, but I understand there was a homemade focaccia with baked goat cheese that was excellent. What I thought was excellent was the rose, the Le Cengle from France, and I also enjoyed my Zucchini Piccata. I didn't take pictures because it hsa been requested that I not do that, but it was good. It had capers, and I love capers. Sissy and Dani split an orecchiette dish with spicy homemade sausage and cherry tomatoes, the portions of which were quite large, especially since they split the $10 small size. One of the highlights of my night was hearing Dani order this.

We had a lot of fun. There's free valet parking, which is good because this little block of Midtown gets real saucy on Friday evenings….
If I want to be a restaurant food critic, I'm going to have start eating the restaurant's food…
Speaking of cheese, this past weekend someone – I believe it was Boda, and I apologize if I am misappropriating credit where it's due – posed the question, "why can't cheese be a power food?" Honestly, why can't it? I see no reason why a bowl of queso can't have the same perks as a big bushel of broccoli, except for the obvious fact that it's impossible. I just wish things had gone differently from the get-go re: allocation of nutrition. Thanks a lot, science.
I love you Liz Lemon: click here for a very funny photographic timeline that chronicles the tumultuous history of Liz's locks. Remember when she studied abroad in Germany?? It's like a quick review of all the best episodes.
OH! The power of social media has finally paid off for me, personally: I bought the $34 year subscription to UsWeekly yesterday, and then went about sharing my personal link via various social media channels (The Twitter, FB), and if three people clicked thru on my link and purchased it then I got my deal at no charge…well, and this surprises no one, it worked and now I can look forward to the weekly gift of celebrity smut for a full 52 weeks for free. Sometimes I really am my mother's daughter.
*HAPPY BIRTHDAY, CARO!! And thank you for allowing me to filch your words for today's title. I will repay you in pizza tonight. XOXO.
Have a great day – hopefully one that has more direction and focus than this here blog post. I'm off to Flywheel…hayulp.
2 Responses to "The skies are angry"
May 22, 2012 at 12:15 pm

You left off the "!" in the title…