Posted by AllieB on January 31, 2012
Get it? It's like Eat, Pray, Love but not. What day is it – Tuesday? I hate Tuesdays. Nothing original has ever happened on BBT on a Tuesday – I find Thursdays are the best days for unique material – so I'll just link to a bunch of stuff that other people have already said and/or done…including that of my own work.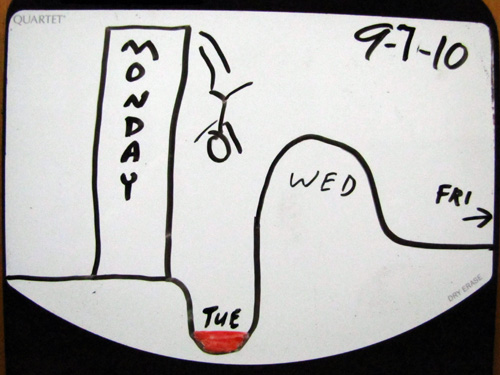 First seen on BBT in May 2k11. Sorry I'm not sorry.
EAT (when it opens): ATLiens: chef/restauranteur extraordinaire Kevin Rathbun is opening a "small plates steak" place in ADAC in Peachtree Hills this summer: KR Steak Bar. I'm excited because I love steak and who doesn't appreciate a good, old-fashioned rhyming name. Welcome to the neighborhood, KR.
WATCH: Kristen Bell is funny. She reminds me of MPvZB (a compliment) and MCL says she was great in Veronica Mars. She's been on the circuit lately touting House of Lies, a new show on Showtime of which I am somewhat fond (it's kind of ranchy?), but here she is on Ellen…and she's having a sloth-related meltdown. I don't quite get it, but I like what I'm seeing – she has very little shame. Obviously need sound:
credit: Y Kenna.
ALSO WATCH: Do you like musicals?!?! Tina, I know you do. Unless you live in a hole, you've probably seen the trailer for the show, Smash, that premiers next Monday Feb 6. Ever resourceful, I watched the first episode last week OnDemand, but it's also available for free on iTunes. I liked it! I'm losing you, I can already tell, so that's all I'll say about it – but check it out.
TAKE THAT, KATHERINE HEIGL: according to this article, "experts" are saying her career is over. Good riddance, I say – I find her incredibly obnox, not to mention a very one-note talent. The best she's ever made it on my list is "slightly less annoying than her most annoying" and that's not very promising.
I hope your day isn't suicidal. TTFN!
8 Responses to "Eat, Watch, Ridicule…"