Posted by AllieB on March 12, 2015
Oh, hello readers. I know it's been a minute, but up until very recently I've been completely miserable and amid the throes of a serious bout of SAD (Seasonal Affective Disorder is not a joke; it is real), and my inability to talk about anything but my misery mandated a brief BBT hiatus. But that's all in the past, there's no more sludge – I will literally (not literally) kill someone if the sludge comes back, and I learned I am my own hero and my super power is getting out of bed. Join me as we move on from actual hell on earth winter and embrace the joyful pleasures of spring.
It's always hard for me to jump back in after a lengthy absence, so I'll go the way of the listicle; I love a listicle with lots of links.
~ I do not love emails from non-humans and have spammed every daily or weekly or even monthly newsletter I've ever tried – with two exceptions: The Skimm and, as of last week, The Lead. We've discussed The Skimm 100x why do you never listen to me, and The Lead is like a Skimm but for sports only. I like these guys – here's a partial shot of today's email: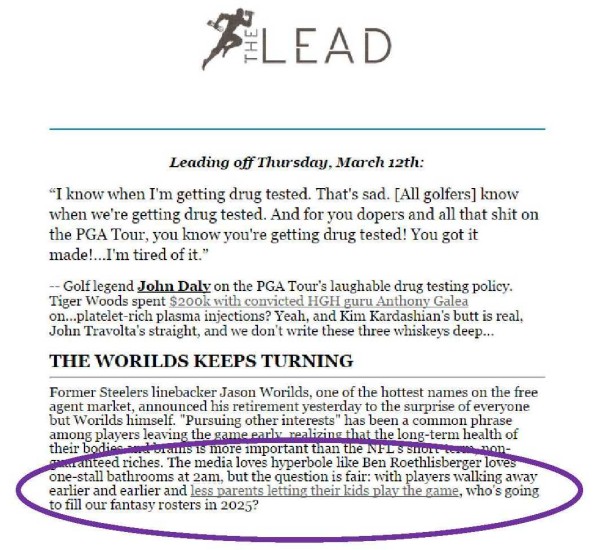 it's like zing! but also yeah – that is a fair question
Remember kids: knowing stuff is kewl.
~ I am a published photographer!! I never aspired to be a photographer, but now that I am, I'd like to thank my family and friends for all their support…and Camera Plus for their advanced filtering mechanism, and Instagram for allowing me to add filters on top of filters.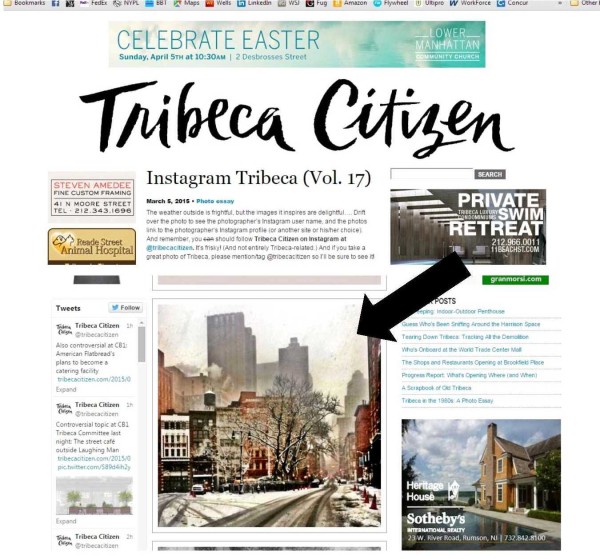 I posted this stunningly artistic and evocative cityscape on Instagram last week, and they asked if they could post on the site. So that's how that happened.
The below is from a BBT draft that I'd been half-heartedly working on over the last days of Feb/first few of March, and you can see I was not joking about my fragile state – I think this is what they call "spiraling." Sheesh.
Morale is low. I recall saying, I think it was early January, the following:

<sips wine, touches hair> "Y'all, I don't think winter's going to be that bad. I just don't. It's already January and it hasn't snowed yet, plus last winter was beyond awful, and I read some article that said it's only really bad every other year…so, right? It's going to be fine!"

Oh really, Allie. REALLY. I need to leave weather to the professionals and stick with what I know, like watching tv or internet trolling (wanna hang out?) – instead I planted this ill-conceived notion of a balmy winter in my head, so when February hit and wound up being the coldest month since 1934, I didn't handle it well. I'm not handling it well. I'm starting to lose it. Actually, I think it's already been lost.

Silver lining: new winter boots for BBT!!

My new boots are already stained by the sludge. I hate everything. Send help.

I know it's cold everywhere blah blah blah but it's different up here and you don't know until you know.
Girlfriend needed a chill pill and a trip to Mexi. DO NOT LET ME FORGET TO GO TO MEXICO NEXT YEAR.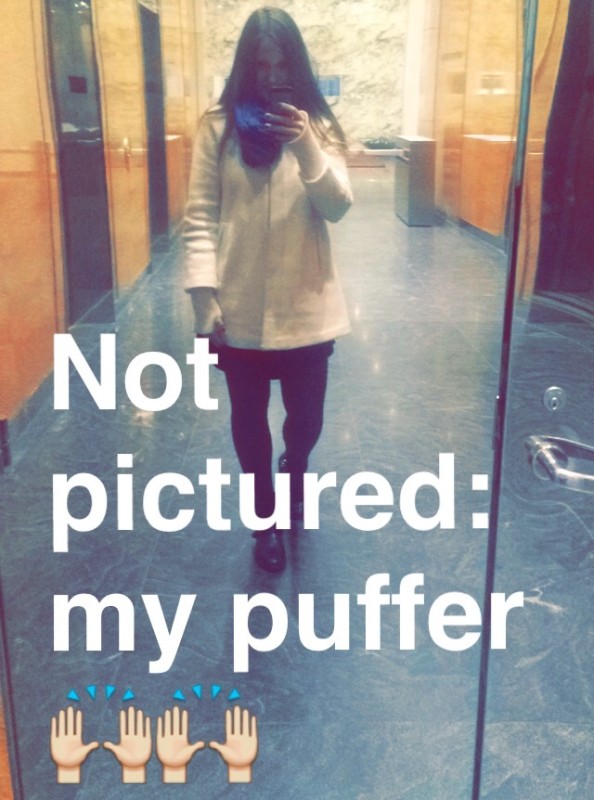 Baxter, out.
3 Responses to "You don't know until you know"
March 13, 2015 at 11:07 pm

I read this in the elevator between meetings and my takeaway was, "Neat, Als got new silver boots."

September 3, 2015 at 11:10 am

[…] "it's never as cold as they say it's going to be" ALLIE BAXTER DID YOU LEARN NOTHING FROM LAST WINTERÂ anyway… I was a little […]