I write today about choosing the company you keep. At this point in my life, I know exactly who I like, who I don't like, and who I wish to send here, and it's time to make some changes. I've outlined some methods that focus on the implementation of passive-aggressive behavior – as everyone knows, such conduct is a highly effective and emotionally prudent way to drop the zeros and get with only heroes.  See below.
#1: Trim the Fat. Cut the B-Team. You know – the people who are a third, maybe fourth resort when you're looking to make plans. Wouldn't you rather stay home than force awkward conversation while pretending to not look over their shoulder to see if there's anyone better to talk to? I would. Done. It's hard enough to keep your inner circle at arms length – these peeps gotta go.
#2: Just Say No. "Allie, want to get lunch today?" Nope. "Does anyone want to meet for happy hour?" Sure don't. "Want to go shopping in Brooklyn?" Absolutely not. "So-and-so's playing at Bowery tonight – wanna go?" What do you think?
#3: Flat Face. I talk about "flat face" all the time: it is the ultimate unimpressed expression that reeks of judgement and disdain. Cut to a Thursday evening at your favorite bar/restaurant –  you're sitting at a table with a few friends, having a really fun conversation, oblivious to all around you. Then you sense it: the lurking presence of some stain primed to ruin everything. He interjects, "Well, hey there ladies…" Say nothing, just turn slowly to him with your flattest face and maintain eye contact for a couple seconds – trust me, he'll pick up what you're putting down…he might even cry a little. Be advised: this sometimes goes awry if you're with people who do not employ FF and instead entertain strangers as though they might bring something of value to the evening. When this happens, you will look like a total bitch. Me, I say: Mission Accomplished!
#4: Radio Silence. Stop responding altogether.
#5: Salt-n-Pepa. Conversely, let's say someone has decided to ignore you – who knows why, probably because of something you did – and they're trying to utilize the approach described in #4. Under no circumstances will you take this lying down: instead you assault ("salt") them with texts and pepper ("pepa") them with questions. This strategy is actually empowering because you are knowingly foiling their Radio Silence plan, and knowledge is power. The Mess-er, as they say, becomes the Mess-ee. See below for a "salting" in the literal sense.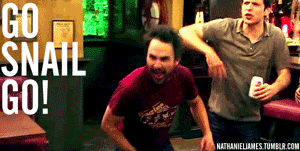 Sister, you are to me what Gail the Snail is to Charlie. xoxo
So there ya have it – 5 easy steps to fewer friends and more enemies…you are welcome! Also, I'm kidding*
*Except for number 3**
**OK, let's get real for a sec: I'm trying – like in real life – to do the opposite of everything I just said. Especially #3, even though that's going to be very hard for me, but it's time to expand my horizons. I realized recently I am my own worst enemy when it comes to social ventures – I'm used to being included by default, but if you say no enough people really will start to get the hint. It is incumbent upon my nearest and dearest to hold me accountable as I attempt to eradicate these bad habits. Consider this needlessly sarcastic post a cry for help.
ANYWAY in other news…
Superbowl XLVIII is Broncos v Seahawks! And it's in NYC!! Actually, it's in Jersey, but whatevs. Not gonna lie, I was pulling for Tom and the Pats on Sunday (I have a thing for Tom), but this should be a good game. TBD who I'm cheering for – right now I'm thinking I'll take chicken wings over the hummus.
What a nice, non-creepy photo. I hope Tom Brady doesn't have a Goog alert set for his name…I'd be so embarrassed if Tom Brady saw this!
Aaaand the weather outside is weather.
Winter Storm Janus hit the Northeast coast pretty rough on Tuesday. Who's naming these things?!
Have wonderful Thursdays. MC & KR, I'm thinking margs for this eve…? A spicy jalapeno one, to be specific.