*specifically, what do guys really want for Christmas. The title is intentionally misleading.
Last year I asked 100 or so of my male and female friends, acquaintances, and frenemies to take a little survey about gift giving and receiving. I took the time to create it, they obliged me in answering it, I tracked and compiled their answers…and then I threw all of our hard work in the crapper. But, today I revisited my hard work and have decided, yes, these insightful questions and revealing answers must be shared! I am aware that I recently said gift guides are not one of my strengths, and that's still true, but I'm not providing links to artisan cheese boards, I'm giving you the gift of TRUTH…it also adds a little insight into the ever-mystifying minds of the opposite sex. This is more than a gift guide; it's a guide to life.
Today, per the title, we'll learn about the dudes. PAY ATTENTION PEOPLE.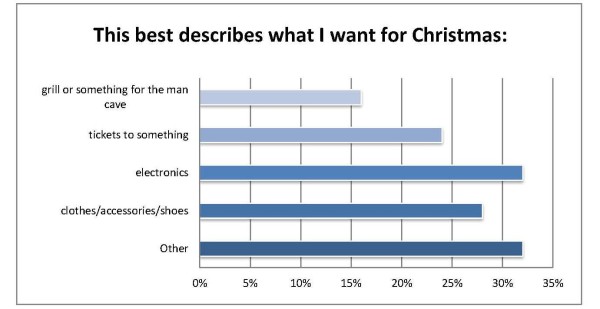 The best "Other" response I got was: Like Mariah, all I want for Christmas is ewe. I'm hoping to start a farm. 
You can't say this wasn't helpful! Ok fine, other "Other" responses included golf clubs, golf vacation, and golf clubs.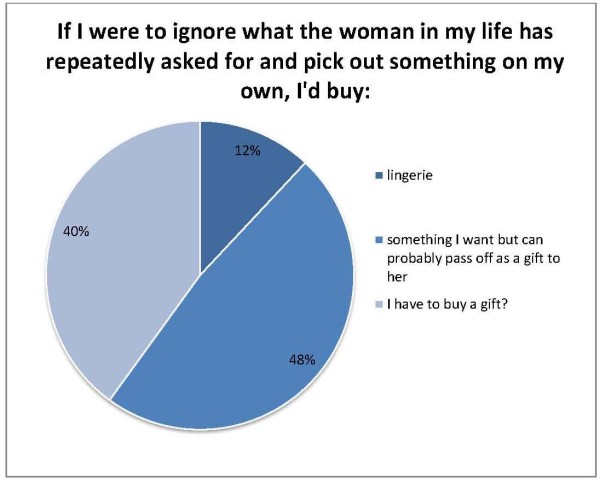 The most telling commentary was: If I ignored what she said she wanted and something on my own I would totally fail.
See?? You can't make these vague references or veiled hints and expect to get what you want, or even remotely what you want. This goes for most things you're trying to communicate, I've learned, just go ahead and spell it out. #lifelessons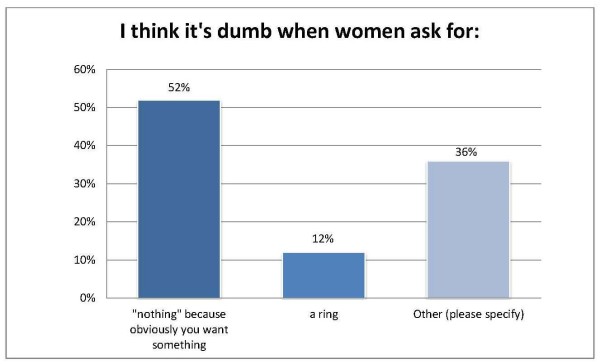 There was some helpful commentary along with this question:
All of the above but also something "small"
Is it true that when a woman says nothing she means something? I did not expect to learn so much from a quiz. Do women always mean the opposite of what they say? Thanks, BBT!
"Oh, I'm sure I'll love whatever you get me." Wanna bet?
clothes… I have absolutely no idea what size you are. If I guess too big, I think you are too fat… if too small, its a subliminal messages to lose weight – lose lose
I'm sensing a bit of SARCASM from the funny guy in the middle.
The next question wasn't really graphable:
I will be really pissed if I receive any of the following items:

A nicer version of something I already have. I simply don't give a shit if it's new. If it isn't broken, I don't a replacement.

Anything I didn't pick out

Any kind of DVD. Also, I don't need anymore golf shirts.
Jeeez, diva central over here.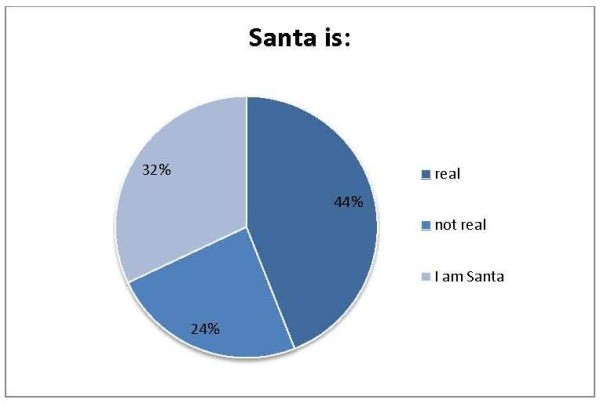 Alright, girls – now you know: be very clear about what you want, don't even THINK about buying socks, and anything golf-related is probably a safe bet. Wow, Allie, that sure is a lot of brand new information.
Happy Thursday! See y'all next week when we delve into the female psyche…that sounds terrifying.