It's important to keep in mind that all of the answers given here are subject to mood-swings, the second/minute/hour of day, barometric pressure, and a gazillion other variables you couldn't possibly anticipate.
And we're back! Last week was an in-depth look into the hearts and minds of men (as they pertain to Christmas), and this week's post will attempt to do the same for the ladies. I can tell you what they say they want, but as to what they truly desire, well – I am powerless to speculate. Here's a tip for everyone, all shapes, sizes, genders: if you're at a loss for what to get someone, just buy yourself Chromecast and call it a day. I did, and I couldn't be happier – that's the best gift of all, right? Chromecast streams Netflix and YouTube from your phone or computer (without zapping battery life or slowing things down) onto your TV. It is a USB drive that you plug into the TV. There are no cords, and it costs $35. This isn't rocket science.
I digress. Here you go – what your lady friends want for Christmas: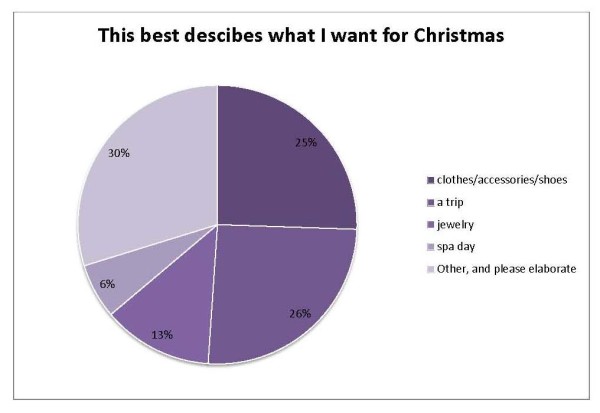 This response to "Other" was by far the most lame of all the responses to any question, girl or boy:Â I wear the same stud earrings everyday and want something to spice up my daily look!
I can't even tell if she's kidding. For the sake of BBT's integrity, I will assume she is. Moving on.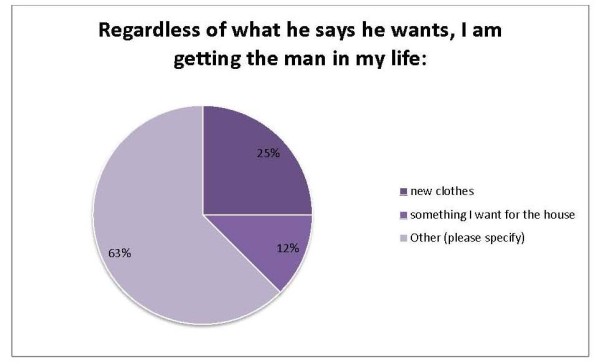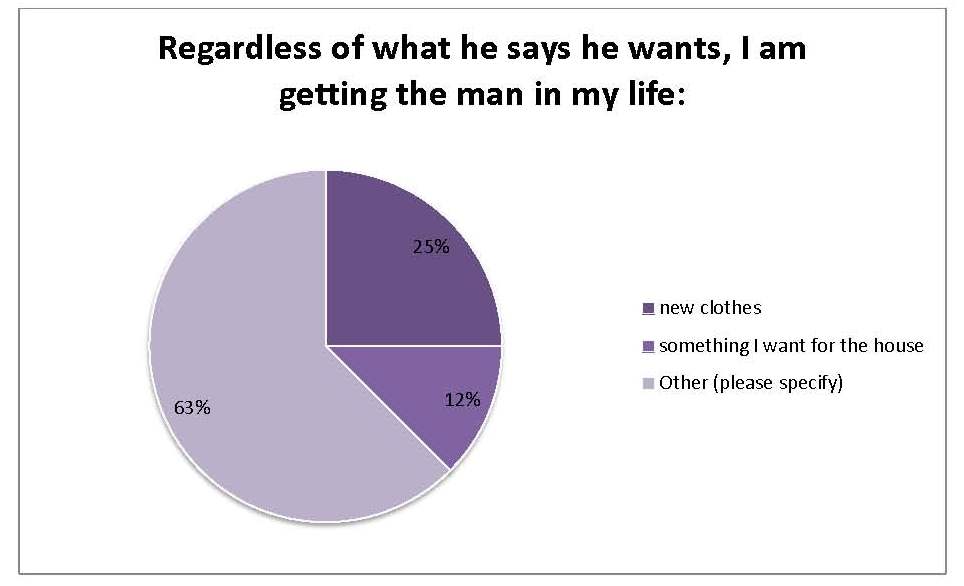 Specified "Other" items included:
Jeans…sick of looking at his dad jeans

new clothes- specifically pants as the pleated khakis he wears sometimes resemble MC Hammers'

If I had a man I would buy him a gift for myself. Maybe that's why I'm single.

A session with a medium. I swear we aren't crazy.
Yeah…I'm pretty sure y'all are crazy.
And if you're wise, you'll pay close attention to this one: gifts that will make a girl go absolutely batsh*t bonkers (and not in a good way) are:
cirque du soleil tickets. Yuck.

anything that was on my wedding registry

ugly clothes that I can't return

Any sort of class. If I want to learn how to do something, I will goog

victoria secret underwear

anything relating to cooking

Crew neck christmas sweaters. WHY GOD WHY?

for him to get a puppy. 2013 is not the year of playing pick up the poop

My parents telling me the fact that they flew me home to visit for Christmas is a big enough gift.

Weird Jewelry/House Stuff/Anything Mature

a cookbook/cooking utensils/an apron/cooking lessons

SOCKS. I DO NOT WANT SOCKS.
I agree – coal would suck, and the one with the parents saying your ticket home for Christmas was gift enough…saddies :( On that note, THANK YOU, G-force and Geoff, for your kindness and generosity 365 days/year!
The responses to "The gift I want most in the world" were 80% about taking a really cool trip, 10% about a new house, 8% want a puppy and/or Ryan Reynolds, and then there was the doofus who wants a navy Porsche Cayenne with tan leather interior. SMH*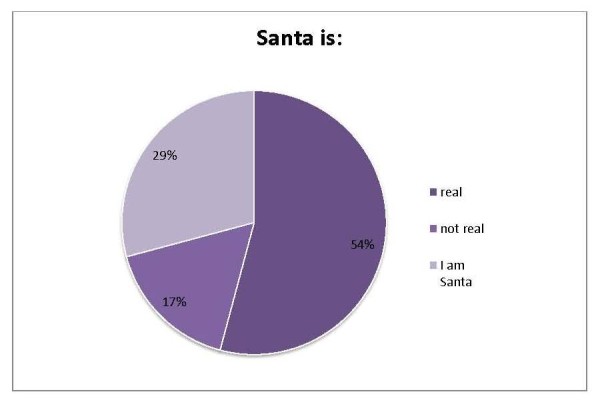 My takeaways are twofold: 1. I know some pretty bratty females, and 2. guys and girls aren't so different after all: NO ONE WANTS SOCKS. In spite of the answers provided by my male and female cohorts, I think what everyone really wants (besides Chromecast) is a thoughtful gift that shows that the giver was truly thinking of the give-ee…and is not a piece of crap.
I'm realizing now that, once again, I neglected to take my own survey, so I will leave you with my answers.
1. This best describes what I want for Christmas: clothes, a trip, jewelry, and a spa day

2. I am getting the man in my life a beautiful, golden goose egg (I think nothing is a great gift for someone who does not exist)

3. I will go batsh*t bonkers if someone gets me….I can't think of anything that would make me go loco. Y'all, a gift's a gift.

4. Santa is: REAL.
TGIT! It was 14 degrees when I woke up this morning.
*I finally goog'ed what SMH stands for last week – it means "shaking my head"