Posted by AllieB on November 29, 2010
First, I'm so glad that the days of the Barenaked Ladies are days of yore.
Second, by "a million dollars" I mean "a hundred dollars" and, as it were, I do! I spent Saturday evening in Newnan, The City of Homes – or, according to Skin, The City of Magic (?) – and it was lovely. In addition to the company, setting, and food, the evening was made even better by the truly unprecedented event of me winning a raffle/bet/pool situation when I happened to have chosen the right square in a grid of 100, winning me one hundred dollars…a C-Note…a Benjamin…etc.
An extra $100 is also an extremely uncommon happening in my life, and I've been deciding what to do with this unexpected windfall…I have several arrears that need to be relieved, but that's no fun and is what normal payday is for, so no – and same goes for savings. I'm going to buy something fun for moi:
The Short List: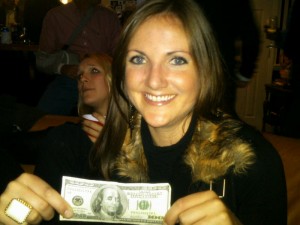 Christmas tree for my casa – this is a definite
A wreath – also a non-option
Lights for decorating tree and windows – thanks for sharing, Mom and Dad (read: free)
Christmas presents
I'm pretty sure I've run out of money…
Sigh. $100 really doesn't go all that far, does it? No, it does not.
In addition to this excitement, I did three things this past weekend that I would highly recommend.
I saw Harry Potter and found it to be the best one yet; I cannot wait for the second installment. Dobby….!!!!
Enjoyed lunch at Horseradish Grill. The Baxter Fam has been enjoying meals there since before it was even there – it used to be The Red Barn Inn. It was a red barn that served steak. Anyway, we've continued our faithful patronage through the years and it's one of my favorite spots. Lunch on Friday was no exception. I ordered the Turkey Club on HF sourdough with a side of grits, but I was having extreme order anxiety about all the things that I wasn't getting to have, so I encouraged to Jordan to get onion rings, Stanton got the She-Crab Soup, and I assembled a delicious and rather substantial doggy-bag using everyone's leftovers: shrimp and grits, mac n cheese…so, at the end of the day, I wound up with a nice sampling of the whole menu. Mission: accomplished.
The Dali Exhibit at the High. Go, but don't go on the Friday following a major national holiday when most people do not work and are trying to think of ways to entertain their out of town visitors. The body odor, frankly, is what I remember most about the experience. I think my favorite part was holing up in the gift shop with a book entitled Paintings That Changed the World. I am, after all, an art historian…the exhibit itself was expansive and provided a very comprehensive look at the life and art of Dali – I hope to return on a less crowded, less pungent day.
Merry Mehday!
3 Responses to "If I had a million dollars…"
November 29, 2010 at 4:24 pm

my, that is a lot to get for $100! I have to admire that you are putting it toward something as important as a tree! very funny post… I enjoyed it :)

November 29, 2010 at 6:01 pm

You can get better deals on trees at the Farmers Market by Scotts!

December 1, 2010 at 6:41 pm

The Magic City?!?! aaahahahaaaaaa