Posted by AllieB on January 19, 2011
I could write a whole post about my Seasonal Affective Disorder (SAD) – which does exist, by the way – but I choose not to. Instead I shall write about Snooki's new novel, A Shore Thing. Meet Gia and Bella, two girls who are not-so-loosely based on Snooki and JWow, respectively. That's fine with me – stick with what you know, I always say (credit: NYPost).
* "Gia danced around a little, shaking her peaches for show. She shook it hard. Too hard. In the middle of a shimmy, her stomach cramped. A fart slipped out. A loud one. And stinky."

* "Gia had never before been in jail. It wasn't nearly as gritty and disgusting as she'd seen on TV prison shows. The Seaside Heights drunk tank — on a weekday afternoon — was as clean and quiet as a church."

* "I love food. I love drinking, boys, dancing until my feet swell. I love my family, my friends, my job, my boss. And I love my body, especially the badonk."
Titillating stuff…maybe I'll buy it on my Nook for my upcoming trip to Pakistan (more on that later). Also, three songs by The Whigs – with lead singer Parker Gispert, one of my oldest nearest and dearest – were featured thrice on Monday night's episode of Jersey Shore…I thought "Someone's Daughter" was particularly apropos.
YKenna has shared with me a new blog devoted to awkwardness: www.umawkward.com.
This reminds me of Sister and me. Guess who's who. I bet I could do a whole sub-blog on BBT featuring various categories of Awkward: Encounters with Strangers, Loss of Filter at a Staff Meeting, Babysitting Moments, Attempts to Ascend an Escalator and so on…between my daily blunders and those executed by my peeps, I would really have endless material from which to choose. Hmm. Mayhaps.
Last weekend in Athens, MPvZB, Sis, Leila and I reacquainted ourselves with the wonder that is Liz Lemon. Join us, won't you?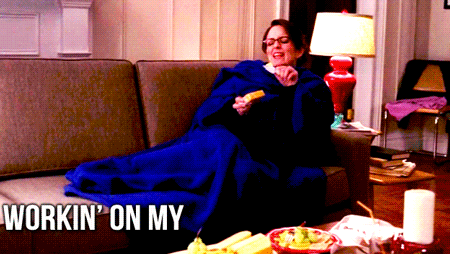 Did this seem a little meh to you? It did to me. It must be my SAD talking.
3 Responses to "Workin' on my night cheese"
January 19, 2011 at 12:39 pm

The head-to-body ratio of that chicken is the opposite of yours, but other that that, spot on.

Do you KNOW what time it is? I was sound asleep…
I heard you singing night cheese.

January 19, 2011 at 1:04 pm

you kind of remind me of the little chick looking on, who is pointing and laughing but secretly wishes he was being mashed, also

January 24, 2011 at 3:21 pm

upside: niiiiiice and warm
downside: gtfo my head