Posted by AllieB on December 19, 2012
As you begin, I implore you to read to the end.
When I first started writing BBT, I didn't have a plan one way or the other for what direction I might go – I didn't plan, for instance, on the glorious Royal Wedding, and I wasn't sitting there with J Simps, shoving chocolate-covered nachos down her throat to bolster my favorite blog topic. (She actually looks really good right now? I'm confused.) One fundamental principle became pretty clear early on, and that is to look out for #1. I do not overshare – this leaves me free to judge others while protecting myself. It's a one-way street, and I like it. However, and maybe it's because I'm writing less, or perhaps I am turning into an egocentric maniac, it seems that lately I've become my own favorite subject. I wonder if this is at all correlated to the recent decrease in readership? I will ponder.
Read below A Day in the Life: Saturday.
1. 930 wakeup. Fresh as a daisy! Bring on the day! Sense the tone!

2. Wells Fargo. My check card decided our relationship had run its course and took a hike – so selfish and very annoying, but not only are there banks open on Saturdays, they have normal Saturday hours, like 10:30 – 3:30. I do love convenience and practicality.

3. Nails. I went with a very Christmas-y dark green called Live and Let Die from OPI Skyfall collection – you know how I love Bond. They were messed up before I left the salon.

4. Shopping. I've blocked these 2 hours from my memory. Shopping on Saturdays is just as stupid here as it is in Atlanta, if not more so. When will I learn.

5. Here's where my adventure begins…the map below shows my progression around the city from 3PM – midnight on Saturday. Lucy and I covered a lot of ground. The letter A (The Standard) designates where we began, and the letter F (dream hotel) denotes the end. In case you were unfamiliar with the map key system.

I think it's funny that A is two blocks from F.
A noteworthy footnote to our adventure is that this past weekend was Santacon. Santacon is now, officially, my least favorite thing, topping such previous Least Favorite Things as the dentist and Lenox Mall around Christmas. The entire city is overrun with drunk kids, MANY of whom are underage (how dare they), going on a self-directed pub crawl across the city…oh, and they're dressed as Santa. This means to say: girls are in fanny-showing Mrs. Clause outfits and guys are decked out as Santa in various stages of undress. It is a spectacle. The people are a mess, and getting around the city is almost impossible. Our methods of transport included subway, cabs, Uber,  scary gypsy cars whereupon the moment of entry you're completely off the grid (wise, I know – never take these solo), horse drawn carriages, and time travel – none of which were done with ease or expediency.
In spite of all that nonsense, we really enjoyed our day. We saw lots of people – from out of town guests to life long besties – and I saw parts of NYC I hadn't yet seen. The Financial District is eerily awesome at 9pm on a Saturday night. And I finally experienced the burger from PJ Clarke's, which…I'm not sure what words will do it justice – sublime? Transcendental? A miracle in my mouth? Yes x3.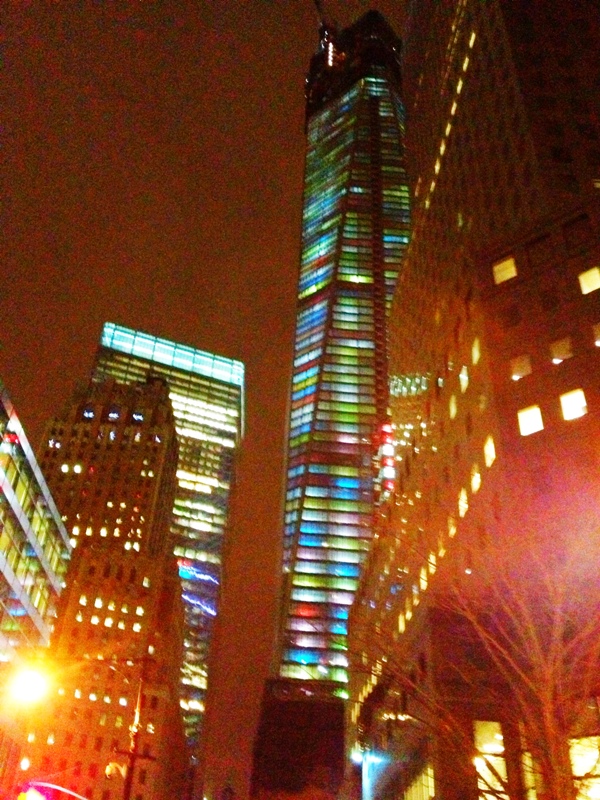 The Freedom Tower.
Thisphoto of One World Trade Center, and all that building symbolizes for us as a nation, is a relevant segue to what I speak about last. I've been struggling with how to address the Sandy Hook shootings – nothing I wanted to say was coming out right. I so appreciated many writers' words (Jason Gay, WSJ sports columnist, always nails it), and when my own fell short I decided instead to share this beautiful version of "The Night Before Christmas".
Twas 11 days before Christmas, around 9:38
when 20 beautiful children stormed through heaven's gate.
their smiles were contagious, their laughter filled the air.
they could hardly believe all the beauty they saw there.
they were filled with such joy, they didn't know what to say.
they remembered nothing of what had happened earlier that day.
"where are we?" asked a little girl, as quiet as a mouse.
"this is heaven." declared a small boy. "we're spending Christmas at God's house."
when what to their wondering eyes did appear,
but Jesus, their savior, the children gathered near.
He looked at them and smiled, and they smiled just the same.
then He opened His arms and He called them by name.
and in that moment was joy, that only heaven can bring
those children all flew into the arms of their King
and as they lingered in the warmth of His embrace,
one small girl turned and looked at Jesus' face.
and as if He could read all the questions she had
He gently whispered to her, "I'll take care of mom and dad."
then He looked down on earth, the world far below
He saw all of the hurt, the sorrow, and woe
then He closed His eyes and He outstretched His hand,
"Let My power and presence re-enter this land!"
"may this country be delivered from the hands of fools"
"I'm taking back my nation. I'm taking back my schools!"
then He and the children stood up without a sound.
"Come now, my children, let me show you around."
excitement filled the space, some skipped and some ran.
all displaying enthusiasm that only a small child can.
and I heard Him proclaim as He walked out of sight,
"in the midst of this darkness, I AM STILL THE LIGHT."
Tis the season to love one another.
Love, Allie
5 Responses to "On notice: Santa"