Posted by AllieB on January 6, 2011
Through various WordPress features I can see what phrases/words people search on Google or Bing or Yahoo or wherever that land them on Baxter Bark Twice. For those of you concerned about your privacy (K…), I can assure you that nothing beyond your search terms are divulged: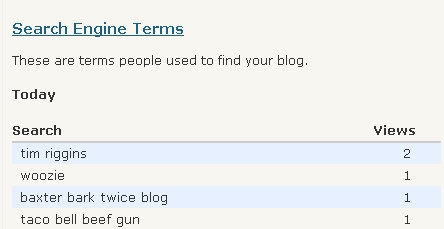 As you can see in the screen shot above, at some point in the last 17 hours some weirdo out in cyberspace entered the phrase "taco bell beef gun" into his search engine of choice and wound up at www.baxterbarktwice.com.
To the person who is looking for a taco bell beef gun: have fun being curious. However, if it helps, here's the sour cream gun – maybe it's not dissimilar to the beef gun…? Also, might I suggest going to the TB franchise on Northside Parkway near W. Paces Ferry – I'm sure the friendly folk there would be happy to help you find your beef gun.
credit: MPvZB
"…but you can imagine how wicked awesome the meat hose must be."
I find it perturbing that BBT showed up in the search results for such a query. Perturbing…and kind of awesome.
4 Responses to "This is what I learned today"