Posted by AllieB on April 13, 2011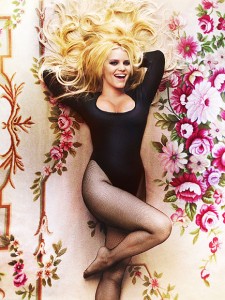 YES!!! J Simps is talking in public again. She's one of People's Most Beautiful People for 2011, and, in the grand tradition of throwing herself under the bus whenever a potentially positive situation presents itself, she offered this sound bite in her interview:
Being well-endowed since sixth grade, the blonde bombshell points out that "there's no way to hide them as much as you want to bandage your boobs down." Simpson, 30, has since learned to embrace her chest as her "best accessory," telling PEOPLE, "Now I can make my way in and out of parking tickets: Show the girls and give a wink!"
We get it: you have big boobs. This is not brand new information and now is certainly not the time to draw attention to the fact… Yes, you are attractive and I'm sure people in Middle America find you endearing, but your marketable appeal is more that you run a billion dollar fashion company that basically prints money. So…please stop talking about "the girls." Really. Just stop.
This week's Do Not Want features a completely creepy new trend called the "Cuddle Party."
A Cuddle Party is: A structured, safe workshop on boundaries, communication, intimacy and affection. A drug and alcohol-free way to meet fascinating people in a relaxing environment….this playful, fun workshop has been a place for people to rediscover non-sexual touch and affection…a great networking event to meet new friends, roommates, business partners and significant others.
How unpleasant. I'm sure Cuddle Party Rule #1 is meant to assuage my discomfort, but WHY ARE THEY IN THEIR PAJAMAS IN THE FIRST PLACE.
Pajamas stay on the whole time.
Let's play Would You Rather: would you rather attend a Cuddle Party for five minutes, or drink a cocktail of three-day-old chili and dip spit. I would choose the latter twice, perhaps thrice, over a CP. I really think I would.
Sister gets credit for Cuddle Party (you would), and I read about the chili/spit concoction in the WSJ a few weeks ago – this jokester Livian Hernandez is a catcher for the Arizona Diamondbacks, and sipping on sludge is the least of his shenanigans. He once ate 11 bananas in four minutes. Shenanigans, I tell you!
4 Responses to "Boundaries 101"