Posted by AllieB on June 23, 2011
TGIT. Holla! As is becoming a bi-monthly trend, I bring you today a new guest writer. She's actually been an invaluable resource for BBT since day 1 (Cuddle Party, an easy target, WaWa, and mucho, mucho más), and I appreciate all of her helpful input via commentary, as well. In the following anecdote, we'll read about a batsh*t feline and how Chuck Norris Sister dealt with it – I'll tell you, this is some scary stuff.
I just went on a walk around the Paces property to get some exercise. While I was on the weird side where nobody lives (where Ellis, Dre and Julz used to reside) all of a sudden a black cat came RUNNING out of the bushes, back arched, running sideways all weird how cats do AT ME. Literally eye contact was made. He wanted a piece of me. I screamed and started running and it ran back into the bushes. So then I'm by the tennis courts and was going to have to run back by it. In my head I'm thinking, ok I'm bigger than this thing I just have to scare it away….

I wait a minute to get up my nerve and start running (with authority, big strides), and then it comes out AGAIN running so fast, sideways, back arched again at me. I start screaming and making loud footsteps to scare it….it doesn't work. It keeps charging me. Plan B- I'm prepared to boot this devil's pet back to hell as I stopped and reared back to kick it. Normally, I would not hurt an animal. But this is a cat (no offense Tiffany and Mars) and literally it was almost close enough to me to bite me. And I guess when I stopped it got scared (or maybe it was my inhuman screams) and it ran back into the bushes. I ran as fast as I could the rest of the way home. Ok, I couldn't make it that far running but I ran fast for like 50 yards. I'm still sweating and I hate cats forever. WTF was wrong with that thing?! Is it rabid? It had a collar.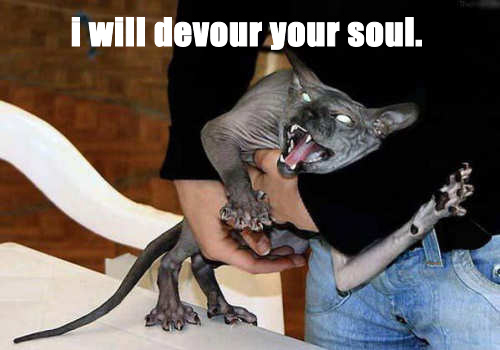 Save for a very special Madison who resides in SoFLA, I am not a fan of cats – at all, whatsoever. Dogs > cheesesteaks > a lot of other stuff > dentist > cats = IMO.
I finally got to try The National (one of Hugh Acheson's restaurants) in Athens last night. It was so good!!! So good. I've been wanting to go forever, but whenever I'm in Athens I can't not go to Last Resort and then I just run out of time. It's a menu unlike anything I've ever seen: southern fusion with a Mediterranean twist? Or maybe it's vice versa – it's more Mediterranean than it is southern, I guess…regardless, it's damn good. I had no idea what I was going to get – they made even the veggie plate sound awesome (VP's are usually good, but there's often something like a hanger steak that trumps it every time), but then our waitress told us about the specials, including: bacon-wrapped cod. Done, sahn. It was SO good….so good – from the bread that they gave us as soon as we sat down (didn't have to wait til after we ordered – that always annoys me), the dates stuffed with manchego cheese (turns out I love manchego cheese), to the panna cotta we had for dessert…twas a v enjoyable evening.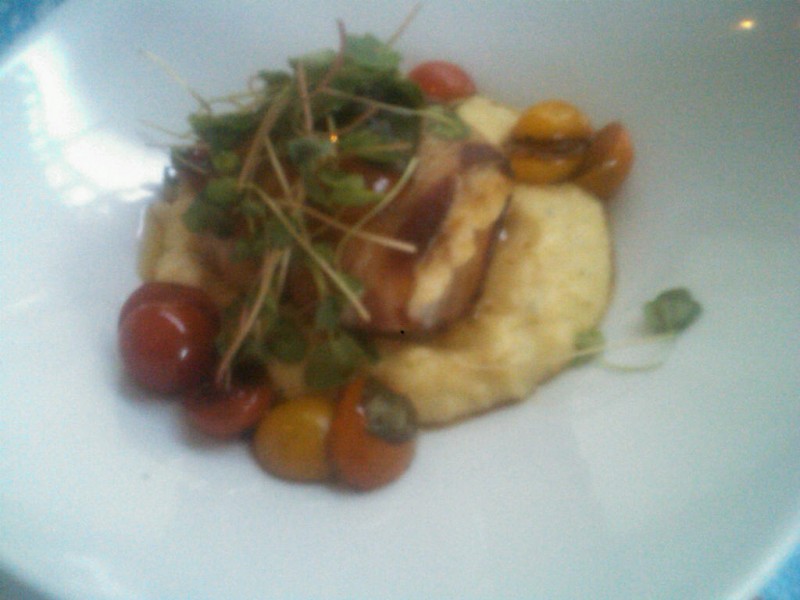 Ok, this is why I don't include pictures of my food: when taken with a stupid Blackberry camera, it really doesn't do a meal justice. If I plan to make anything of all of the time and effort I've put into BBT, I clearly need an iPhone.
Also, Hugh, I tweeted you re: my favorable experience and got back a prompt and resounding response of radio silence. :|
3 Responses to "Smelly Cat"
June 23, 2011 at 11:38 am

That picture is damn close to what that disgusting beast looked like. Shiver. Apparently he has been harassing people for years, according to Audrey.

I want to try The National!!

June 23, 2011 at 12:31 pm

I hope that wasn't Kimiru running after Sister. He does live at the Paces…he can be fierce but he's mostly nice! And he does have a FB page…