Posted by AllieB on October 21, 2011
The world of celebrities has been a hot topic on BBT this week, and for that I apologize.
Jessica Simpson is pregnant. At least that's what OK Magazine is saying. She was holding out for someone to buy exclusive rights to the news of her pregnancy for $500,000 before she'd willingly confirm it. Yep, she runs a billion dollar company, and that's what her unborn child is worth: a measly half-mil. On behalf of the fetus, I am indignant.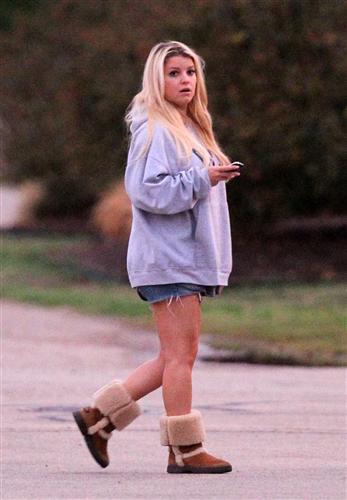 The jig, as they say, is decidedly up. (The Scoop)
I think I'm going to go to the Taste of Atlanta this weekend – with weather like this, I'd be cRaZy not to. I'll take some pics with someone's iPhone and share them next week – the variety of restaurants and their respective menus look amazing.
For the record, bowling last night was awesome and I really hope it becomes a standard wintertime activity. Competitive/Game-time Allie joined us only briefly, and, after I dominated the first round, I was able to settle down into breezy mediocrity for the duration. In addition, people told me I was "annoying to bowl with" so I read between the lines and decided to take it down a notch. Also, Midtown Bowl has surprisingly delicious food…Caro got a grilled cheese on whole wheat that looked awesome, and the fried okra was more than decent. Who knew. Plus, they have jello shots. Tell me again why we don't go here more often?? Oh yeah – the bowling shoes….I GET IT. I HAVE BIG FEET.
Happy Weekend! Baxter, out.
4 Responses to "This is happening"
October 21, 2011 at 3:36 pm

Note to future league members: Purell after you bowl and before sticking your index finger in that jello shot…

October 21, 2011 at 4:21 pm

Some of us are still not welcome at the bowling alley. Don't drink (to near blindness) and bowl.

October 21, 2011 at 5:08 pm

the food at midtown bowl is AMAZING. Also… duh Jessica is preg… she has been looking swollen for weeks :) :) :)