Posted by AllieB on October 20, 2011
You know what makes me uncomfortable? Besides the obvious responses of close-talking, Michael Flatley Lord of the Dance, and really really really – like, really – short people, the thing that makes me most uncomfortable is the COMMENTS section on large-scale websites. Take NYMag, for instance. Their Fashion segment, The Cut, posted a picture of Jennifer Aniston at some event recently in some very short low-cut shiny dress. She looked great (pregs???), but great. It commented on the labels she sported and that was about it….but then…the comments.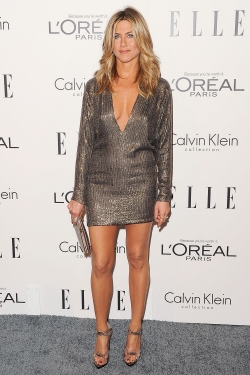 MAGSTOCK: If she was pregnant, her boobs wouldn't be so empty and lo. Pregnancy makes your boobs round, full and beautiful. Not what she has there..

QUALITO: She looks like a aging mother of three, who's lost all her money at the Vegas casinos, so she finds the nearest Filene's Basement or Ross For Less, and buys the cheapest low-cut outfit she can find and then hits the lounge at the MGM Grand. No need for bra or panties. They'll just get in the way of business.

REMAINING_ANONYMOUS: Short OR low-cut, not both. The dress would be much better IMHO with a boat neckline and if she stood with her arms in such a position that would highlight the dolman sleeves.
Join me in my discomfort, won't you? These are but three of 33 comments – most of them snarky, judgmental, and straight up creepy. Who ARE these people??? I imagine that at least 100% of them live in their parents' basement and are actively involved in local Cuddle Parties. SNL did a skit this fall aptly named The Comments Section where they brought three homely and socially awkward people on stage, exposed their blogging comments, and then sucker punched them all in the stomach. Ha.
Fortunately, despite rising in the WWW ranks from 9,623,940 to 6,176,867 in the last week (holla), BBT doesn't get many weird ass comments. One person got really mad at me for making fun of Hilary Duff's novel – really? – but besides that, nada. This is good, given how uncomfortable they make me.
THURSDAY! It's f'ing cold, but at least it's Thursday. HAPPY BIRTHDAY DANI!!!! And to P, but I'm guessing P doesn't hit up BBT all that much. Tonight we're going bowling to celebrate, and I'm very excited because I LOVE bowling and am really good at it about 1 out of every 3 times. I have very fond memories of the bowling league of 2k6. Baberham Lincoln was our team name. Questionable. Don't forget socks!
3 Responses to "YOU are very creepy"
October 20, 2011 at 11:36 am

October 20, 2011 at 11:50 am

I will be using several of those moves when I get my turkey tonight.