Posted by AllieB on November 24, 2011
HAPPY THANKSGIVING!!
My initial plan was to do a sort of live-blogging situation of the Baxter Family Turkey Day – frequent updates with pics, shenanigans, what have you. I then realized that I do not know how to do that, so I'll just do the one post. Currently, I am making whiskey sours and heating the Parmesan Pups (glorified pigs in blanket from Trader Joe's), and I have on my fringe boots that are a treat for both the eyes AND the ears.
Today I am especially thankful for these things:
– Missy and my mom and dad and sisters and Stanton and my friends, new and old

– Baxter Bark Twice

– whiskey sours

– my new luggage by DvF – now I just need someplace to take it

– Revenge; not the practice, the TV show on ABC. Emily Thorn 4 eva

– Florence + the Machine

– still thankful for The Devil Wears Prada – I now own the DVD, but I still rent it from Comcast every month. Which is really dumb.

– Georgia football…most of the time, anyway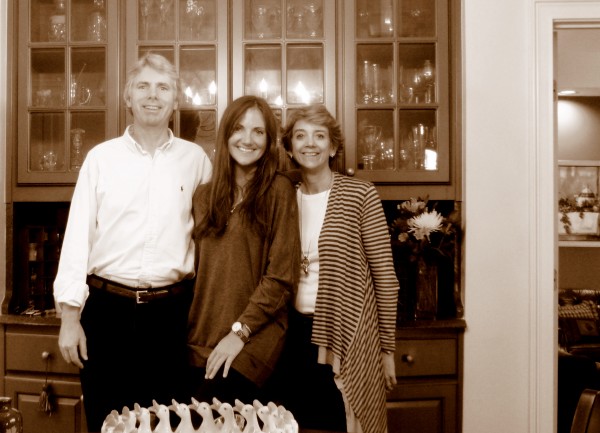 Missy took this one of us – she's surprisingly dexterous.
4 Responses to "I'm just a girl, standing in front of a turkey, asking it to be delicious"
November 24, 2011 at 8:28 pm

Stanton wants to know more about the TJ's pigs-in-a-blanket. Are they worth the investment, both financially and calorically? As you know, Trader Joe's is so far away from us, we need to maximize every trip.

P.S. That is one nice-looking countertop.

November 25, 2011 at 9:27 am

well, the next time you two walk to Trader Joe's, I highly recommend the parmesan pups. they have about 1,400 calories and 45 grams of fat per serving, but if you factor in that long journey to and fro….it's a wash.

p.s. missed you both :(

November 25, 2011 at 9:29 am

also….questionable that you linked to your wedding website, but I'll let it slide.

November 24, 2011 at 11:54 pm

It's late. I'm the only one up. And between this post's title, your audible shoes, and the thought of your dog taking pictures, I'm chuckling aloud and alone right now.