Posted by AllieB on January 26, 2012
While I appreciate what this flowchart (I LOVE FLOWCHARTS) is trying to do, it has one fatally egregious error that I cannot get past. See if you can spot it (credit: Julia)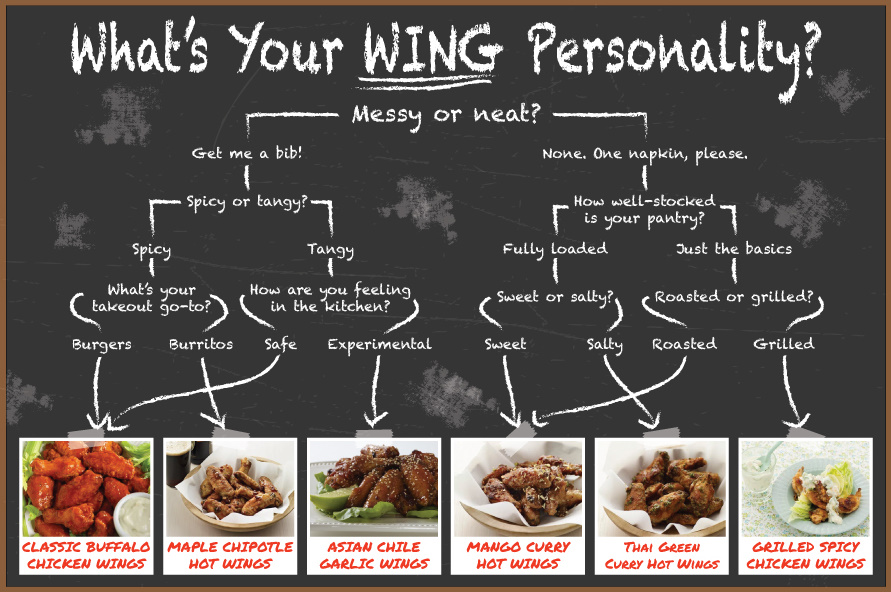 No? I'll tell you. There is no mention – nary a one – of condiments. HelLO the best part about wings is the blue cheese (or ranch) dressing. Well, maybe not the best part, but a very significant perk – for me, wings are the vehicle that justifies consuming inappropriate amounts of BC dressing…and, for the record, my wing personality is Maple Chipotle Hot Wings. I totally saw that coming. This did get me excited for the Super Bowl. Often overshadowed by more popular foodie holidays, such as Thanksgiving, the Super Bowl is a great day to take advantage of one of my favorite food groups: glorified bar food. I'm not above a good mozzarella stick (Treehouse has excellent ones), but I'm all about trying a gourmet wing. Who's organizing/cooking/hosting this year??
Thursday! Thursday is one of my favorite days of the week and also a great day for lists – like this one about stuff for which I was thankful. Today I share with you things that I know to be true… No gray (grey?) areas – just black and white truth bombs.
if it looks like a duck, walks like a duck, talks like a duck…newsflash: it's a duck

you really do have to drive 25 mph Peachtree Battle Ave – there is always a cop with a radar gun

doing a full minute wall sit is harder

if you think the rules of personal space apply to the table situation at the Peach Starbucks, well…you'd be wrong.

Carrie Bradshaw is a whiny narcissist

puppies will always make you feel better…cookie dough will, also

it is very validating to have double digit re-pins on Pinterest

age is nothing but a number…

I really am concerned about America's youth – kids these days: their clothes, attitudes, everything…what a bunch of brats

if you think that cute, slightly older gentleman the next table over is smiling at you, well…you'd be wrong again – he's smiling at his bratty daughter and his perfect looking wife, who are walking over to join him

red wine = friend. Also, foe.

how HOW is it still January!?

I'll have what Hoda and Kathie Lee are having
Welp, that was random. Keep it real, ya heard?
5 Responses to "Chicken wings and truth bombs: because that's what BBT does"