Posted by AllieB on May 1, 2012
Atlanta, in recent years, has really made a name for itself on the Foodie Scene. From high-end chains like BLT Steak to the food trucks (Tex's Tacos WE MISS YOU), Atlanta has made an indelible foot print on the national culinary front. I read NYMag on a daily basis not for the politico mumbo jumbo or even the current events, but for the celeb, food, and culture stuff. The penultimate category pertains mostly to NYC-centric restaurants, but occasionally they step outside the box. Their food section, Grub Street, just published this article listing worth-the-trip restaurants in every US state (50 State Dinners: Food Pilgrimages You Must Make This Summer). Neat! I thought. "Pilgrimage" implies that they're going off the beaten-track a bit, so I actually thought about for it for a second before I read the Georgia suggestion. I figured it probably wouldn't be in Atlanta, unless it was a Korean BBQ place on Buford Highway or similar, but I thought they might direct people to Athens or Savannah, or even Madison or Thomasville – definitely someplace in a town that's heavy on Southern Charm. Evidently, I was barking (get it?!) up the wrong tree: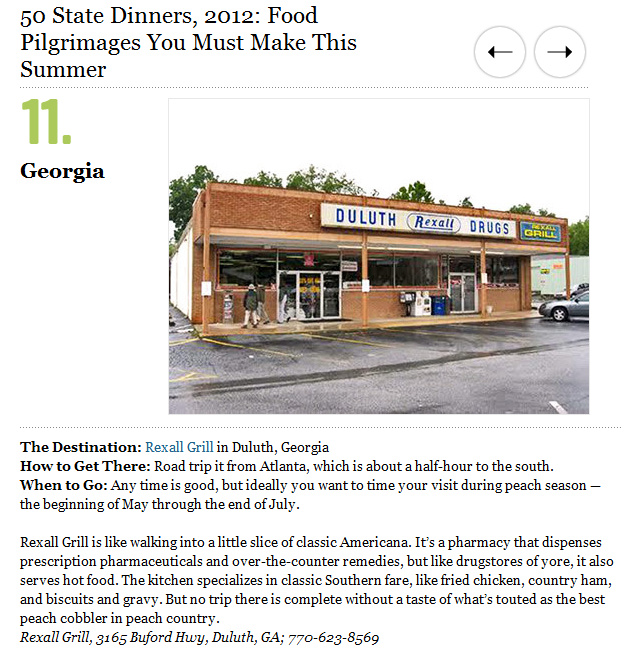 And we wonder why Georgia still has this country bumpkin, back-country, red-neck, missing teeth persona. Let me first assert I am not hating on Rexall Grill – I've never been therefore cannot judge, and I'm sure that, if it's made the upper crust echelon that is NYMag, it must be pretty good, but COME ON. Surely there's a better photo? And what's more – once you send people to Duluth, they're going to be in Duluth…this is hardly a destination eatery. I spent a lot of time in Duluth back in 2k5 when I was slinging ads for the AJC, and there's not a whole lot going on unless you count sitting in traffic as an activity. Which I do not. I probably would have chosen someplace on Tybee Island, such as Tybee Island Social Club. Should you find yourself on Tybee Island, you must go to here: long on charm, short on strip malls/doors with bells that ring when you enter. Or what about ADD Drug in Athens?! It's a pharmacy that serves awesome food and it's in the coolest city in the world. I think I might leave a comment on the website about this oversight.
If this is the direction in which NYMag was going, perhaps they should have chosen One Star…?
Summer's here. Who has a pool?
I know I said I wasn't going to talk about her anymore, so I will leave you only with this one teeny thing. (Just click thru; no sound, no crazy pop-ups – just simple truth)
HAPPY ANNIVERSARY TO WILLIAM & KATE! That wedding really was the highlight of my 2011. She's as glorious as ever. All hail the princess.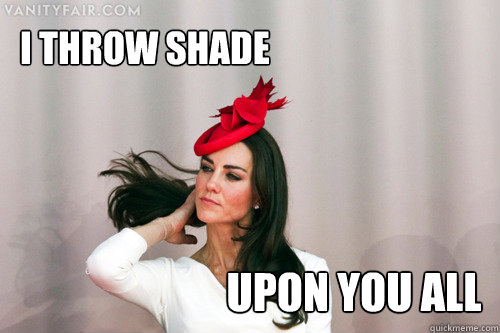 5 Responses to "I'd rather not go to there"