Posted by AllieB on October 9, 2012
Long time, no see! I kind of meant to give BBT a makeover before I wrote again, but that requires time and effort, the former of which I have little and the latter…well, you know how I do with things that require effort. Nevertheless I decided touching base was more important than a new face (that rhymes), so here I am. Hello.
What have I been up to, you ask? Let's go with the list approach:
1. I moved to New York! 100 points to Gryffindor, because I love it. Honestly, I haven't been around that much due to an aggressive Fall Wedding Schedule (FWS henceforth), but I'm making the transition pretty smoothly. Turns out someone with my skills and background is very much in demand, and I got job at a reputable, heard-of company doing legitimate, paycheck-worthy tasks, so that's good – I really like it so far. NYC is a tough place to be sans income.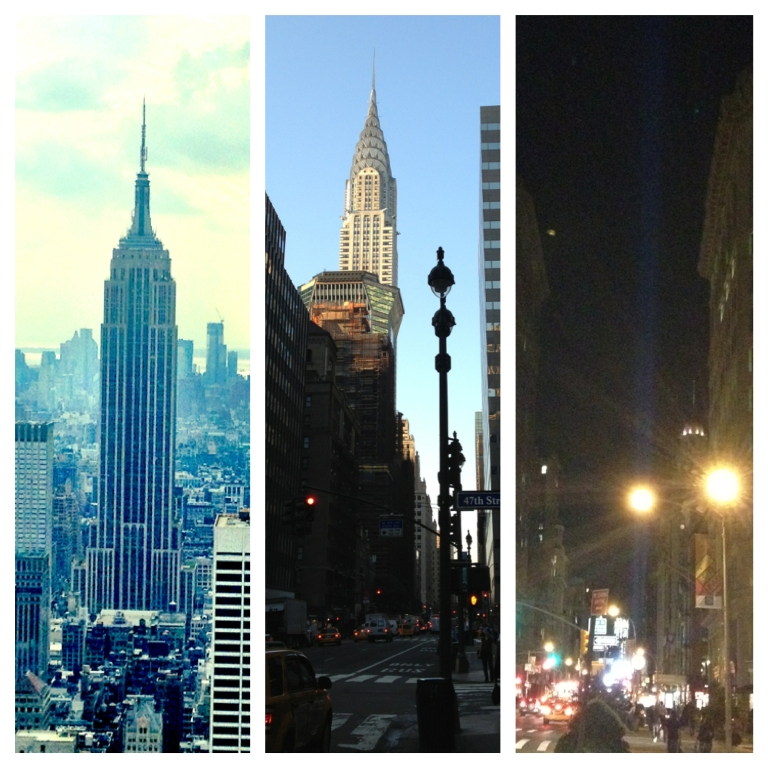 I call this one "Skyscrapers" – Empire State; Chrysler Building; Twin Towers
Moving here is by far the best idea I've ever had, and I don't know why it took me so long to figure this out. I think I was like half-dead in Atlanta or something; I'm pretty sure we can all agree I was not maximizing my potential as a person. Ever since I made up the saying "wherever you go, you're still there", I've realized that a change of scenery can be just what the doctor ordered, but it also isn't a magical panacea that fixes everything. NYC is giving me the kick in the pants I sorely needed, but now it's up to me to actually dooooooo something – which I fully believe I will. Ok, I can ramble on forever using stale cliches and ruminating on abstract notions, so I'll shut it down. In conclusion: me + NYC = good.
2. Weddings are happening.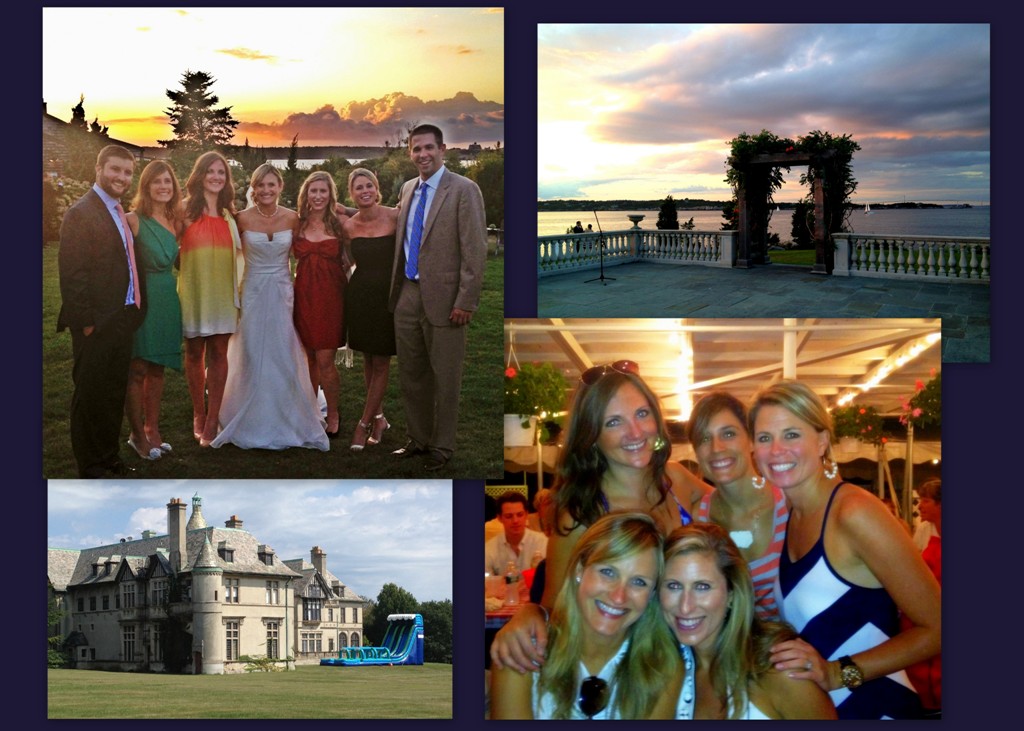 Hadley and Greg's wedding in Newport!
From top left: wedding day with the class of 2001; the somewhat picturesque altar at White Castle Inn where they exchanged vows (and the microphone into which I read my reading, which did not work despite the rigorous testing that occurred minutes previous; I handled it like champ, totally unruffled, even when the plane flew overhead thereby completely drowning me out…other people's weddings are all about me, right?); besties at the clam bake; a historical mansion in Newport with a two-story funhouse water slide (I found this strange.)
3. Happening some more…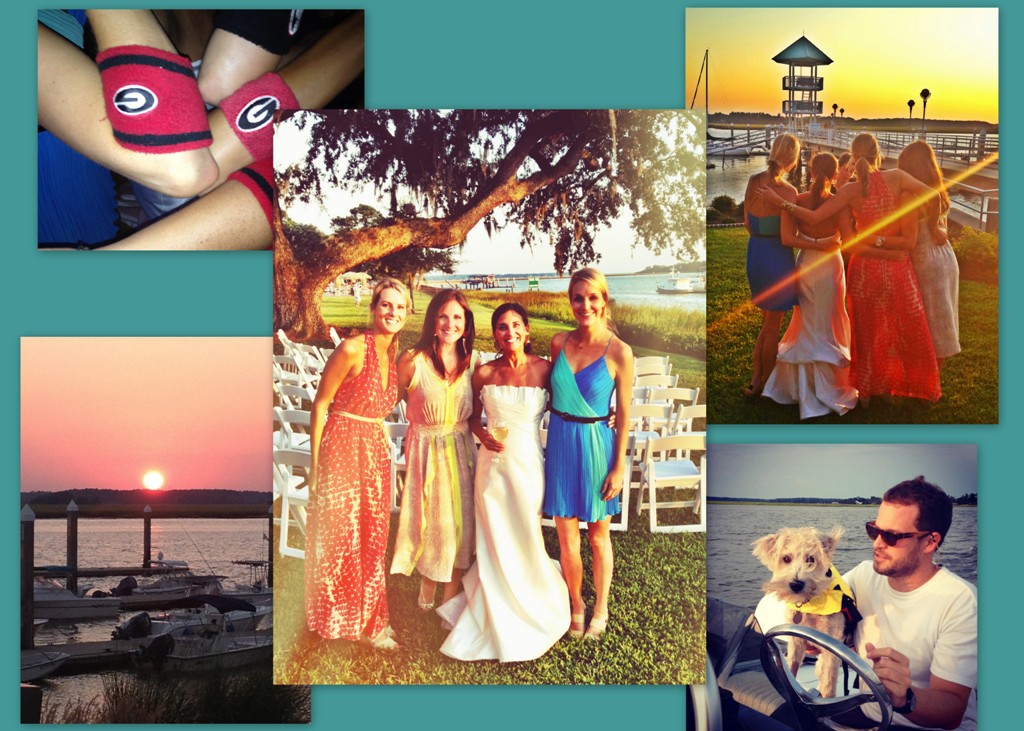 Hilary and Jim's wedding in Savannah!!
From top left: the perfect reception accessory; rear view photography by B.Ward; Agnes and Jim (this is not at the wedding, but Agnes is in a life jacket, so I stuck it in there anyway); Pal-Bert-Mrs. BillyBelShipley-Pants; Savannah Yacht Club vista
4. I think you can guess where I'm going with this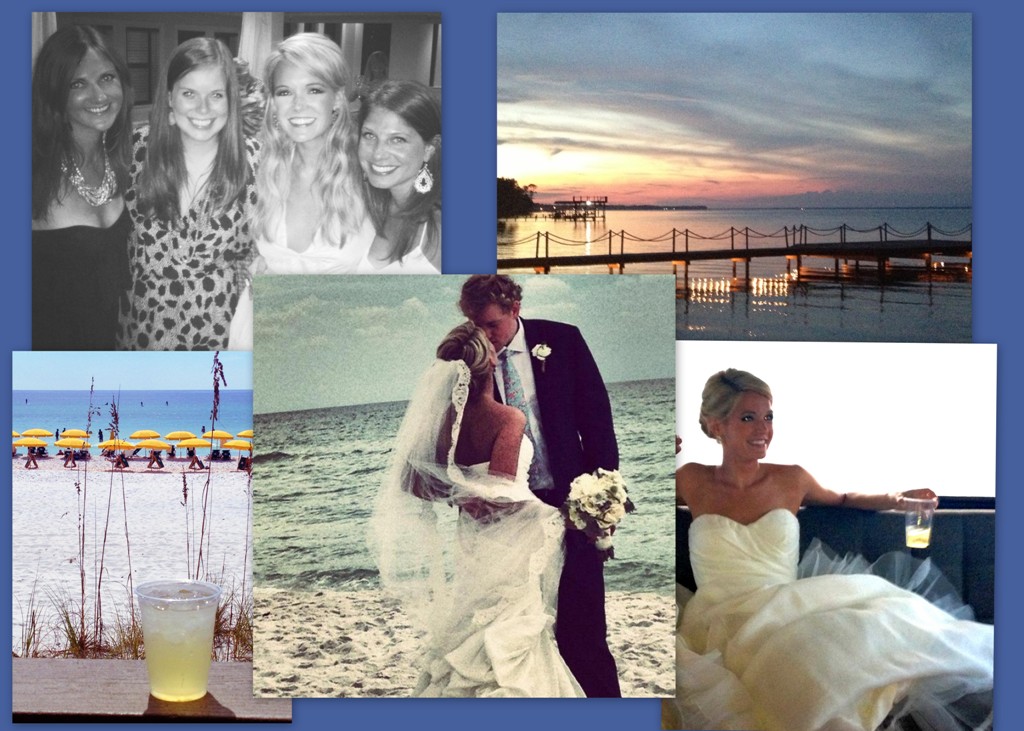 Jennifer and Alex's wedding in Sandestin!
From top left: four favorites at the Rehearsal D.; #nofilter pic of Rehearsal D at Bentley's on the Bay; BEAUTIFUL BRIDE; bride & groom (credit: Heather); my margarita enjoying the beach
I'll tell you, if you've gotta have four of your nearest and dearest get married within six weeks of each other, I hope you're as lucky as I am in that they are all incredibly breezy, laidback, obviously beautiful brides whom you genuinely enjoy celebrating. I'd have gladly gone to Pigeon Forge for these girls, but I'm glad I got to go to the beach instead. Three down, one to go…I'll see you in nine days, Pants.
5. In my sixth grade Language Arts class I was taught that a list/outline should always be constructed in odd numbers.
I've got lots more where this came from – I didn't even go into the story about the broad-backed beast of a girl who stole the bagel OUT OF MY HANDS at Starbucks in Bryant Park, or the pre-school teacher who accosted me in the bathroom at Frankie's 570  in the West Village to talk about AND show me her FUPA, but I promise I'll be back…have a nice Tuesday, if that's even possible – Tuesdays are still the worst day. Oh, here – this proves my point nicely: I searched random holidays that fall on October 9, and I found this…that's right….Happy Moldy Cheese Day.
*Today's title obviously pays homage to one of my top 5 movies, Devil Wears Prada, but it also describes me on Bagel Friday. Every Friday at work there is a huge spread of bagels (which is awesome), and last Friday I found myself engaged in a "getting-to-know-you" conversation with someone who had indeed just eaten an onion bagel. Onion bagels should disallowed in the workplace; onion bagels and tuna salad are herewith banned.
7 Responses to "Did someone eat an onion bagel?"