Posted by AllieB on February 7, 2013
If I didn't love it so much here, a relocation to Austin, Texas would definitely be something to consider. What a great city. I'm sure my super-positive takeaway was bolstered by the perfect weather, our luxe accomodations, and the priceless companionship, but Austin is everything it's hyped up to be. I won't give you a play by play of the weekend because that would be weird, but I'll give you some highlights.
A, Erika, K, Nando, and I rendezvoused in Austin because we just kind of felt like it, and it was one of K's very best ideas – K gets credit for orchestrating the whole gig. The most important thing that happened to me, personally, over the weekend is that Erika teased my hair, and I loved it. I'm definitely going to start teasing it up here in the Big Apple – bigger is better, right? We were trading make-up tips (just girls doing what girls do! We had pillow fights, too, and A brought her Oujia board) and I think it's time I look into some sort of lip color or tint…I went to Texas and came back with a bouffant and pink lipstick – sounds about right.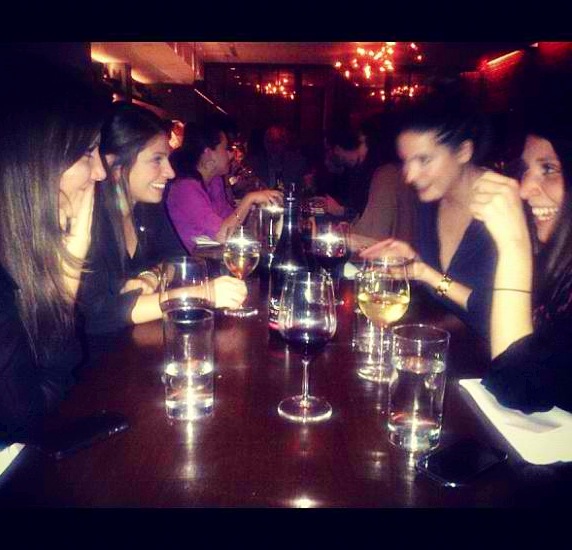 Erika tells an enthralling tale; we all listen closely (not pictured: us not listening at all, it took her like 20 mins to get thru the whole thing. At first glance I thought I was kind of smirking in skepticism, but then I remembered the story you were telling and realized I'm actually covering my mouth in horror – that really was a doozie. Credit: K)
On Saturday morning one of my most favorites, Miguel Egan, took me to the best dog park  ever – it was what imagine doggy heaven probably looks like. Maybe people heaven, too. We brought Skydog along and played with pups all morning – it was pretty perfect. I could have stayed there forever…kinda wish I was there right now… Dogs rock.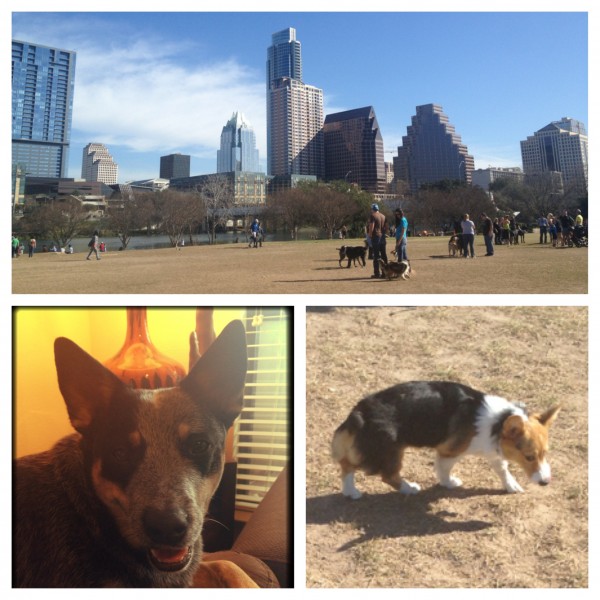 Austin skyline as seen from dog park; THAT corgi puppy named Paisley; Skydog.
For apres-patio beers/pre-cocktails and dinner at La Condesa, the five of us ventured over the bridge to the Hotel San Jose, a very cool hotel where there's much more than meets the eye – that there ride shown below sums up the vibe pretty well, check out the website. It definitely has a motel-y exterior, but inside it's like a fairyland of cheese plates and seductive lighting and sustainable materials.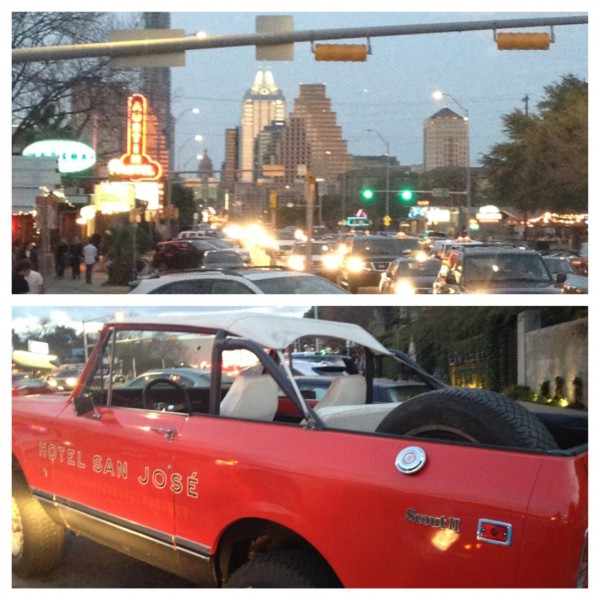 Looking back down South Congress at Saturday night rush hour; the Hotel San Jose Mobile
I'd also like to give a shoutout to our driver, Markus, who we co-opted from the Four Seasons for the weekend. Markus had endless patience and a great sense of humor and knew exactly what I was talking about when I was explaining to everyone the song "Cantaloop." 
So…the end. I loved seeing everyone (Bo, if you've deigned to read this week's post, this includes you), and I loved going on a trip that was actually relaxing. I feel like the new standard is that I go on vacation and return in need of a vacation. I'm going to make weekend jaunts like this a real priority, so it' s a good thing that money grows on trees! I will say, however, that the change from beautiful and balmy to cloudy with a chance of two feet of snow has left me at less than 100%. There's an alarming pattern in the works: everytime I fly I lose my voice, and when it comes back it's only coming back to like 3/4 of what it was. Basically, if this continues, it's only a matter of time before I sound like James Earl Jones's slightly more feminine but no less iconic twin. Hotness.
 This next item has been on the BBT docket for awhile now, and today I am finally giving it notice: J-Dig Cards. Are you familiar? I went to college with one of the founders, Josh Henry, and he runs the business with his brother Peter and sister-in-law Cathy. The cards are made in America on recycled paper and, most importantly, they are all awesome. Here are a couple of my favorites:
I'm a real big card giver – I don't buy birthday gifts for friends and I certainly don't expect any from them, but I take card giving very seriously. A thoughtful card chosen with a specific person in mind can mean a lot – you can keep your candle. Actually, no, give me the candle, but I really do love an "only-Allie-would-appreciate-this" gesture. SO, check out J-Dig! They have them for every occasion you can think of, and also for no occasion at all, and they're sold at Sam Flax in Atlanta and a whole bunch of places in NYC and just all over – here's a map of vendors across the country.
Winter Storm Nemo is about to dump a whole bunch of snow on us Northeasterners. Kind of incongruous, don't you think, naming a snow storm Nemo? PIXAR does not approve, and neither does BBT.
Hope y'all all have a very thirsty Thursday (MC – see you shortly; I'll have a marg on the rocks w/o salt), and I also hope, for your sake, that you're having as good a hair day as I am… I don't know what's going on up there, but it looks fabulous.
4 Responses to "L-I-V-I-N"
February 7, 2013 at 3:52 pm

Ill be the judge of that (your mane) James earl.

February 8, 2013 at 2:26 pm

I haven't even read the whole post, but I'm really jealous of yall's NYC trip! Hmph.

February 8, 2013 at 3:41 pm

They went to Austin. She lives in NYC. Try to keep up.