Posted by AllieB on May 9, 2013
I went to two weddings last weekend. I flew to Charleston on Friday for the rehearsal dinner of one then flew to Atlanta on Saturday for the ceremony/reception of another. While it may seem that this nonsense itinerary was me being a really, really good friend, it was actually because I wanted to see all my peeps…and because of my FOMO. It's real convenient when a selfish gesture is construed as a selfless one. I'm glad I did both, but it's unlikely I'll ever do it again. Future brides and grooms: it'd be great if you could check with me prior to setting a date.
My spring nuptial tour wraps up this weekend in Highlands, NC. Lindsay, I am ready to party on your behalf.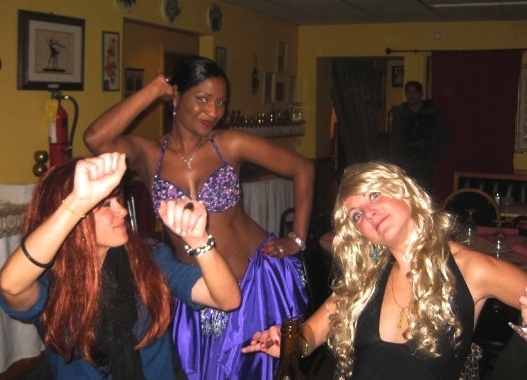 Actually, Lindsay, me and the belly dancer are both ready. Wigs & Babaganoush – A's Bday 2010. I think we can all agree that you're best as a blonde, and I think Kim Zolciak wants her wig back…
Several weeks ago I went to the New York Tenement Museum (of course I did) and, while browsing in the gift shop afterwards, I found a book that caught my eye: 642 Things to Write About. Obviously I bought it. Wouldn't it be neat if I knocked out all 642 things, kind of like a Julie & Julia thing (the girl cooks all of Julia Child's recipes from her most famous cookbook). As I'm wont to do, I haven't really followed thru on this big idea, but better late than never. To summarize: the book has 642 random thoughts, words, ideas, and scenarios about which you can write; here are some examples:
-Write for 10 minutes about what is running through a husband-to-be's head while his wife-to-be is walking down the aisle to the alter where he stands. (I've started this; it's going to be great – it might even make me famous)
-Describe one of your bad habits and why you secretly get joy out of it (this won't make an appearance on BBT…ever)
-Something you've always regretted saying (I mean….where do I begin)
-What you ate for breakfast (Special K)
-Write about something you know absolutely nothing about. Make all of it up. (I do that every time I write a BBT post)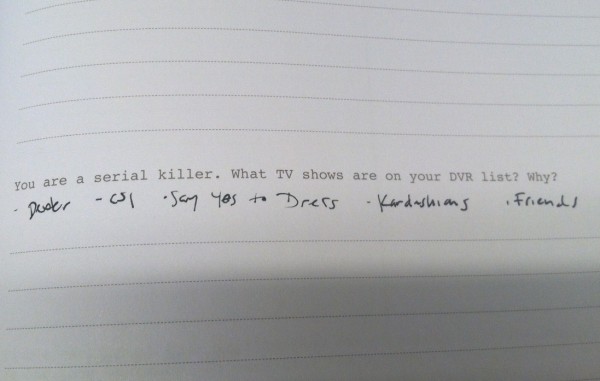 I've never won any penmanship awards.  Dexter bc duh; CSI bc you have to know what kind of tricks are up the police's sleeves – gotta stay current; Say Yes to the Dress and Kardashians bc you're clearly insane and only insane people watch those shows; Friends bc you weren't always this way – once upon a time you loved a good laugh.
So I figure I'll get started on some of these, and the 636 other questions, and share them on BBT sometimes. This will be fun!
Fail of the Week:
Yesterday morning I woke up around 6 AM and was going to do some stuff on my home comp while I had a cup of Earl Gray and watched some tube. I turned on my tv, then made my tea, and returned to my room to settle in for a bit. I went to change the channel…no remote. Obviously it was there, in my room, since I'd just used it to turn the TV on, but I couldn't find it. I got SO frustrated, and before long this frustration began to boil over into legit anger…it was when I started hurling pillows around that I decided to not go all Courtney Love on my own room, and just go to work early. I figured when I got home it would be hiding in plain sight on my dresser or something – you know, "if it were a snake it would've bitten me" type thing. It was when I got to work and was unpacking my stuff that I realized my remote was in my shoe/second bag I carry around everywhere…how or why I know not, but…fail.

That was an even cooler story than Hansel's.

Damn you, remote. And damn you, Gwyneth Paltrow!! My work friend, Gail, gives me all her mags when she's done, hence the stack. It's f'ing gross out, hence the 'ella. Although up here you'd be wise to never leave home w/o an umbrella.
There's an About Me page on this site, and it's  just a few facts about moi that I change up every now and again, with the exception of Favorite Foods section. My four favorite foods have been the same since the very beginning, and they are as follows:
cheese

steak
cheesesteak
pizza
I really love pizza.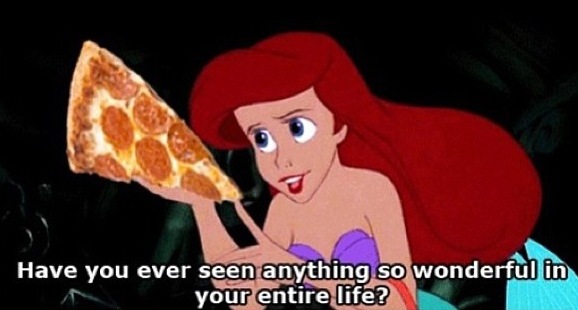 Little Mermaid agrees.
That was random. Here's the thing – sometimes I really have no idea what I'm going to write about, and I have to start somewhere – this week I started with the title, having filched it from Sister ages ago with plans to use it on BBT in some capacity, and went from there. I also made homemade pizza with Jordan on Tuesday (whole wheat dough from Trader Joe's – very delicious) and had a slice for dinner last night (Joe's on Carmine, a real institution), so a pizza theme seemed kind of appropriate….
And that's how my mind works.
Newsflash: Two people fell overboard and are now missing from a CARNIVAL cruise ship in Australia. Can we have an intervention with Carnival? Dear Carnival, SHUT IT DOWN. Shut them all down. However, at this point, if you're dunce enough to willingly book a Carnival Cruise, you might deserve whatever misadventures that may befall you.
TGIT!!! Peace – Love – Pizza
9 Responses to "I wish you would stop being useless and start being pizza"