Posted by AllieB on August 20, 2013
Remember back in the day when I would write 4x/week about all kinds of interesting, newsworthy stuff? Let's take a page out of that book.
Well, it's happened. My love for Kate Middleton has soared to heretofore unknown, unreachable heights. What is it about motherhood?? Everything about the first Royal Portrait is so amazing I nearly cried. Look at it: her, the babe, the Prince, her again, the PUP…plus Grandpa Middleton snapped the pic! The general population should just forego their own family portraits moving forward – I'll be comparing every Christmas card I receive to this, and I don't think any of you are going to come out with a W. No offense…y'all have some really cute babies and puppies, but this is literally perfect.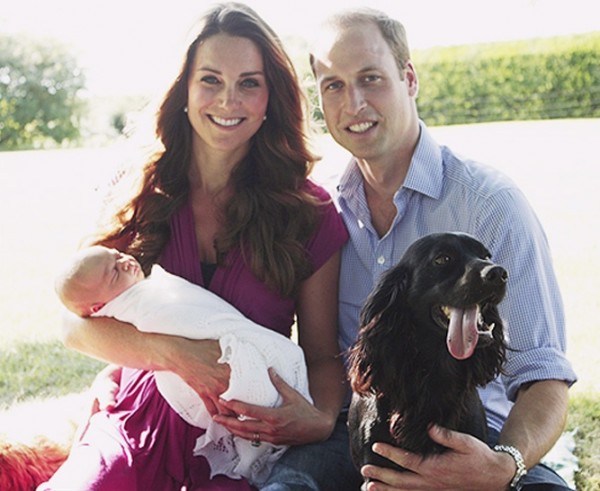 She could be holding a baby goblin and it wouldn't matter. I might make this my screensaver.
This week in New York Life: commuting via foot and rail, as is the norm for NYC residents who do not have their own drivers, requires some accommodating. Those snazzy peep-toe pumps are not ideal footwear for navigating the grossness that is the subway and city streets. I've actually foregone most all of my pumps since moving here because I can't handle walking around in that nonsense. Well, correction, I wear them in the workplace, but they stay here. There's no place for those stompers in my weekend attire. NYMag did a feature on the desk shoes of working women in the city – see here. I'm guessing 98% of you have no interest in the shoes strangers keep at their desks, so I will just share with you my own desk shoes: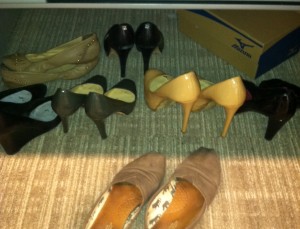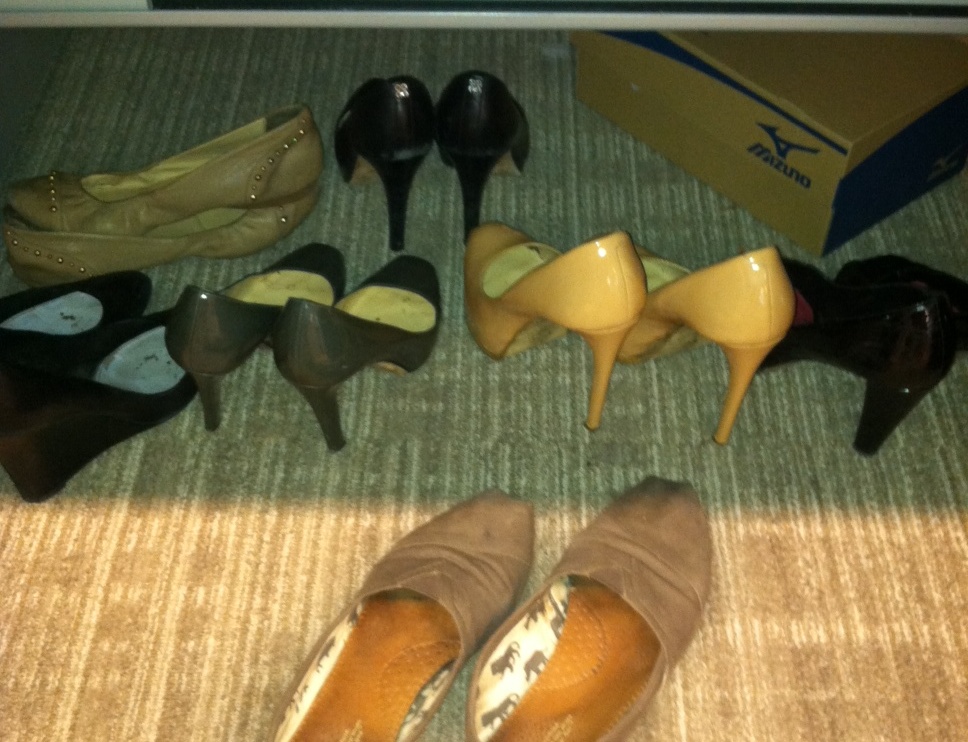 I wear the Toms to and fro l'office and today am sporting those monsters second from the right. I took them off for the picture.
This was less interesting than I thought it might be….
Online dating is something I have not yet explored, and I'm sure I will have to at some point, but these 'shortcuts' people keep coming up with are insulting. The latest rage in finding your match is a silicon bracelet – like LIVESTRONG or something – which shouts to all that you are SINGLE, thereby making it easier to spot potential soulmates. According to the website, My Single Band is  "…something that identifies your single status whilst at the gym, at a cafe, at the station, at work, an evening out or on holiday."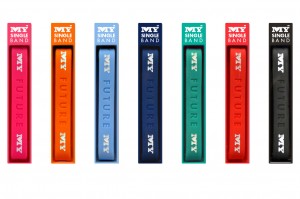 You can choose one of three words for your personalized look: FATE, FUTURE, or DESTINY. What about BARF?
If you haven't already seen it, you must rent The Impossible with Naomi Watts and Ewan MacGregor about the 2004 tsunami in southeast Asia. I have been having a real Naomi moment – she is just so talented. Also, when I was traveling in Thailand in 2006, I saw many areas that were still in total ruin because of the tsunami. In fact, it was in Phuket where we happened upon a homemade DVD of the wave coming in over the very hostel in which we were staying. That was weird and eerie…we didn't linger long in Phuket. Anyway, the movie is excellent, and even Sister enjoyed it which is the only testimony you need. Sister and I don't usually agree on movies.
The Justin Timberlake + N'Sync reunion has been confirmed for this Sunday at the VMA's. Caro…take a chill pill.
This was fun, right? As I always say, something > nothing. May all your Tuesdays be not too terribly terrible. I'll be back on Thursday with pictures of the lobster rolls I'm enjoying tomorrow with Laureo and EmDon.
3 Responses to "Yesteryear"
August 20, 2013 at 4:04 pm

The only movies you ever need to know

August 20, 2013 at 5:12 pm

You would pick 'Destiny' obvi because someone might think it was your name and that would be awesome.