Posted by AllieB on November 21, 2013
Happy Thursday/Hunger Games!!
It's that weird time of year when I'm definitely excited for the holidays, but the onslaught of decor and commercials and the fact that Thanksgiving hasn't happened yet is kind of throwing me. At least it was until earlier this morning, when I figured out what my Redneck Elf Name is, and now I'm totally pumped for December Bender the Holidays. My game face: it is on.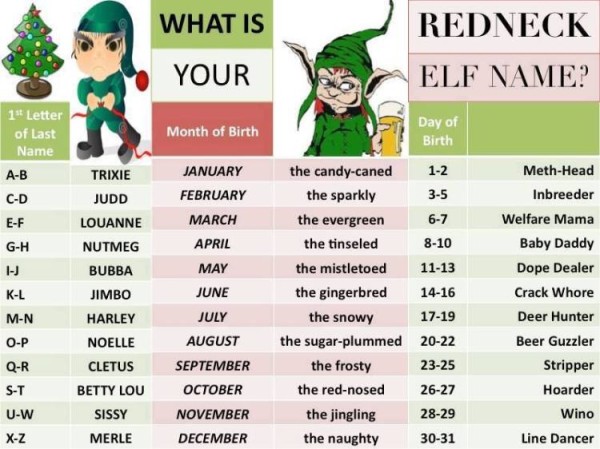 Hey, y'all! I'm Trixie, the gingerbread deerhunter!
I've never wished my last name began with a Q, but I would've been real pleased if my redneck name was Cletus. I don't know why I'm so entertained by this – I guess there's nothing like a naughty dope dealer named Bubba to get your head right about the Holidaze. (Credit: Kitty Decks)
Another thing that thwarted my acceptance of the imminent Yuletide Season was my trip to LA last week, Santa Monica specifically. I really like it out there – as I said after my last visit in June, while Los Angeles reminds me of outer space (and I HATE outer space), Santa Monica is delightful. It's beautiful, it was 86 degrees, you've got mountains and beach….but it's empty! Maybe I'm just used to having full body contact with 2-3 strangers on the subway each morning, but it was almost eerie how few people were out and about. Anyway, good trip, The Fairmont is a lovely place to stay, and I managed to snap this one evening leaving the office. No filtration, as ever, but does it not look like a fake movie set or similar?? I know, it totes does.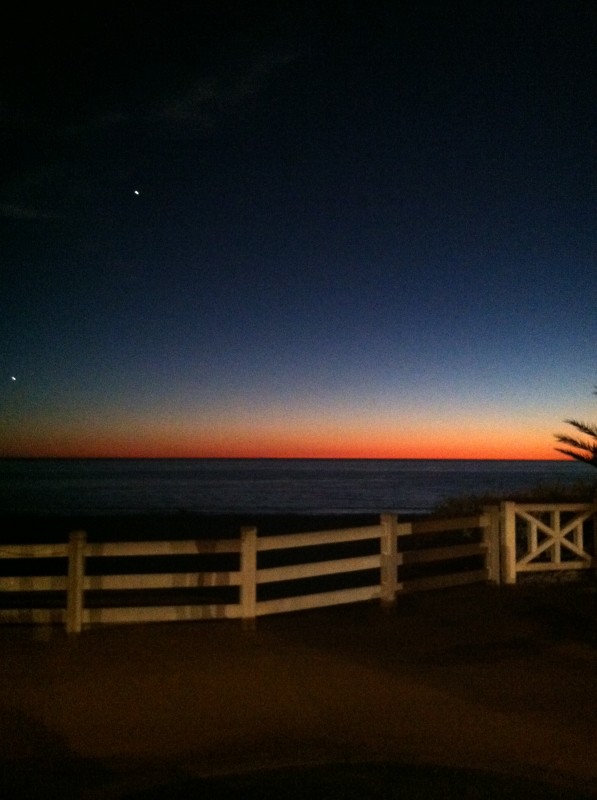 Sorry I'm not sorry if you don't like vista pictures as much as I do.
I've had few blog-worthy anecdotes in my personal life of late – this isn't a bad thing, as my anecdotal instances tend to include a lot of me being an idiot – but, as a result, I feel as though I am 'connecting' less with BBT. I shall persevere and instead of telling about my horrible flight on Friday (and it was AWFUL), I will instead give you lots of external links to peruse.
1. As devastating as Saturday's loss was for the Dawgs and the Dawgnation, at least we've got this going for us…? According to Business Week's list, WORK HARD, PLAY HARD: America's Most Intense Colleges, The University of Georgia is numero uno.
"Many knock UGA as a party school. We're well rounded, but let there be no mistake. UGA has become more selective 15 out of 16 straight years Michael Adams has been president. Our 2016 student profile is outstanding."

"The University of Georgia is not really a big drug college. Alcohol is more likely the only thing that kids tend to struggle with since UGA is one of the top party schools in Georgia. Peer pressure is not something that happens for the most part. Either certain people do or they just don't. If caught drinking under-aged their are definitely consequences and they are definitely reinforced!"
Eh. I have mixed feelings about this write-up. And nothing says academic excellence like the improper use of their/there! That's embarrassing (for them, not for us).
2. I've learned to accept that we all have our strengths, and compiling holiday gift guides is not one of mine. The girls at Piece of Toast, however, have put together a pretty good guide for guys.  I have a serious question: do people give/use flasks anymore? Isn't that kind of a high school/college graduation gift, or maybe a gag gift at some point during the same time period? I am legitimately curious about this. I'm not sure I've ever seen anyone use a flask, and I've seen a lot of people drink under-the-radar alcohol. That's what airplane bottles are for. Or maybe I/the people I hang with aren't classy enough for flasks? Anywho, lemme know.
3. PANDAZ. I'll have one cub sandwich, please.
4. I guess everyone deserves happiness? This Rolling Stone article about infamous murderer, Charles Manson, and his 25 year old maybe-bride, Star, is…it's weird. This will not bolster your goodwill towards men. It will, however, make you uncomfortable. Credit: Mary Cath. Because who else.
5. Let's end things on a high note. Yes, that means with a heart-warming tale of puppy triumph. After tornadoes ravaged Illinois on Sunday, Jon Bann, his wife, and 4 daughters, were thankful to find themselves unscathed, but they were devastated by the apparent loss of their 11 year old dog, Maggie. A full day after the storm hit, Bann was digging thru the rubble that was his home and heard barking…Today News (NBC) reported:
"After it happened and my dog was lost, I didn't feel right,'' Dann said. "I felt extreme guilt, and I felt panic, but I really believe it's because she was still alive and in there just waiting for me to find her."

So when they found the dog buried under the rubble, the reunion proved incredibly emotional. "My children were relatively unscathed other than some scratches, and then finding my dog alive and kicking, it's like everything else is a bonus,'' Dann said.
Once the story went viral, donations started pouring in, and well over $4,000 has been raised to cover Maggie's medical bills.
Now there's something that should put everyone in the holiday spirit….
That's all for today. HAPPY THANKSGIVING to you and yours.
8 Responses to "You might be a Redneck if…"