Posted by AllieB on December 19, 2013
2013 was the year of – what: it was the year of twerking, Snapchat, Kanye, Netflix, and my 30th birthday. It was a lousy year for the cruise industry (CARNIVAL), but SNL has been pretty funny. As I do every year, I marvel at how quickly it's gone by…luckily, the month of January feels like it's 3 full years, all on its own, so I figure that'll help balance things out. Here now, a woefully incomplete list of random things in 2013, superlative-ized.
– Most likely to boggle ze mind: Wall Street Journal does 2013 in photos. These are incredible – you gotta take a look.
– Most universally annoying thing that I secretly do not find annoying: selfies.
– Best example of why it's great to be a Georgia Bulldog and not a SC Gamecock: Someone Caught Steve Spurrier Humping a Yoga Ball
– BBT's most read post: ALRIGHT. So when I get mad, BBT gets good? (JSimps, the Post Office, the hot girl at Equinox…no one's safe)
– BBT's most gratuitous use of p0rn (spoiler: it's food p0rn): Hide Your Crazy and Start Acting Like A Lady – I also like the post in general: personal truths, my new 'hood, some tunes, and, of course, lobsta rolls…(I had to use a 0 instead of an o, my internet filter does not like that word.)
– Best place in the entire world to be around Christmas: NYC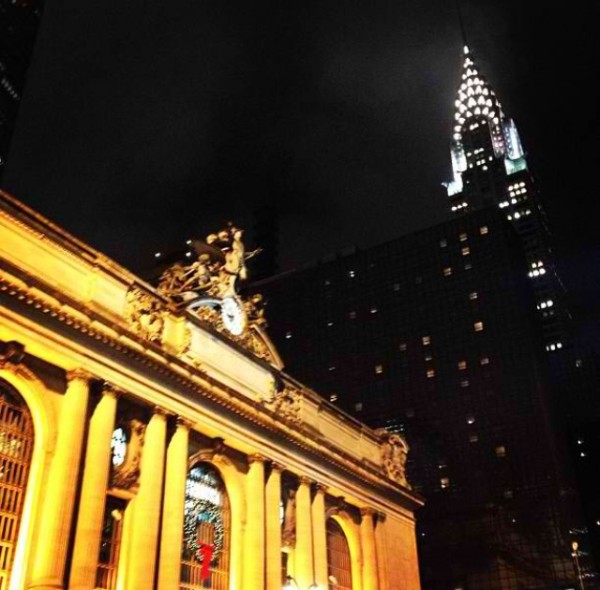 – Most likely to wear short skirts and move to Boston and become a lawyer: my senior superlative in high school. The newspaper staff made them up, and I was on the newspaper staff so I got off easy – come to think of it, I might have even made it up myself… Nerd.
– Most likely to make you shake your first and ask, WHY GOD WHY: you can't pick your family, and you can't pick where you're from: Grantland's Rembert Brown does poetic justice to the injustice that was afflicted upon Atlanta sports fans this fall.
– Best dog of the year/century/millennium: Missy Baxter. We miss you, Missy :(
– …but this dog is a close second. This story made my entire year.
– Hardest restaurant to get a reservation: it's not even in NYC – Canoe in ATL wins this. I called like 7 weeks ago and they were already booked up for Christmas Eve. WTF Canoe? Whatevs, ever since they started curtailing their bread basket by having waiters distribute SINGULAR pieces, as opposed to the legit carb orgy they used to do, I'm kind of over it anyway. UPDATE: Canoe literally just called – there was a cancellation, and we're in. I take back what I said about the bread and being over it – y'all knew that was a bunch of BS. I guess Canoe is no longer worthy of this superlative, I'll go with Charlie Bird (Mary, what's your secret!?) or ABC Kitchen.
– Sneakiest giraffe/most typical tourists:
– Most likely to suffer from injuries due to an omnipresent Melvin: Miley Cyrus.
– Most legitimately useful information that I will likely never use: these 99 life hacks. The mind REELS.
– Most inopportune moment to drop a curtsy: at my work  Christmas party, I walked out of the restroom at the same time as the President of our company did (he out of the men's room, me out of women's – duh), which is an inherently awkward meet and greet all on its own. Never one to miss out on a potentially humiliating encounter, I CURTSIED before him – just as one might the Queen – and raised my glass of champagne as I bade him a pleasant evening. Why would you do that, Allie? I don't know.
– Most exclusive, seen-and-be-seen event of the year: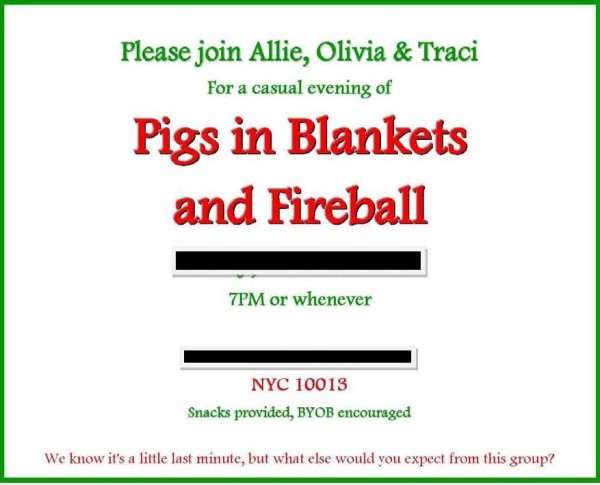 – Least tan person in the world, on average, over the last 12 months: Me. Or maybe Fleming.
– Most likely to touch a frozen pole with her tongue and get stuck: Miley Cyrus.
– Best gift for the person who has everything – guarantee you they don't have this: The Kanye West Pug Calendar: 2014% Awesome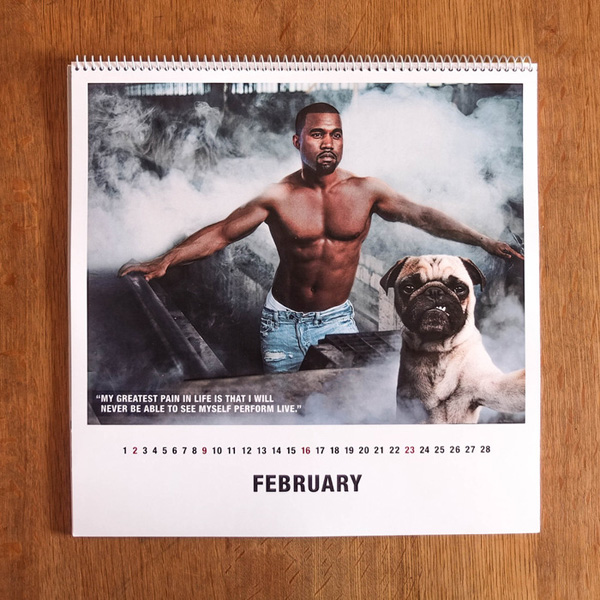 It's been a good year! I blogged almost weekly (almost), I got my hair balayage-ed/ombré-ed (I think I like it?), and I rode the Staten Island Ferry.  I also knocked out my sixth continent and got Amazon Prime – 2013 was wild! Who knows what 2014 will bring for BBT…perhaps there will be some external ventures…maybe in the form of a novel? I KNOW, I'll stop talking and start doing. HAPPIEST of Holidays to you and yours!!
9 Responses to "2013 -> No Más"