Back in Feb I shared a very special YouTube of Tina self-defending herself, and she just sent me a heretofore unseen SECOND video of the same event back in 2008. Christmas done come early, because this one is even better. You don't reaaaallllly need sound, but I recommend.
Tina, you're kind of a badass. Let's go troll around Underground after dark and see how your moves hold up. Ahhhh, Unagi.
Jordan sent me this little heart attack from a food blog she follows, Craving Comfort, with the note: *hint – involves bacon wrapped, deep fried something…*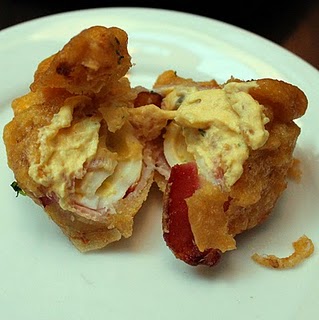 Fried bacon-wrapped deviled eggs. If someone would like to whip these up, I would be more than happy to try them. I'll follow it up with a visit to a cardiologist, but I'm pretty sure these would be worth it.
It's too hot to write any more. Happy Weekend!! Baxter, out.