When asked in a recent interview what her fiance, Eric I Don't Even Care to Goog His Last Name, thinks is the 'sexiest' part about her, Jessica Simps responded:
"my billion dollar business"

"my enormous boobs"

"my eyes."
Aw, bless her heart…
In related-yet-unrelated J Simps news: I purchased a pair of her wedges last week and I totally luv them. See – I'm not hating on her entire person, just a few of things the things she says/wears/does. Her shoes are cute and reasonable and these are quite comfy. I just can't really hate someone whole heartedly, so I have to find their redeeming qualities. Unless we're talking about Taylor Swift, because I can't even stand her music anymore. I read an interview with Taylor recently that says she has "no interest" in becoming a "sex symbol." Believe you me, Taylor, that is not going to be a problem.
Oh dear: the forecast in London for Friday calls for rain…lots of rain. Kate is known for her luscious, always perfectly coiffed locks, but there's some weather that defies even the strongest of serums, and this is what concerns me – I know Kate's hair, and it's not dissimilar to my own in texture (not appearance – do I have my own staff blow-drying and styling my hair daily? No, I do not). This means to say: humidity is NOT our friend.
I stand corrected. There are literally no bad photos of Kate with poufy hair. Here I was, trying once again to level to playing field betwixt Kate and myself, and it's just not possible. Her hair truly is glorious enough for the rest of us.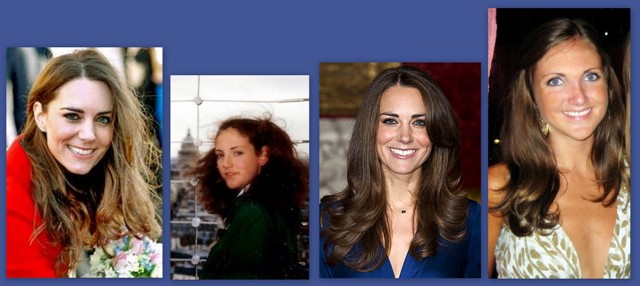 From left:
the closest Kate has ever come to a hair emergency
one of my most emergent hair emergencies (Notre Dame – Paris '98)
Kate's hair win
I had to throw myself a bone after #2
Forget any concerns I may've had re: Kate's coif. She'll be fine. I look forward to when I marry Prince Carl of Sweden and can also have perfect hair, every single day.