"My a** is perfection" – Samantha Jones, SATC
Incidentally, so is Pippa Middleton's. At least according to this Facebook page that has garnered over 150,000 "likes" since creation on Friday. Put that in your pocket for a rainy day, Pippa – that ain't bad.
I do feel like I dropped the ball on my wedding coverage with the major gaffe of heralding Chelsey Davy's appearance – she looked like a sloppy hot mess. Retract. I am DYING over Kate's second dress – not because I like the angora balero, but because she looked stunning overall…Pippa continued her glam-a-thon with both her second dress (like, don't love, but again – stunning) and her adorbs day after outfit. Kate's an old married lady now, welcome to BBT's new obsession: Pippa. Heck, the whole family has me wrapped around their finger.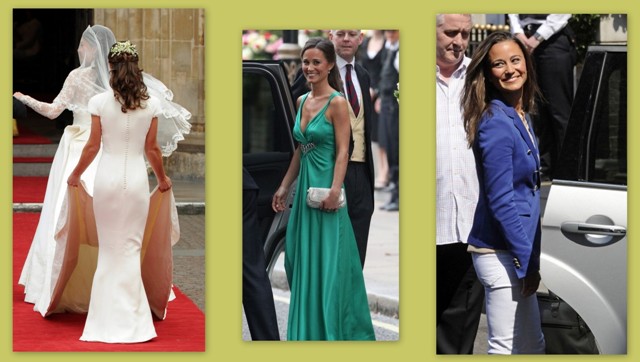 From left (all from socialitelife.com):
famous derriere
second dress by Alice Temperley
Saturday morning leaving The Goring – I need that blazer
OK, I think it's time to move on…for today.
Cut to: Sweetwater Brewery, locale for my Ten Year High School Reunion. I was very startled to realize that Romy & Michelle's High School Reunion was about their tenth hs reunion…startled, alarmed, angry, and unsettled. It made me feel the opposite of young – remember how OLD they always seemed!? Whatevs, it's stupid to compare one's own life with that of two fictional movie characters, ya know? Like, what good can come from that? Here is the sole photo from the Smilebooth photo booth-esque thing which I will share on BBT. Smilebooth + me = MORTAL ENEMIES.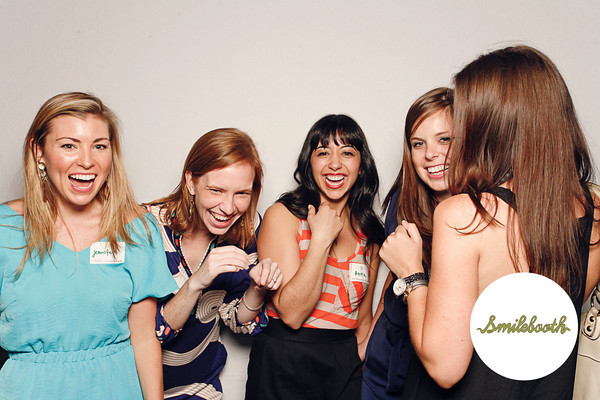 Like I said, I hate Smilebooth.
Apropos of nothing, read this little article about how delightful Amy Poehler is – because she absolutely is, for many reasons, and not just because she laughed (in a non-malicious way) at Blake Lively.
She was on the scene when Patrick McMullan accidentally ripped the train of Blake Lively's dress, gleefully crying out, "You ripped her dress! Patrick, you ripped her dress!" as if it were the greatest, most wonderful thing that had ever happened.
Also, Parks & Recreation is HILAR.