Have you ever taken a Seven Deadly Sins quiz? There are several online. You answer some multiple choice questions and then it generates which of the seven sins (wrath, greed, sloth, pride, lust, envy, and gluttony) of which you're most guilty. I've taken a couple over the years, and I am actually characterized by not one, but two sins: sloth and gluttony. To me, this isn't so bad because those are pretty much just two horns on the same goat; I'd be worried if my answers came out 50/50 to sloth and wrath because that suggests a bipolar disorder or similar. Anyway, Gluttonous & Slothy Allie comes out in full force on vacation. I really can't go on trips – like beach, low-key type trips – for more than a week. It'd be very unhealthy to sustain the lifestyle I embrace on vacation for any longer.
Cut to: Mexico. I went to bed at 8:30 every night, choosing slumber over rowdy family games of UNO, and slept til 9. I complained about walking half a mile to dinner, but then would go – begrudgingly – and inhale margs and chips and salsa and tacos and more chips and margs. I groaned at trudging all the way to the beach from the pool that was pretty much on the beach and considered the journey up the three flights of stairs to the roof-top pool/lounge area my Everest. I did go on a couple of yogs and I think I knocked out 50 squats and a full minute wall-sit midweek, but that's it. By Friday, the sixth day, I was ready to go. I finished every single one of Elin Hilderbrand's books (I don't know what it is about her books, they're like the novel equivalent of mac and cheese), and I was sick of waking up still full from my meal the night previous. There is no worse feeling than waking up still full from your meal the night previous.
While it's good to be back into normal Active Allie mode, I do miss Mexi…esp the temp. It was 33 degrees this morning and I AM OVER IT. In protest against Mother Nature I'm wearing a skirt without tights. People on the subway looked at me more strangely than they did the male senior citizen sitting next to me who was listening to Taylor Swift on LOUD and humming along. It was pretty funny – a fairly normal looking 75 year old, just jamming out to T Swizzle.
Mexico was great, though, here are some photos.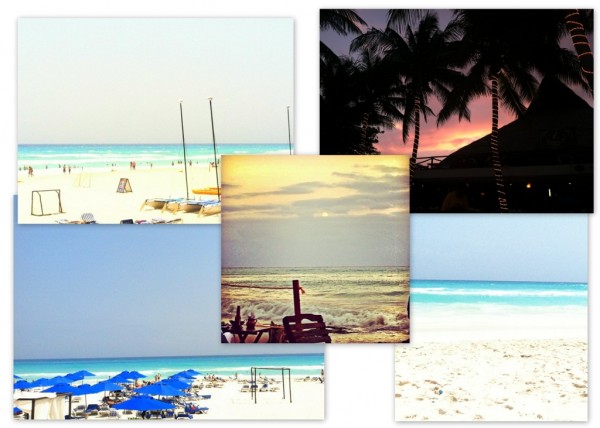 Can you guess which are enhanced and which are not? No? Don't really care? Ok, I will tell you: the two on the right are without filter and the other three have a couple. Wow!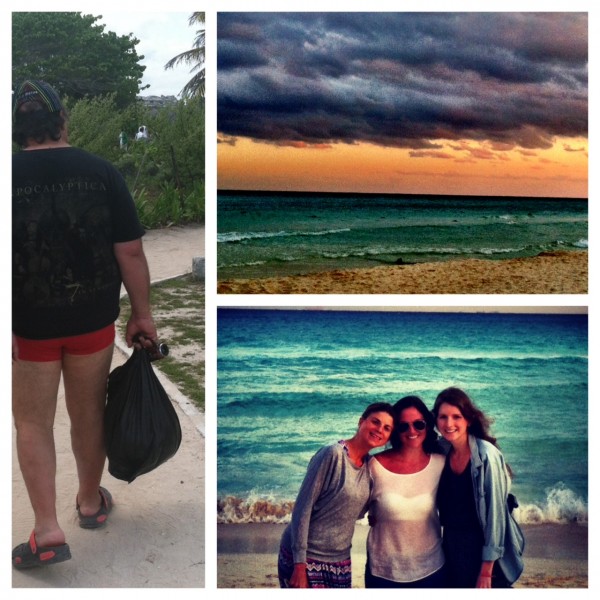 Sunset; SISTERS; tourist-watching at the Mayan Ruins. Like, that is foul. The view from the front was borderline pornographic and much too inappropriate to share on BBT.
After vacation I went to Atlanta. I hosted a baby shower for Nancy with the rest of SPICE my high school besties, and that was really fun. The only way you can tell Nancy is pregnant is because of her baby bump, the rest of her is the exact same – she's TEENY. JSimps: you're doing it wrong. My contribution to the festivities was the Mimosa Bar (obviously), and I think it turned out great! Thank you, Pinterest.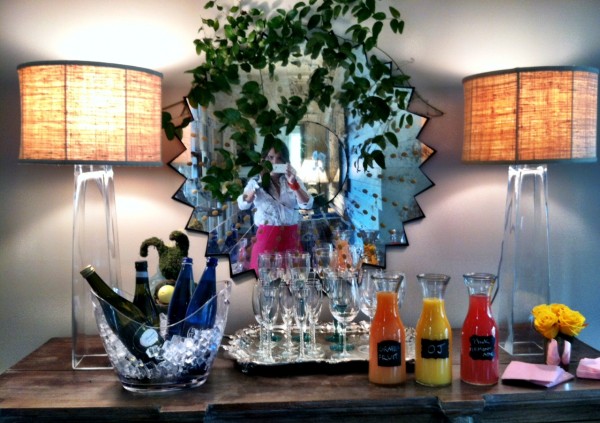 Domestic Allie's Mimosa Bar: prosecco, sparkling water, organic juices (grapefruit – OJ – pink lemonade)
Also, and I'm not going to go into the whole story because I don't feel like it, but, as I predicted in my last post, we DID have some mishaps with our airline travel…we had to switch planes in ATL en route to Cancun last Saturday morning, and our flight from NYC to ATL was 30 mins late, thereby making our 45 minute connection very dicey. Jordan and I hauled A off the plane, shoving aside anyone who was in our way – I kicked a toddler in the gangway – and literally, like really literally, sprinted all the way down the A terminal (we came in at A9 so that's like half a mile) to the train which we rode out to Terminal F (Terminal F is at a different airport, I think), then run up three escalators and all the way down to gate F4. The door was already closed and the attendant was closing up shop, but she saw us and said, "let's give it a try, girls!" and she ran us down to see if the airplane door was still open…and it WAS! Turns out Mr. Baxter was going all furrowed-brow on the stewardess trying to shut the door – no one argues with Mr. Baxter when he brings out the furrowed brows – and we were able to board. The whole plane applauded. As I told the nice Mexican man in Customs, it was all very high drama. The End.
I do that a lot: I say I'm not going to tell the whole story, and then I proceed to tell the whole story.
Newsworthy news:
–theSkimm: it is a news email that goes out every morning around 6:15 and gives you a "skimm" of what is going on in the news on a Domestic and International level, and Social and Political issues that are a hot topic that day. I got my first one today and it's legit – sign up!

–I updated my book list. I've been reading a lot of nonfiction lately…I still can't get over the book about meth (Methland) – it was NUTS. Take those freaky meth commercials they air in Georgia and multiply them by like infinity and you've got the stories this guy wrote about…kids, don't do meth

-if you don't have already it, you need to get Netflix: the return of Arrested Development will show exclusively on Netflix and it premiers on May 26 at 9PM. House of Cards – have I talked about this yet? – is another Netflix-only show that is awesome. It's a sleazy political DC-based series starring Kevin Spacey and Robin Wright that I made it through in one weekend. It's so bad it's good.

–Ryan Lochte is getting his own reality TV show. (Remember his amazing tweets leading up to and during the Olympics? He's speshul.) I won't watch it because I only like scripted sleazy television, but I look forward to hearing about what a doofus he is.

–WHAT IS GOING ON WITH THIS CRUISE SHIP. Sister sent an email this morning describing the situation perfectly, so I cut and pasted it: you know that cruise ship that was stuck in the Gulf of Mex? Well, it was somewhere in the gulf near Mobile being repaired and BROKE away from where it was tethered and floated down the river and crashed into something else. Like, PUT that cruise ship down like a rabid dog, someone please.

-I learned how to use my hair wand, and I joined Foursquare.
Have yourself a lovely Thursday. Watch where you're going and say please and thank you. Laureo and Lucy, I'm already thirsy….