Posted by AllieB on March 21, 2013
It's a common stereotype: people in the North are more abrasive, louder, and sometimes literally pushier than people from the South. I wouldn't argue with this at all. The good manners and common courtesies with which I was raised and am accustomed to are not a given, and I think I need to just put on my big girl pants and get over it.
Case in point: last Friday evening at Beach Bum Tan. All I wanted was a spray tan in a booth, which they didn't have, but the seemingly pleasant girl behind the counter, Mariam, said she could airbrush me herself in like an hour. No prob, I had some wine with Mary Cath around the corner and went back. In the time I was gone Mariam apparently underwent some kind of lobotomy, and it was not she but Mr. Hyde who was doing my tan. Things started off poorly when she accused me of lying about being from New Jersey and continued on in the manner of a downward spiral for the duration.
"I've got an Allie Baxter in the computer right here – see? That's your name, you've been to our Jersey location before. You're from Jersey."

"I think it's another Allie Baxter. I am from Atlanta."

"Why would there be two of you?? And we don't even have any stores in Atlanta!"

Precisely my point. "Look, I really haven't been here before, and sometimes people have the same name…maybe there's another Allie Baxter in New Jersey."

"Fine, whatever. You're not from Jersey, I get it. SH*T we're running behind. Hurry up, Abby, we gotta get this done fast."
She turned and stalked down the corridor. Assuming by Abby she meant Allie (after all that you'd think she'd get my name right), I dutifully followed along behind her, really thrilled to have the crazy person give me a spray tan. Once situated, the berating continued.
"You know how this works, right?"

"Yes, I -"

"When's your event?"

"Tomorrow."

"TOMORROW?! When were you going to tell me it was TOMORROW. Jesus frigging Chr- I just asked you if you knew how this works, and you said yes, but OBVIOUSLY you do not if you're here a frigging day before whatever little party you have. It's a TWO DAY process."

"Um….I didn't know…I'm sorry?" Her manner and tone really did make me feel sorry.

"Let's look at you – oh my god you're even paler than I thought. You're like a Type I, I can't even give you that much color or you'll look like a frigging idiot. Seriously, do you go outside, like, EVER?!"

I inferred this to be a rhetorical question.

"I'm going to write out a list of instructions for you, Abby, and I think I'm going to call you tomorrow to make sure you're following them TO A TEE and not screwing it all up."
She shut off the airbrush thingy and ordered me to dry off while she attended to her other customers. I mulled over our interaction and started to get a little pissed off because seriously?! I got dressed and marched out to the reception area, ready to stand up to this relentless abuse.
"Listen, Mariam," I began, planning to tell her while I appreciated her 'input' I did not appreciate being yelled at but that the tan was looking really good. (See what I did there? It's a Compliment Sandwich: two compliments bookending a criticism. It's a trick for delivering unpleasant truths. I learned it from Family Guy.)

Before I could continue she cut me off, thrusting a two page pamphlet in my hand with illegible scrawls all over it, "Remember what I said about FOL-LOW-ING THE IN-STRUC-TIONS. Oh, and here's an envelope for my tip. People are usually happy with the outcome and leave me, like, $7-$10. BYE Abby." She looked at me, then looked pointedly at the envelope.
I feel like this is what The Today Show and People magazine are talking about when they talk about bullies. Instead of standing up for myself, I obediently took out a $10 dollar bill, placed it in the envelope, murmured a feeble "thanks" and shuffled meekly out the door.
The good news is that it was a buy-one-get-one-free situation, so I've got a voucher to go back for another. If anyone wants to go be Allie Baxter (NOT the one from Jersey), you are more than welcome to a free airbrush and moral smackdown with Mariam.
Cool story, Hansel. On Saturday I am going on vacation!!! The whole Baxter fam is headed to Playa del Carmen in Mexico. Weird stuff always happens when all of us travel together, so fingers crossed no one dies on my airplane! Here's a pic of where I'll be – it looks pretty nice. And my new phone just arrived, so I'll be sure to document our week on Insta. BOLO for humble brags!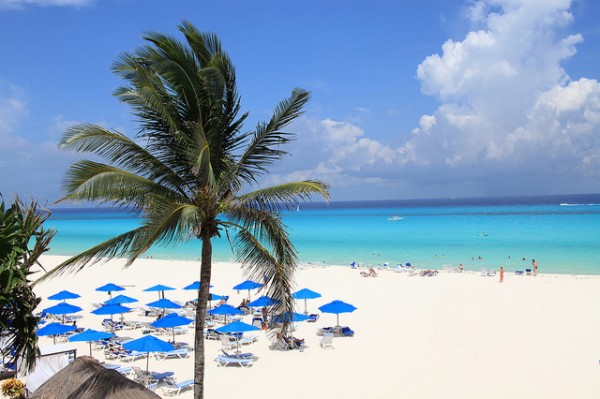 Ok, I'll finish the drill. For those of you still reading, here are a few external links for your reading enjoyment. Adios!
In the vein of what I mentioned last week re: my mortal fear of a subway-related death, there are also these things about which to be concerned.
You're going to want to meet Mo, a brand new baby river otter.
This article published in the LA Times 25 years ago that predicts how things would be in the year 2013 (2013 is the year it is now – this guy got it pretty wrong).
*I always come up with the title after I write the post, and I'm only now seeing that Beach Bum Tan and BBT share the same initials. I HATE THAT PLACE.
3 Responses to "Beach Bum Tan > Baxter Bark Twice"
March 21, 2013 at 4:18 pm

For future reference, I highly recommend Future Tan in Greenwich Village. The manager always makes you feel like you are BFFs.

March 21, 2013 at 4:36 pm

Thank you!! That is legitimately useful information. Clearly a return trip to Beach Bum is a non-option

March 21, 2013 at 4:33 pm

Have fun on your trip Abby! It was great to see you on Sunday. You're tan looked fabulous.