Posted by AllieB on August 18, 2010
Allow me introduce my sort-of friend,  Billy.
She – yes, it's a she – likes softball, chino pants, and the Georgia Bulldogs. You can often find her picking up tank tops at Gap Kids, or singing – that's being generous, it's really just a cacophonous assault on the eardrums – to "Rich Girl" at your local dive bar.
GAH, fine. This is the real Billy. She is my bestest and we talk every single day. I miss her because we don't live in the same city anymore. And I say all of this without any irony.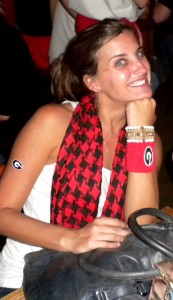 I still think you're a big ole pile of Heslop.
3 Responses to "Meet & Greet: Hilbilly Bel"
August 18, 2010 at 3:24 pm

I heard "Rich Girl" the other day, and it made me think of you. Then I felt nostalgic. Or nauseous… The difference is indiscernible.

August 18, 2010 at 4:50 pm

I think I'm ready to take our friendship down a notch – this is a bit much. I'm glad I got to talk about Heslop, though.

August 19, 2010 at 7:06 pm

Thank you very much for the "date." Your last name has now been added to my vocabulary as synonymous with vomit.