Posted by AllieB on September 14, 2010
I'm worried about you. I've heard that you're actually quite teeny in person, and I'm sure you are, but most people aren't seeing you in person – they're seeing you in US Weekly and People and on Tyler Durden, and these photos – they aren't good.
Honestly, I'm not sure you even have all that much weight to lose – the problem is more that you insist upon dressing as though you're actively seeking out ridicule. It seems that, these days, every time you leave the house it's an egregious fashion fail. You're cute! You have nice hair! Many people seem to find your ditziness endearing! You once had, like, the best body ever! You can doooooooo this!
Can we not: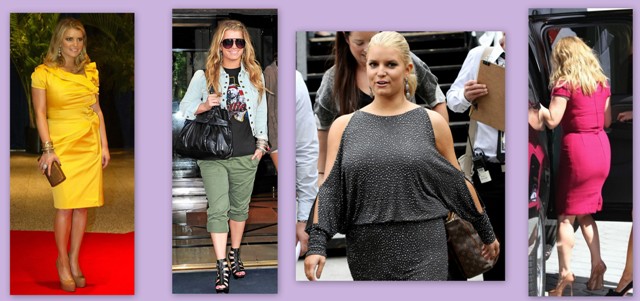 Let's revisit a time when things like this were happening:
In spite of your bevy of recent blunders, I am nevertheless optimistic. Just get a stylist and go for a couple of 3 mile yogs/week. Not unlike Lindsay Lohan, I think there is hope for you yet. And I'm sorry for comparing you to Lindsay Lohan just now – that may have been a bit harsh.
Your Friend – AllieB
P.S. Also, maybe stop talking about your poor hygiene while you're on the talk show circuit – you're not doing yourself any favors.
4 Responses to "Dear Jessica"