Posted by AllieB on December 3, 2010
I think this is really cool. Were it not for my attention deficit disorder and my lack of skillz in the graphic design arena, I would totally make one for ATL. Actually, no – challenge: accepted. BOLO for a comprehensive flow chart of where to drink in Atlanta…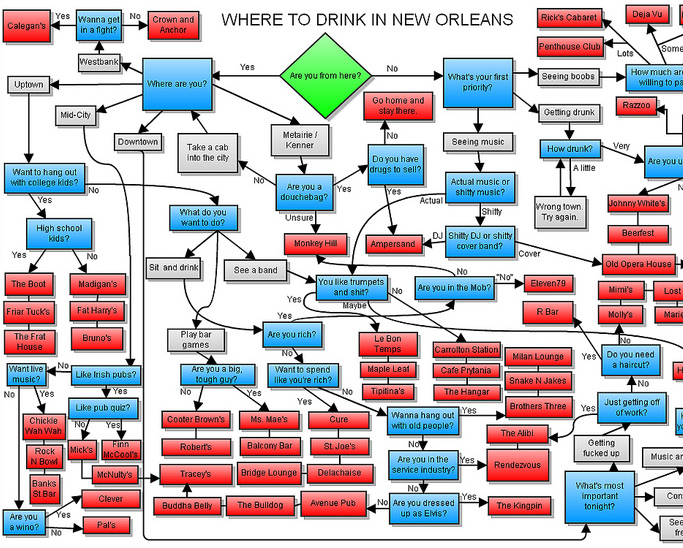 I cropped out half of it so it would be more reader friendly. Credit: Pal. If I had something like this to guide me, it's possible that I could maybe venture somewhere that is not located on/basically on Irby Avenue. I know – the mind reels.
The traffic in this city on SEC weekend is really not good for my road rage…really, really not. I will say, however, that the absence of both Florida and Alabama fans is a vast improvement.
One site I like to visit on particularly slow Friday afternoons is The Best of the Big A. This week's category is Pimento Cheese. I love pimento cheese. Some of these answers are interesting – this one, posted by a gentleman named Martin, concerns me a bit:
The pimento cheese sold at the Ace Hardware in Buckhead– West Paces and Northside Drive!
Gonna take your word on that one, Martin. And "justme" – whoever you are – you're fired:
Not a restaurant, but you can't beat the jalapeno pimento cheese from Winn-Dixie.
I eat a fair amount of pimento cheese, and I can't recall really loving or hating any from the selection I've had…but I would like to give Marti's at Midday in Athens, G-A a shout out, because it is awesome and so are their pita chips/bread things. Holla Marti!
Happy Weekend. I leave you with this….
2 Responses to "Oh hai"
December 3, 2010 at 3:30 pm

Melinda Ennis
November 23rd, 2010
7:37 am
Empire Street South is even better than mine!!!!

Try again, Melinda.

December 3, 2010 at 5:30 pm

Wait, what about that amazing stuff we had over TGiving? That Missy removed the empty container of from the recycling literally 12 times? (Clearly not that Missy "I eat anything except stilton cheese" Baxter is an arbiter of high quality, that was just for reference.)