Posted by AllieB on December 7, 2011
I never win anything. I mean, I can win stuff competitively (have you met Game Time Allie? You may or may not want to – she's something of a dealbreaker), but when it comes to winning things randomly, like raffles or lotteries or enter-here-to-win-xyz contests, my track record is like 0 – 1,249. Until yesterday! So, I read this blog: Elements of Style. It's written by an interior designer based in Boston, and she puts up pretty pictures of "rustic" Maine Bed & Breakfasts and cool restaurants in Boston, and sometimes I just kind of want her life. Anyway, she was giving away a $75 gift card to this stationary store, Felix Doolittle, all you had to do was write in what item you liked best from their online store. I forget what I wrote exactly, but I DO know what I wrote about "catching up with my correspondence" a la Rachel on Friends in the One Where No One Is Ready…irrespective of my words, I was chosen as the winner out of 425 comments, and now what do I buy!? Personalized stationary? An "Allie Baxter" seal? Calling cards? Ha, what if I walked around handing out calling cards…I don't think even Buckhead could handle that. Mom, maybe there's something you'd like? And surely it'd be a travesty if I didn't get these personalized magnetizers…
Speaking of interior design/pretty things, there is a Block and Brayer/Allison Harper Interior Design Trunk Show tonight, and I highly recommend going to check out their wares – there's even a live demonstration with artist Hollis McFadden. I went to their last show, and I was very impressed and wanted all of the pillows shown in the pic below as well as window treatments and maybe even a shower curtain. BBT says: go!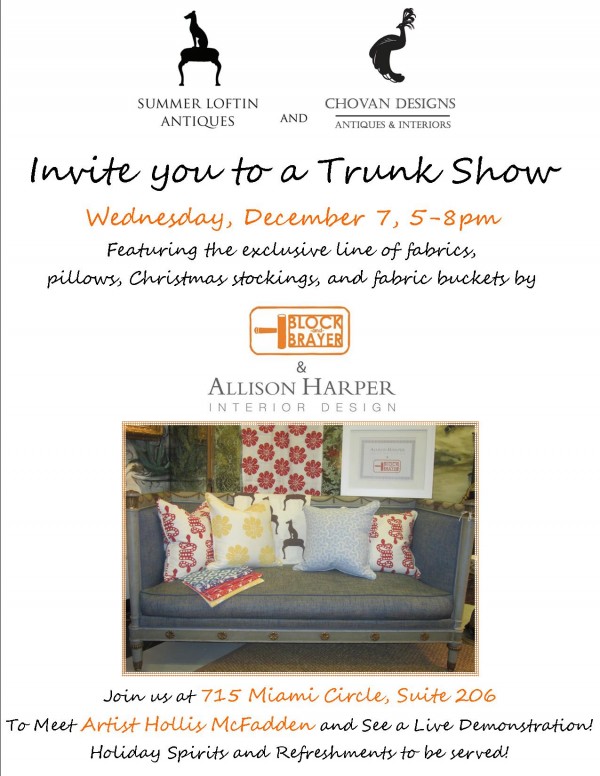 Tonight, Miami Circle: be there.
I just heard my favorite meteorologist since Flip Spiceland, Chesley McNeil, mention that there will potentially be snow flurries in the Metro Atlanta area this afternoon/evening. This reminds me: time to TURN ON MY HEAT. My lone ranger space heater that I have blasting in my office right now really is not going to cut it…getting out bed in the AM is borderline impossible…it's time. I didn't turn it on last year, but last year I lived in a unit that is like 1/3 the size of my current one…so, note to self.
Bragging about winning that contest just reminded me I never did choose a winner for my own contest. I think I want to do it a different way – maybe you should have to do something like comment or share the link to win. This is all about generating readers, people, not just gratuitous gifts. I'll get back to you.
11 Responses to "And the winner is…ME!"