Posted by AllieB on December 9, 2010
SANTA! OH MY GOD! SANTA'S COMING!
It's just not fair – every year there are more things that I need. More designers to choose from, new trends to explore, exciting new genres of gifts that I never even thought about…K opened the door to unique works of art on Etsy (I am a huge fan of this artist), and I never knew what I wanted my dream dining room table to look like until Nancy and Scout came along, and now I don't know how I'll be able to settle for anything less.
Clearly I am not asking for a dining room table for Christmas – I'm just sayin' that there are things I want that I didn't even know I wanted. In fact, I don't even really know what I asked for for Christmas…I'm not too worried about it; Santa Baxter usually does a pretty awesome job, and there's always lots of after-Christmas shopping to do.
Here are some of my greatest wants (needs):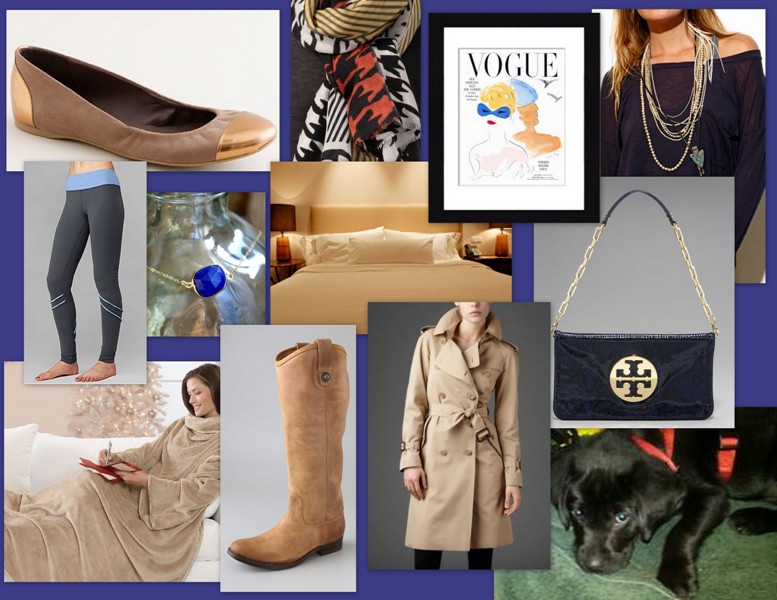 Clockwise from top left:
Flats from J.Crew
Patterned scarf by YARNZ
Framed vintage VOGUE covers
Anything off the shoulder
Chain-strap purse (Tory or whatever – though I do like that snake print…)
AN ADORABLE BLACK LAB PUPPY (this is Hunter; we hang out sometimes)
Updated Snuggie from Brookstone (credit: Kayruh)
I guess I need to see what this Lululemon nonsense is all about
Everyday necklace to go with my cartouche from give a penny. designs
Custom headboard from BedBoards Atlanta (or one from Scout would work, also)
Hmm, pricey. Perhaps I should add in a lucky #13: a winning lottery ticket…
Oh yeah, and #14: world peace.
"Wow, those must've been some cookies you made…"

"I didn't leave him cookies…I left him cheese."
Credit: Hilary.
3 Responses to "Wishlist: Dear Santa"
December 9, 2010 at 1:07 pm

Unagi.

You thought I was going to say the power of cheese, didn't you?

December 9, 2010 at 1:52 pm

You totally blindsided me – I for sure thought you were going to say…

Salmon Skin Roll

March 28, 2011 at 2:52 pm

[…] Le mis. However, I was able to ascertain that I want everything that every store is selling right now. I did some buying, but I still need all of these things (Miriam, this is not an invitation to go out and purchase the whole lot. AHEM Christmas Wishlist.) […]